2010 News
EXCLUSIVE INTERVIEW WTH RYAN DALZIEL BEFORE BARBER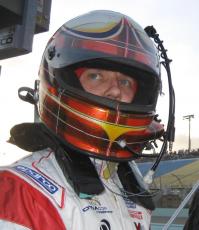 One week before the third round of the Grand-Am Rolex Sports Car Series, 2010 Rolex 24 At Daytona Champ, Ryan Dalziel, co-driver of the #8 Starworks Motorsport Dinan-BMW Riley, currently ranked third in the Grand-Am Rolex Series driver point standings, gives us his impressions of the upcoming race at Barber, his past Rolex 24 win confidence bonus and his past week's experience at the Sebring 12 Hours with Jaguar RSR.  
In retrospect, two months after your Rolex 24 win, what do you think this victory brought you in term of experience and how you will approach your next race? "I don't think it brought me a wealth of experience. I consider myself very experienced. Even though I am younger than a lot of my competitors, I have many race starts at different levels of motor racing. I think all that changed was a huge confidence boost, not that I felt I was lacking confidence but winning races always helps, and to win the Rolex 24 At Daytona, it doesn't get much bigger in the Rolex Series."  
You raced a Jaguar GT2 car for Jaguar RSR at Sebring, how is this type of driving different than DP racing?  
"The driving style needed between the two is very different. The Jaguar is a front engine, full bodied GT sports car and the Daytona Prototype is a mid engine purpose built prototype. The weight and horsepower between the two cars isn't much different but the technology involved with the Jaguar XKR GT2 car is at a higher level and has more mid corner grip on slow speed corners. Also the tires are quite different and with the Jaguar RSR car we are running on Yokohamas."  
Is it easy for a driver to switch from a GT car to a DP?  
"I consider that a good racing driver can drive anything fast. It's more a case of refreshing your memory before jumping into each car so you know what to expect.  I have driven DP long enough now that it comes to me pretty naturally, but the GT2 car has been quite challenging.  I feel that I have gotten up to speed in the Jaguar GT2 car quickly and that they are happy with selecting me".  
You started the season with Starworks at Homestead and right away you scored a top five with your teammate Mike Forest, how satisfied are you with this result?  
"Very satisfied! Coming off the Rolex 24 win and being involved in Starworks Motorsport since before Daytona, it was a huge accomplishment considering the pressure we were under to perform. To be honest, we were a little disappointed the night after the race as we really were robbed of a podium finish by a lapped car. All in all, a great result."  
What do you think of your teammate Mike Forest?  
"Mike is a great guy and quickly becoming a good friend. He went into this season as very much an unknown and I know that he made his mark at Homestead with his excellent starting stint. I think a lot of people opened their eyes and were really impressed with him."  
Peter Baron has assembled a "dream team" for 2010, what are your goals for the rest of the season?  
"To go into every race knowing that we have done everything possible to be ready to win that weekend.  If we do that then we will win races and that is 2010's goal. Obviously I am laying second in the standings but I am not even looking at the points system at this time. I want to win races."  
You have been racing in the Rolex Series for five years already, is this type of close racing exciting and what do you think of the competiveness of the series?  
"I have had some great races over the past five years, on and off. And I have been fortunate to win some races in that time too. I think the competition in North American sports car racing is some of the best in the world and it's been a privilege to get to race in the Rolex Series."
The next race is coming soon at Barber, do you like the track?  
"Barber is a lot of fun. I actually tested there for two days back in 2005 in a Lola Champ Car and every time I think about Barber it reminds me of that day. It was such a crazy place to test and I think I still hold the lap record there in the Lola. But I do love the venue and I am looking forward to getting the Starworks Motorsport Dinan-BMW Riley in victory lane."  
What are your expectations for this race?  
"I go into every race to win and this time will be no different. I know we will be fast, and I know the team has made significant improvements to the car since Homestead so I cannot wait to get to Alabama."  
VISIT STARWORKSMOTORSPORT.COM