2012 News
Rocking Ryan Leads United Autosoports to Podium Glory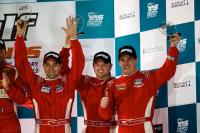 THE PLOT:
Ryan Dalziel turned up the heat in Abu Dhabi to help United Autosports grabbing a stunning third place in the inaugural Gulf 12 Hours at the Yas Marina.
The Orlando-based  star, who is a front-runner in the Grand-Am Rolex Sports Car series, produced a dynamic drive to power the Audi R8 LMS to third place in qualifying, then kept the Leeds-based team in the hunt for glory with a powerful display behind the wheel. 
Ryan, originally from Lanarkshire in Scotland, took on the challenge alongside Starworks Motorsport team-mates Alex Popow and Enzo Potolicchio. The two Venezuelans were also on top form as the Audi battled the AF Corse and Kessel Ferraris.

With 20 minutes of the 12-hour race remaining, Ryan was heading for victory, only for a safety car to wipe out his lead. Once back under green flags, the Ferraris of Marco Cioci and Philipp Peter picked him off on the long straights and Ryan had to settle for a hard-fought third place.

The stunning show followed a battling display in the Dubai 24 Hours a week earlier, where they had finished 19th. And Ryan showed how well he had settled into the Audi by posting a 2m11.976 lap to take third in qualifying.

Ryan had started the race – which was split into two six-hour stints with a 90-minute break in between – and maintained position. Enzo and Alex kept up the attack, and it was only a stop for new front brake pads that put them on the back foot. A collision between the AF Corse Ferrari and Enzo meant more time lost, but he fought back to take second. Alex kept up the pressure before Ryan took on the challenge.

Despite a string of blistering laps, Ryan had to settle for third place.

THE QUOTES:
"Getting to race at Yas Marina has been an amazing experience. It is the coolest venue I've ever seen.

"We were really unlucky with the safety car coming out at the the end because we just didn't have the outright pace of the new Ferraris. We had been smarter throughout the race and the team made a great strategy call early in the race to shorten our last stop, giving us a 20-second lead.

"We knew it was going to be close but they were only about half a second faster than us so we thought it was ours for the taking – but the safety car came out and the rest is history.

"I tried to make the Audi as wide as possible, but they had too much power on the main straight.

"United Autosports gave us a really good car. We all drove the wheels off it all day – all the guys did an incredible job. We mixed it with some really good guys and great teams so we're really happy to be part of this.

"The whole idea behind us going to Dubai and Abu Dhabi was to prepare Alex, Enzo and myself for the challenges ahead. We accomplished everything we wanted to and more. We will be the most prepared and sharpest drivers at the 24 hours of Daytona and we aim to show that. I can't wait for next week and I am looking forward to getting home!"

RICHARD DEAN, United Autosports Managing Director and co-owner, said: "It doesn't get much closer than that – 12 hours of racing and three cars covered by nine seconds. I thought we had it there, but the safety car that came out with 20 minutes to go cancelled our lead and putting the three cars together made for quite a race at the end."

THE FACTS:
The three drivers brought their sponsors to the two Middle East endurance races, in which they were competing for the first time. The Audi R8 LMS had the livery of Duncan Batteries, Taxand and Soloson in Dubai and Abu Dhabi.

Ryan will also spearhead Starworks Motorsport's 2012 Grand-Am campaign, starting with the 50th anniversary of the Rolex 24 At Daytona on January 28-29. He will also compete with Starworks in the Continental Tires Sports Car.

Ryan had four Rolex Grand-Am podiums in 2011 – a win at mid-Ohio and third at Barber, Lime Rock and Watkins Glen. He also had three fourth-place finishes.

Ryan also gave Starworks Motorsports its first DP victory, at Mazda Raceway Laguna Seca, in 2008.

Find out more at www.ryandalziel.com.
Picture credit: John Dagys