2016 News
Visit Florida Racing Heads North to Canadian Tire Motorsport Park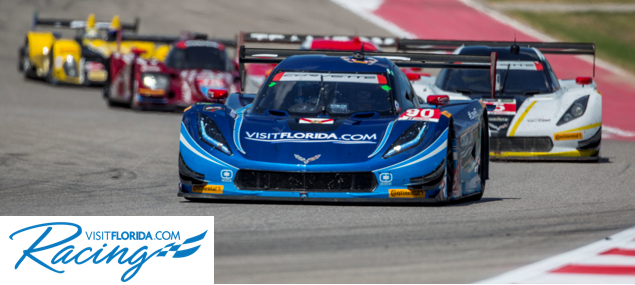 DRIVING AT CTMP: Ryan Dalziel and Marc Goossens will drive the No. 90 Visit Florida Racing Corvette Daytona Prototype.

CANADIAN TIRE MOTORSPORT PARK: Round 7 of the IMSA WeatherTech SportsCar Championship held at the quick 2.459-mile permanent road course in Bowmanville, Ontario, Canada.
2016 CHAMPIONSHIP STANDINGS – VISIT FLORIDA RACING:
4th with 168 points after 6 of 10 rounds complete.
TEAM HISTORY AT CTMP:
Visit Florida Racing has made two previous starts at CTMP. The team scored a podium finish of third with Michael Valiante and Richard Westbrook in its 2014 debut at the track, and followed that up with a fourth place finish in last year's event with the same driver line-up.
DRIVE HISTORY AT CTMP:
Both Ryan Dalziel and Marc Goossens have prior experience at Canadian Tire Motorsport Park having raced in the event as part of the WeatherTech SportsCar Championship in 2014 and also as part of ALMS competition. Each have two podium finishes at the track.
•Ryan Dalziel's CTMP Stats:
◦2012 – Started 2nd Finished 3rd (CORE Autosport - Oreca FLM)
◦2013 – Started 7th Finished 3rd (TRG - Porsche 997 GT3 Cup)
◦2014 – Started 2nd Finished 8th (ESM - HPD ARX-03b) 
•Marc Goossens' CTMP Stats:
◦2010 – Started 9th Finished 10th (Jaguar RSR – Jaguar XKR)
◦2013 – Started 2nd Finished 2nd (SRT – Viper GTS-R)
◦2014 – Started 7th Finished 3rd (SR – Viper GTS-R)
A LOOK BACK AT THE GLEN:
Looking to make it three victories in a row at Watkins Glen International, Visit Florida Racing came up short of that goal last Sunday as a promising outing didn't deliver the desired result for the Florida-based squad in the Sahlen's Six Hours of the Glen. The team showed pace through the race weekend, leading the race and also setting the fastest lap of the day among the Daytona Prototype-based machines. But an off track excursion late in the race cost track position and the team now looks to rebound with a big run this weekend.
TROY'S TAKE:
"I'm eager to go to Mosport and get the car there and do well. The rest of the year we just have to keep pushing hard. I hate to put bad faith in anybody but this is now going to make it where some of the other teams are going to have to have some bad days and I hate that for anybody, I just want to go race. It's going to be tough for us to get back in the championship but we will keep it up."
DRIVER QUOTEBOARD:
Ryan Dalziel: "I'm a big fan of Canadian Tire Motorsport Park. It is nice going there knowing we're going to have a good Visit Florida car. I think that a lot of what we learned at the Glen will help us there. The tracks are both high-speed and quite similar. We feel good. To me, the car was really good in the race at the Glen and it got better as the race went on. We're a little disappointed after the Glen and excited to get going with the rest of the season."
Marc Goossens:
If we can keep the momentum going we'll be fine. We just have to roll off the trailer with a pretty good set up. I have all the confidence in the engineering side that that's what we're going to get. So I'm looking forward to it. Mosport is one of my favorite tracks with all the high speed stuff. So I can't wait to get there on Thursday and get it all started again."
WEEKEND SCHEDULE:
FRIDAY, JULY 8
 10:35 AM – 11:35 AM Practice 1
 2:55 PM – 3:55 PM Practice 2
SATURDAY, JULY 9
 10:10 AM – 11:10 AM Practice 3
 4:55 PM – 5:10 PM Qualifying
SUNDAY, JULY 10
 8:00 AM – 8:20 AM Warm Up
 8:30 AM – 9:15 AM Autograph Session
 9:55 AM – 10:35 AM Grid Walk
 11:05 AM – 1:45 PM Race
Visit Florida.com Racing 2016 IMSA WeatherTech SportsCar Championship Drivers:
 Ryan Dalziel
 Birth Date: 12th April 1982
 Birthplace: Glasgow, Scotland UK
 Residence: Windermere, Florida USA
 Website:
www.ryandalziel.com
 Twitter: @ryan_dalziel
Marc Goossens
 Birth Date: 30 November 1969
 Birthplace: Geel, Belgium
 Residence: Westerlo, Belgium
 Website:
www.marcgoossens.com
 Twitter: @marcthegoose
Ryan Hunter-Reay
Birth Date: 17 December 1980
Birthplace: Dallas, Texas
Residence: Fort Lauderdale, Florida
Website:
www.ryanracing.com
Twitter: @RyanHunterReay