2014 News
EFFORT Sweeps Mid-Ohio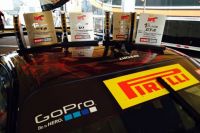 (photo provided by world-challenge.com)
Mid-Ohio:  EFFORT Racing welcomed to the team, Ryan Dalziel for the first time and back to the Pirelli World Challenge.  With teamwork and precision set-up of the cars by the crew, testing and Qualifying proved strong for both Ryan and Michael Mills.
Race 1 was very good for EFFORT with Michael in the battle with Albert von Thurn und Taxis for the lead in GT-A.  Michael made a move before the rain stopped the race, to take the win in GT-A.  Ryan quickly moved to second and was holding on, creating a gap between him and third- place Johnny O Connell.  Ryan and Mike Skeen, in the Audi R8, were in the battle for first until right before the race was called due to the heavy rain. Because of the timing of Mike Skeen's decision to put on rain tires, and the timing of the red flag coming out, this ultimately gave Ryan the win. 
Race 2 placed Dalziel in Pole because of his best over-all lap time in Race 1.  Mills starts in the 13th position.  Both had a great start.  Mills was quick to move from 3nd to 2nd place in GT-A, and another great pass like was seen in Race 1, took the 1st position from Albert v T u Taxis and held on to the Checkers.  Dalziel had a strong showing as he did in Race 1, developing a gap between him and Mike Skeen.  There was an incident that brought the yellow flag out in the last quarter of the race.  With only 7 minutes left in the race, there was a restart and Dalziel was able to maintain his position at the checkers.
Ryan was quoted:  "I'm glad to be here, it's a great opportunity with EFFORT Racing.  I had big shoes to fill from Nick Tandy's results in Toronto.  Great team with Michael Mills, expanding his point lead in GT-A.  It's great to join a series with good hard sprint racing that features a standing start.  Great venue, great organization with EFFORT Racing and a great car with the Porsche GT3 R, definitely made my weekend a little bit easier.  It was a tough race with Mike Skeen, he was fast and I wanted to develop a good gap before I hit traffic.  It was good and I want to give all the guys on the team a high-five for the Double – Double weekend."