2014 News
ESM Patrón Takes onFIA WEC LMP2 with COTA Entry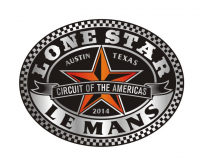 Sharp, Brown and Dalziel to co-drive No. 1 entry in WEC; Brown and van Overbeek No. 2 in IMSA entrant  
Elkhart Lake, Wisc., – First IMSA, then the World.  Extreme Speed Motorsports (ESM) will take on some of the world's best racers in next month's FIA World Endurance Championship (FIA WEC) round at the Circuit of The Americas (COTA) in Austin, Tex.
During the Lone Star Le Mans weekend – Sept. 19 and 20 – the Florida-based team will compete in both the TUDOR United SportsCar Championship race and the FIA WEC Six Hours of Circuit of The Americas.
Continuing its success in the IMSA championship race, ESM's TUDOR Championship entry, the No. 2 Tequila Patrón Honda Performance Development ARX-03b, will be driven by  
Ed Brown and Johannes van Overbeek.  That race will take place at 11:35 a.m. CT on Saturday the 20th. 
But it's Saturday night that will hold the global fight, with Scott Sharp, Brown and Ryan Dalziel co-driving the flagship No. 1 Tequila Patrón Honda Performance Development ARX-03b in the Six Hours of Circuit of the Americas WEC race.
Becoming a global contender with approximately one month to prepare is not going to be easy for ESM, as the team will need to make several modifications to the No. 1 entry that currently runs in the TUDOR Championship. The team will run on different tires, a smaller restrictor, modify the aerodynamics and install a different electronics package to comply with the r set by the Automobile Club de l'Ouest (ACO).
 
####
To download a PDF version of this press release, click here.
Further information:
Extreme Speed Motorsports
Facebook: www.facebook.com/ESMracing
Twitter: www.twitter.com/ESMracing
YouTube: www.youtube.com/esmracing
Instagram: www.instagram.com/esmracing