2015 News
Tequila Patrón ESM: No. 2 qualifies 12th; No. 1 to return to track on Friday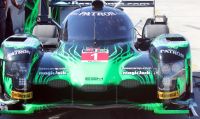 No. 2 qualifies 12th; No. 1 to return to track on Friday
Daytona Beach, Fla., Jan. 22, 2015 – Tequila Patrón ESM continues to improve and develop the all-new Honda Performance Development (HPD) ARX-04b coupes. The team is one step closer to the season opening TUDOR United SportsCar Championship race, the Rolex 24 At Daytona, following today's practice sessions and qualifying.
Johannes van Overbeek posted a lap of 1:42.390 (125.168 mph), which places the No. 2 Tequila Patrón HPD 12th on the grid. Van Overbeek shares season-long driving duties with Ed Brown and Jon Fogarty.
The No. 1 Tequila Patrón HPD of Scott Sharp, Ryan Dalziel and David Heinemeier Hansson did not participate in qualifying. With 15 minutes remaining in the opening practice session, Sharp experienced two significant drops in oil pressure. Sharp pitted and the No. 1 crew brought the race car back to the pits. The team inspected the race car and determined there was a problem in the bell housing unit, which caused engine issues.
To prevent further damage, the No. 1 crew parked the car for the second practice session and qualifying. An updated bell housing unit and engine are expected to arrive Thursday evening.
The No. 1 Tequila Patrón HPD will return to the track for Friday's lone practice session. For Saturday's race, the No. 1 Tequila Patrón HPD will start at the end of the Prototype and Prototype Challenge category, per the IMSA rule book.
The season-opening Rolex 24 takes place on the 3.56-mile road course at Daytona International Speedway on Jan. 24-25, and is the opening round of the four-race Tequila Patrón North American Endurance Cup. The 12-turn circuit utilizes portions of the track's tri-oval and infield road course and is the first round of the TUDOR Championship.
Green flag for the 53rd Rolex 24 At Daytona is scheduled for 2:11 p.m. ET on Saturday, Jan. 24. 
The FOX family of channels will provide complete live coverage of the Rolex 24 At Daytona.
Saturday, Jan. 24
2-4 p.m. ET FOX Network
4-8 p.m. ET FOX Sports 2
8-10 p.m. ET FOX Sports 1
Overnight (Jan. 24-25)
10 p.m. - 7 a.m. ET IMSA TV on IMSA.com
Sunday, Jan. 25
7 a.m. - 2:30 p.m. ET FOX Sports 1
For audio coverage of the race, internet listeners can tune into IMSA Radio commentary throughout the race at www.imsa.com. 
SCOTT SHARP
"We had a rough day today. We're having some new car blues. We have 30 laps on this car coming into the Rolex 24. We had a delay in getting it built and getting the parts, which finally culminated last Sunday. Unfortunately, we had an issue with the bell housing and that prevented us from continuing to run today." 
JOHANNES VAN OVERBEEK
"In our first qualifying with the coupe, we were hoping for a bit more. The Patrón ESM guys have done an amazing job getting us here and all the pieces together. We had very limited running today, so this was really the first time we ran the car in earnest. We're lacking pace and there isn't one specific thing I can point to. It does everything fine. We really need to dig into it a little bit and figure out where we're losing out and improve it.
 
"The coupe has been faster at top speed compared to the open-top car, which is great. We're working on improving it in the infield. I'd like to take the faster top speed of this coupe and combine it with the handling of open-top car and then we'll have a nice piece."

Further information:
Facebook: www.facebook.com/TequilaPatronESM
Twitter: www.twitter.com/PatronESM
YouTube: www.youtube.com/esmracing
Instagram: www.instagram.com/TequilaPatronESM