2008 News
Dalziel Re-launches Website Heading to VIR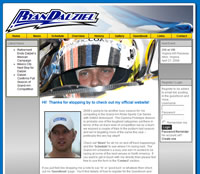 Orlando, Florida (April 24, 2008) – Ryan Dalziel is pleased to announced today his return to the online community with a new-look website at www.ryandalziel.com  The Scots-born racer has been absent from the world-wide-web for a couple of seasons but vowed to return having secured a full-time ride in the 2008 Grand-Am Rolex Sports Car Series Presented by Crown Royal Cask No.16 driving for Peter Baron's Florida-based SAMAX Motorsport.
Having commissioned CyberSpeed Inc. to design and build the latest incarnation of his official website, Dalziel's presence on the web will no doubt be welcomed by the wide array of fans he's developed on both sides of the Atlantic competing in recent seasons in the likes of Grand-Am, the Champ Car World Series and the American Le Mans Series.
The re-launch of the 26-year-old's website coincides with a return to track action this weekend in the 'Bosch Engineering 250', Round 4 of the 2008 Grand-Am Rolex Sports Car Series, hosted at the Virginia International Raceway (VIR), Saturday 26th – Sunday 27th April. 
Ryan heads to the 3.27-mile permanent road course off the back of a frustrating retirement from behind the wheel of the #2 SAMAX Motorsport BMW-Riley Daytona Prototype in Mexico City last weekend.  Together with team-mate and fellow Orlando-resident, Henri Zogaib, Dalziel had enjoyed a competitive entry but lady luck failed to smile on the duo with the car forced into retirement just past the halfway marker due to accident damage thanks to the close attentions of an on-track rival.
Dalziel is confident that along with the re-launch of his website this week, an upturn in the team's fortunes has to be on the cards in Virginia.
"It would be nice if having turned around my website I could turn around our results," stated Dalziel candidly.  "I'm happy to be back online with the new-look website.  Things were a little stale for the past couple of seasons but I've got everything sorted now and I decided to go for something that was clean and simple but would provide all the relevant information on my career to-date and what's happening and where.  I'm very happy with what CyberSpeed have delivered and I hope people enjoy logging on and using the Guestbook facility to leave me messages while checking out the latest news and so on.
"On the racing front we've had a couple of disappointing events lately so I'm looking forward to being competitive again at VIR and enjoying a good, strong run to the checkered.  I think the BMW-unit is one of the strongest motors out there so there's no reason why we shouldn't be running at the front.  The SAMAX guys were flawless in Mexico and I've enjoyed working with Henri.  He's made some big gains in terms of performance in the last couple of races and hopefully we can pick up some momentum based on how well we both ran last time out before fate intervened!"
Sunday's 'Bosch Engineering 250', Round 4 of the 2008 Grand-Am Rolex Sports Car Series Presented by Crown Royal Cask No.16, starts at 1pm EST – 27th April.  SPEED will air the race from Virginia International Raceway as a tape-delayed broadcast starting at Noon on Saturday 3rd May – www.speedtv.com 
For further series information please log on to – www.grand-am.com