2008 News
Laguna Seca Next Stop for Dalziel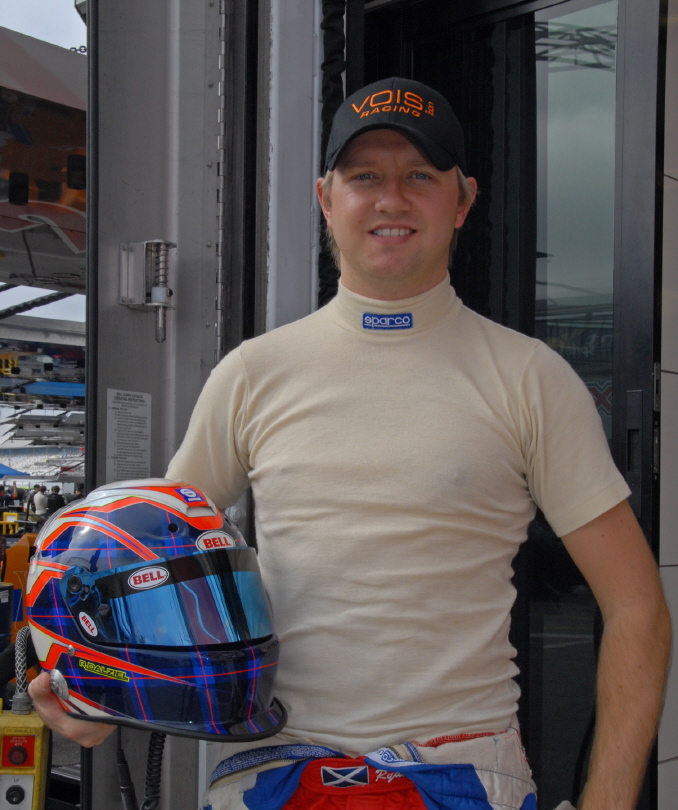 Orlando, Florida (May 13, 2008) – California's Mazda Raceway Laguna Seca hasn't always been the happiest of hunting grounds for Scotland's Ryan Dalziel but the 26-year-old aims to rectify that this weekend as he again partners with Orlando's Henri Zogaib in the #2 SAMAX Motorsport BMW-Riley Daytona Prototype for Round 5 of the 2008 Grand-Am Rolex Sports Car Series Presented by Crown Royal Cask No.16, Friday 16th – Saturday 17th May.
Dalziel heads into Saturday's 'Rum Bum.com 250' at the 2.238-mile road course eager to maintain the momentum built up from his first podium of the season last time out at Virginia International Raceway.  Denied his maiden Grand-Am victory by a mere half a second, Ryan's form looked ominous as he hounded former champion and series veteran Scott Pruett in the #01 Chip Ganassi Racing Lexus-Riley through to the checkered flag last month, team-mate Zogaib then accompanying Dalziel onto the second step of the podium for the traditional champagne shower.
Buoyed by his performance at the previous round, Ryan knows that speed won't be the issue at Laguna Seca but catching a break just might be!  In his Daytona Prototype rookie season in 2006, Dalziel powered his way onto the second row of the grid with a third place qualifying effort only to see a starter failure on his final pit stop drop him a lap down on the leaders while on-course for a top-six finish.
Last season's trip to Laguna, with SAMAX Motorsport, was again a tale of what might have been as Ryan, teamed on this occasion with Canada's Patrick Carpentier, saw his eighth place qualifying slot disqualified due to an alleged ride-height infringement.  Staring 19th and last in the highly competitive Daytona Prototype class, Dalziel and Carpentier battled valiantly to a fifth place finish at the end of the 250-mile endurance sprint.
This weekend's race again sees a stellar grid with 19 Daytona Prototype's and 23 GT entries lining up for what will undoubtedly be another action packed 2-hour 45-minute charge.
"I'm expecting good things from this weekend," Dalziel declared before heading to California.  "Our podium in Virginia means we've got some momentum on our side and we'll be looking to keep that going.  The car's fast and I'd expect it to suit Laguna Seca just as well.  Henri hasn't raced there before so it's important that he gets some mileage under his belt on Friday.  We've also got David Empringham coming to help us out this weekend so I'm sure he'll get us both up to speed quickly.
"SAMAX cars are always capable of podiums so it was great to get our first one of the season last month.  The team's undergone quite a bit of restructuring so I'd say Virginia was really only the second race of having a solid crew all working together and the result speaks for itself.  We needed that result for our confidence; we know we can get the job done so now we have to build some consistency!"
Qualifying starts at 4:50pm PST on Friday 16th May with the 'Rum Bum.com 250', Round 5 of the 2008 Grand-Am Rolex Sports Car Series, starting at 1:45pm PST on Saturday 17th May.  SPEED will broadcast the race from the Mazda Raceway Laguna Seca as a tape-delay commencing at Noon EST on Sunday 18th May – www.speedtv.com 
For further series information please log on to – www.grand-am.com.
Photo Credit: 'Scotland's Ryan Dalziel will pilot the #2 SAMAX Motorsport BMW-Riley DP entry' – Joe Jennings