2008 News
Dalziel Confirmed as Rangers Superleague Formula Driver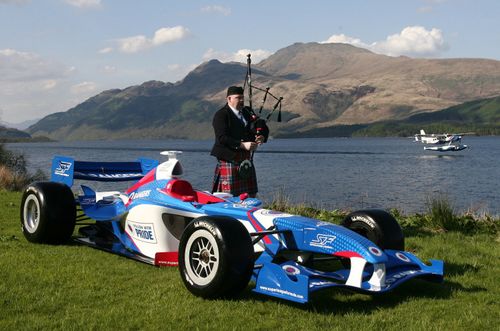 Glasgow, Scotland (August 13, 2008) – Scotland's Ryan Dalziel will spearhead Rangers attack on the inaugural Superleague Formula championship having been confirmed as the club's official race driver today.  The 26-year-old Lanarkshire ace will debut the Rangers-liveried Superleague Formula car at the opening round of the season at England's Donington Park Circuit, Saturday 30th – Sunday 31st August.
Rangers were the first British-based football club to commit to the new series which aims to fuse the passion of football with the thrill and excitement of top-flight motor racing utilizing V12-powered, 750bhp single-seater race cars in each clubs colours.  20 clubs are lining up for the 6-round inaugural season, set to run from August to November 2008, with Rangers joined on the grid by the likes of AC Milan, PSV Eindhoven, FC Porto, Olympiacos and Tottenham Hotspur.
Dalziel's confirmation marks the first time the Scotsman will contest a full European-based season since he competed in the 2001 British Formula Three Championship.  Since then, Ryan's talents have been showcased predominantly in North America, notably in the Champ Car World Series and the likes of the American Le Mans Series and Grand-Am Rolex Sports Car Series.
Excited by both a return to European-based competition and high-performance single-seater racing Dalziel commented; "I'm absolutely delighted to have been selected to represent Rangers in the Superleague Formula.  I'm excited to be returning to Donington Park for the inaugural race even though it's been seven years since I last raced there which seems hard to believe!"
He continued; "This is a great new series, one that both football fans and race fans can really get behind.  I'm obviously thrilled to be driving for Rangers having grown up in and around Glasgow.  Coincidently my race helmet's colours are almost identical to those of Rangers so in many ways this is a perfect fit.  I'm just excited to be a Scottish driver racing for a Scottish club, it means a lot and I hope the fans really get behind our efforts starting at Donington Park."
Making his full-time debut in the Champ Car World Series last season, prior to the series unification with the Indy Racing League earlier this year, Dalziel scored six top-ten finishes and led laps at the Toronto Grand Prix despite racing for a rookie team.  In addition to his accomplishments in Champ Car, Ryan kicked off 2007 with a second-place podium finish racing a Daytona Prototype in the 'Rolex 24 at Daytona', the opening round of the Grand-Am Rolex Sports Car Series and America's leading twice-around the clock endurance event.
Ryan found the podium again in his fourth and final Grand-Am outing in 2007, another second place finish in the season finale, but his talents in sports car racing really came to the fore earlier this season.  A storming performance from Dalziel in Round 5 of the 2008 Rolex Sports Car Series in May, at California's Mazda Raceway Laguna Seca, finally saw him deliver the win he had long-threatened and cemented his reputation as one of North America's leading sports car talents.
The 2008 Superleague Formula schedule kicks off at Donington Park (30-31 August) before moving on to venues in Germany (Nurburgring, 20-21 September), Belgium (Zolder, 4-5 October), Portugal (Estoril, 18-19 October), Italy (Vallelunga, 1-2 November) and the season finale in Spain (Jerez, 22-23 November).

Photo Credit: 'Rangers Superleague Formula entry pictured earlier this year by Loch Lomond' – Superleague Formula