2008 News
Dalziel Confirms 2009 Season with Alegra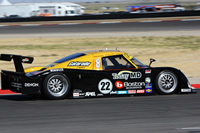 Orlando, Florida. (December 22, 2008) – Scotland's Ryan Dalziel heads into the Christmas period eagerly anticipating the New Year and a brand new challenge in 2009.  The 26-year-old has now finalized his plans to return to the Grand-Am Rolex Sports Car Series Presented by Crown Royal Cask No.16 competing for the Miami-based Alegra Motorsports squad – the former 'Rolex 24 at Daytona' GT Champions graduating up to the Daytona Prototype class next season.
Dalziel's first competitive outing for the team, headed by owner-driver Carlos de Quesada, will be the 47th edition of the 'Rolex 24 at Daytona' hosted at the Daytona International Speedway, Thursday 22nd – Sunday 25th January 2009.  Piloting the team's BMW-Riley Daytona Prototype entry, Ryan's team-mates for the famed event, where he finished runner-up in 2007, will be the aforementioned de Quesada (US), Chapman Ducote (US), Jean-Francois Dumoulin (CAN) and Tomas Enge (CZH).
Alegra's new-look line-up will take to the track for the first time at the scheduled Daytona test days, Saturday 3rd – Monday 5th January, where preparations for the 2009 season begin in earnest for the entire Grand-Am field. 
Dalziel will be partnered with Carlos de Quesada throughout the new season and having scored his maiden Grand-Am Daytona Prototype win last season at California's Laguna Seca circuit, also behind the wheel of a BMW-Riley, the podium regular is looking to continue building his burgeoning sports car reputation.  Alegra has further strengthened its line-up by adding Dalziel's race-winning engineer from last season, Travis Low, while recruiting crew chief Andy Green, who similarly worked with the Scottish ace at Pacific Coast Motorsports.
"I'm really excited to join Alegra Motorsports for 2009," stated Dalziel before heading back to his native Scotland for Christmas.  "I think we're going to have an extremely strong on-track package by running the BMW-Riley Daytona Prototype.  I'd like to thank Carlos de Quesada and Ken Costanzo for having faith in me and bringing me onboard to lead the team's assault on the Grand-Am championship.  I feel like we're set to have a long-term future together as a team.  I think it's going to be a season of growth but all the ingredients are there to be successful!"
"We're delighted to have Ryan on the team for 2009," commented Alegra Motorsports' Carlos de Quesada.  "I'm looking forward to driving alongside him and seeing his input into the team as someone with an exceptionally strong record in racing Daytona Prototypes.  Ryan's familiar with the package we're set to race, he knows the circuits and he's a proven winner.  This is an exciting time for Alegra and we can't wait to get going in the New Year with our assault on the 'Rolex 24 at Daytona'!"
While he enjoys a short-break back in Glasgow over Christmas, Dalziel will take time to check out the Rangers v Celtic football match at Ibrox Park on Saturday 27th December.  Ryan had the honour of representing Rangers in the inaugural Superleague Formula in the later half of the 2008 season, steering his 'home' club to a number of top-ten finishes in the series that fused the passion of football with the excitement of world-class motorsport.
For further information on the 2009 Grand-Am Rolex Sports Car Series Presented by Crown Royal Cask No.16 please log on to: www.grand-am.com