2010 News
Ryan Dalziel Set for Le Mans 'Big Cat' Experience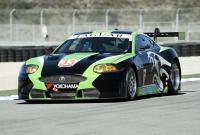 Orland, Florida (May 27, 2010) – Scotland's Ryan Dalziel is still reveling in yesterday's announcement that for the first time in his burgeoning sports car career, he'll be unleashed on the famed 'La Sarthe' circuit in France to take part in the 'Le Mans 24 Hours', 12th-13th June 2010.
Dalziel will share the #81 JaguarRSR XKR GT2 entry with Team Principal Paul Gentilozzi (US) and Marc Goosens (BEL) as the trio take the illustrious Jaguar brand, with seven outright victories in the French classic, back to Le Mans for the first time in 15 years.
Following up on the announcement, Dalziel (28) reflected on the opportunity that awaits him next month in the world's best known 24-hour endurance race:
Q:  You're headed to the Le Mans 24 Hours for the first time in your career.  What was your immediate reaction when you were finally confirmed to race there?
Ryan Dalziel (RD):  "I was, and still am, grinning from ear to ear!  Le Mans is the premier sports car race, the one every driver around the world wants to compete in – at least once in his or her career!  When JaguarRSR initially signed me, they told me that a Le Mans seat wasn't available but that I could go to be part of the team.  I was thrilled at even having that opportunity so you can imagine how unbelievably happy I was when JaguarRSR made my dream of competing a reality."
Q:  Given Jaguar's history at the renowned 'La Sarthe' circuit – does it make it extra special to be part of their return in 2010?
RD:  "Absolutely!  Not only the history of being part of their return, but to be a British driver getting to represent possibly the most well respected British auto manufacturer for their first visit back to Le Mans really makes it a doubly special opportunity for me.  I have no idea what to expect but I have been told there will be huge support for Jaguar from their loyal fans around the world."
Q:  You don't get to compete often in Europe.  Will you be boosting the Le Mans crowd with some 'home' support from Scotland?
RD:  "I hope so.  I hadn't really told any of my family or friends I was going with Jaguar until I knew it was official.  Now that they know I'm sure I'll have a few phone calls over the next few days to get some tickets.  I hope I get some support from the British fans.  It's true I don't race in Europe much these days so it'll be good to see some Scottish flags flying around the track."
Q:  What are your expectations for the event given it's still early days in the development of the Jaguar XKR GT2?
RD:  "I think everyone involved with this program is looking for the same thing.  From the hard-working staff at JaguarRSR in Michigan, to the many Jaguar employees worldwide, we all want to see the Jaguar XKR GT at the finish line after 24 hours.  After our recent, almost trouble-free six-hour race at Laguna Seca, it's amazing how far this program has developed since the beginning of the year.
"The whole team is motivated to go to France and have a great race.  We know we have a lot of work to do but no crew is more dedicated to succeed than ours.  We seem to have ironed out all of the early mechanical wrinkles, so now we can concentrate on making the 'Big Cat' fast!  We have the crew, resources and drivers to bring success to Jaguar once again."
Q:  As winner of the 'Daytona 24 Hours' back in January, you know more than most just how hard it is to actually win a twice-round the clock event.  What is the single biggest challenge facing teams and drivers at these marquee races?
RD:  "There are so many obstacles that face teams going into these endurance events.  From general wear and tear on the engine, drivetrain and brakes, to the physical and mental strain on both the crew and drivers.  Then throw in 33 cars all battling for the same piece of racetrack in mixed weather and lighting conditions and you have yourself many variables.  Patience is the key to any endurance race and my team-mates, Paul and Marc, and myself have competed in numerous 24-hour races so we're all certainly ready for this one!"
The 24 Hours of Le Mans begins at 3pm CET on Saturday 12th June – www.lemans.org
For further details on the JaguarRSR entry please log on to: www.rsrjaguar.com