2010 News
LAP AROUND ROAD AMERICA by Ryan Dalziel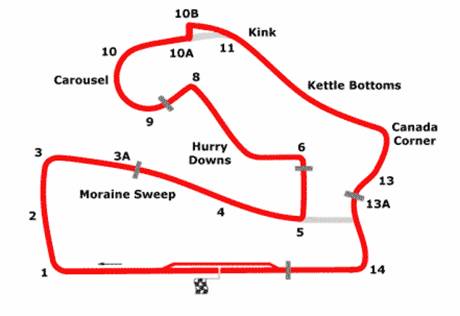 Driving up the start/finish straight at Road America for the first time is daunting, to say the least. It is such a steep incline over the start/finish line that you are looking at gorgeous Wisconsin skies, before the nose of the car comes down and you have the long flat straight towards Turn 1.
Turn 1 is a scary corner. You are approaching it at well over 160 mph in a GT car in top gear. A couple of downshifts and an early turn in, rolling lots of entry speed is key to being fast. You can make or break a fast lap here. Mess up and you have 4 miles to wait before you can start again.
Turn 3 follows the kink known as Turn 2 (easy flat). It is another fast corner where it is so important to have a car that rotates well and you must be on full power from the apex curb to carry maximum speed down the long downhill straight towards Turn 5.
Turn 5 is a very slow 90degree left with a bumpy downhill brake zone. It's crucial here to brake as late as possible. Forget about that after Turn 5. At this point you only concentrate on braking to the limit of the cars potential, even sometimes on a fast lap braking over that limit is fastest for lap time. There is also a great passing opportunity into 5.
Turn 6 comes fast. After an exciting Turn 5 you head steeply uphill towards the Toyota Bridge. Look for the bridge as your reference point, as the entry of 6 is blind. Your brake zone here is difficult as it's cresting the hill, and often creates entry over steer until the car settles. It is important to get back on the power a little to settle the rear of the car as early as possible.
Turn 7 is a relatively fast, but not too technical of a kink. You use as much curb on the inside and outside of the corner as the car will allow. The faster cars likely will not brake here, so that's what we will aim for.
Turn 8 is very difficult, possibly the most technically challenging corner on the course due to the bumpiness. Most of RA is smooth, then you approach Turn 8 and it's bumpy from the brake zone, all the way through the apex. It's very easy to overdrive the car here, but you have to be patient and similar to Turn 6, getting back on the power always settles the car. You always fight under steer here. Don't lose focus exiting here cause it's about to get fun.
Turn 9 & 10 are probably the most famous corners at RA, more commonly known as the 'Carousel'. I love this corner, no matter what car I drive here. In a GT car your technique is so different to any open wheel cars. But depending on the balance of your car you will do different things. More often with a GT car you are doing some what of a diamond approach to the corner. The Carousel's entry is just as important as the exit. Its all about minimum speed through here and 1-2mph through here is huge for overall lap time. You exit Turn 10 almost driving on the grass to have the least amount of tire scrub as possible.
Turn 11, AKA 'The Kink'. This is where we see what drivers are brave. The kink is awesome and when you get it right, very satisfying. But when you get it wrong, there is no room for error with barriers either side of the track, mere feet from the edge of the track. The kink is blind from the entry to apex so if someone spins/crashes it causes havoc.
Turn 12, AKA 'Canada Corner' is very difficult. You are entering here after zig zaging your way through the twisty 'Kettle Bottoms' back straight. Easily flat but with the trees hanging over a big contrast in your eyes. Approaching Canada the light hits you as you come out of the trees. Again a bumpy brake zone and another place you slow from 170mph+ to a slow 2nd or 3rd gear corner.
Turn 13 is one of the easier corners, but the trickiest part is being that it's completely blind until you exit the other side.
Turn 14 is very, very important. If you are on a good lap, just like Turn 1, you can make or break that lap time by not getting it right. It's very easy to either under drive, or over drive here, but unfortunately you have to drive this corner hard to get the shot out the corner to lead you up the steep climb to the start/finish line.
That's 4.048 Miles around Road America's road course.