2014 News
Ryan Dalziel continues to support West of Scotland Kart Club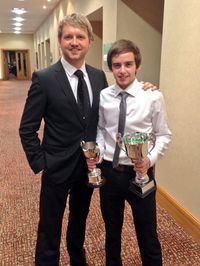 Endurance racing king Ryan Dalziel made it a very special 2014 for teenage Scottish kart star Tommy Leckie – by giving him an all-expenses trip to the Rolex 24 at Daytona, January 25-26, 2014.
The proud Scot – speed.com's Sports Car driver of the year for 2012 – is keen to give something back to the karting scene where he started, and has made his West of Scotland Kart Club ambassadorial prize an annual award.
Tommy, 17, will follow the inaugural winner Ciaran Haggerty, who was inspired after his trip to Daytona, to make the jump to Formula Ford single-seater racing with the Scottish Motor Racing Club last year.
British and Scottish karting champ Tommy, from Denny in Stirlingshire, will move up to senior karts in 2014, but is delighted to have been picked for the prize.
He gets an all-expenses paid trip to Florida, will be a guest of the Patron ESM team and will be part of the Continental Tires pace car program as well as visiting the Daytona Hall of Fame and museum during a VIP tour.
Ryan - who lives in Windermere, Florida but is originally from Airdrie in Lanarkshire, Scotland – is hoping the success of the scheme will continue to grow and offer even more each year.
The former FIA World Endurance Championship LMP2 winner and former Rolex 24 champion is planning a trip to remember for Tommy, then aims to develop the scheme with the help of Tudor United Sports Car Championship, Continental Tires and fellow Scottish professional drivers.
RYAN SAYS: "The prize we gave last year to Ciaran Haggerty snowballed into a life-changing opportunity for him. The whole point of this award is to help these kids develop their profiles. We do the groundwork, but they have to run with it. What Ciaran did last year was to take the opportunity and really make the most of it.
"We are hoping for more of the same with Tommy. We are giving him a similar platform. I am really looking forward to him coming over to Florida and giving him the chance to see how the life of a professional racer can be, outside of Europe and Formula 1.
"His results in 2013 alone were a big part of why he was chosen. We did narrow it down to two this year and we had the opportunity to have one-to-one meetings with a number of candidates before the West of Scotland Kart Club awards in December.
"Tommy came across as a great kid. What really impressed me was that he has a job to help fund his racing. A lot of kids don't have that mentality to decide 'I need to go to work to contribute to this if I want to do it'.
"We don't know what this trip will do for him, but we hope that it gives him a boost in motivation, media profile and we give him the opportunity to open up some doors.
"He will be a guest of Patron ESM, IMSA and Continental Tires. We are trying to make him part of the pace car program, so he will be taken round the track for some hot laps.
"I have had a lot of help from IMSA and Continental Tires. They have both really embraced what we are trying to do and saw the success from last year. This has been a step up and we are looking forward to building even more from here.
"Ciaran has opened a lot of eyes. I am really lucky that I got such a good candidate for the first one. If we can continue to highlight Scottish talent, we are hoping that more drivers will come on board. I have had talks with a couple of guys who have definitely expressed an interest in not only helping future stars, but helping the current guys as well. Eventually, I would like to see sponsors and other drivers involved. The Rolex 24 at Daytona will always be a big part of this journey — it is a massive opportunity and we are delighted that Tommy will be coming out this year."
TOMMY SAYS: "It was probably the longest ten seconds of my life when I was waiting to see if I had won. Then I think I was just in shock. I didn't think it would be me. I can't thank Ryan enough and I really can't wait to get out there and be part of his team Patron ESM and see Daytona International Speedway.
"I have never actually been to America before, but we have a holiday planned for February – so now I will be going twice in two months! I have never seen the race before, but I have heard how brilliant it is."
BILL McDONALD, (Chairman of West of Scotland Kart Club), SAYS: "In 2012, having had a very successful year in his own career, Ryan generously presented his all-expenses paid trip to Daytona for the WSKC junior driver he felt most deserving - Ciaran Haggerty. The presentation certainly appealed to our junior members and their parents as something to aim for in the following competition year. Tommy Leckie, being our most successful junior competitor in 2013, was awarded the prize at the 2013 Trophy awards presentation.
 "This personal award from Ryan is way above what the club could offer its members and shows a level of commitment to help young WSKC drivers in their search for success, and as it is not constricted to track success but brings in the other important requirements of sportsmanship, personal presentation, health and fitness, commitment, it servers to develop other areas for the future.
"We do look to our past members to help and receive donations, which is especially appreciated by our younger members, but Ryan's prize does stand on the top tier of the pinnacle."
NOTES: Ryan won at Indianapolis, and was second at Road Atlanta and Circuit Of The Americas in the final year of the Grand-Am Rolex Sports Car Series in 2013. He managed a career-best second place in the Grand-Am Rolex Sports Car Series in 2012, with a win at Watkins Glen, second place in the Rolex 24 at Daytona and third at Sahlen's Six Hours Of The Glen and Laguna Seca. He also won the Rolex 24 in 2010.
He had four Rolex Grand-Am podiums in 2011 – a win at Mid-Ohio and third at Barber, Lime Rock and Watkins Glen. He also had three fourth-place finishes. Ryan also gave Starworks Motorsport its first DP victory, at Mazda Raceway Laguna Seca, in 2008.
Ryan and Starworks Motorsport won the FIA World Endurance LMP2 Championship, thanks to class wins at Sebring in Florida, the Le Mans 24 Hours and Brazil. They were also on the podium at Silverstone in the UK, Japan, China and Bahrain.
He also grabbed an American Le Mans Series LMPC class wins at Petit Le Mans, Baltimore and Long Beach in California as well as a third place in class at Mosport in Canada.
Find out more at www.ryandalziel.com
Follow Ryan on Twitter: @ryan_dalziel
Facebook: Ryan Dalziel Official Fan Club