2014 News
ESM Patrón Team Hour 12 of Rolex 24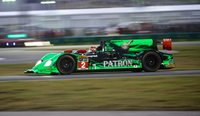 ESM Tequila Patrón HPDs Show Improvement
DAYTONA BEACH, Fla., – At the midpoint of the 52nd Annual Rolex 24 At Daytona, the Extreme Speed Motorsports (ESM) Honda Performance Development (HPD) ARX-03b race cars proved consistent and strong as Scott Sharp and Simon Pagenaud met the 12-hour mark of the season opening TUDOR United SportsCar Championship.

As the clock struck 2:10 a.m., the No. 1 Tequila Patrón machine was running 13th and the No. 2 Tequila Patrón was ninth in class.
Both Sharp and Pagenaud raced past midnight during their triple stints.  It was the second time for both racers to drive since the green flag Saturday afternoon.

Sharp started his stint at 10:30 p.m., in the No. 1 Tequila Patrón HPD.   Factoring in traffic and cooler temperatures, ESM's owner/driver was pleased with the performance of the race car and improvement from the opening hours of the event.  Sharp maintained a 13th place position before turning the car over to season-long teammate Ryan Dalziel at 1:30 a.m.

Aboard the No. 2 Tequila Patrón HPD, Pagenaud began his triple stint at 11:30 p.m.  The Frenchman worked his way into back into the top-10 and maintained a ninth place run for the majority of his stint.  Pagenaud completed his stint around 2:30 a.m., before Anthony Lazzaro began his second stint of the event.
---
RYAN DALZIEL
"We lost forward drive coming out of the Bus Stop.  I'm disappointed.  This is a big race for Patrón and both cars are having some issues early on here.  This race is about championships and the guys worked hard to get us back on-track.
 
"We made it back on track and our plan is to complete as many laps and gain as many places as we can.  This isn't how we want to start the race and the season, but that's racing."


---
The 52nd Annual Rolex 24 At Daytona is the season opening race of the TUDOR United SportsCar Championship and the first round of the four-race Tequila Patrón North American Endurance Cup (NAEC).

Overnight coverage of the race is available on www.imsa.com until 7 a.m.  Live television coverage resumes on FOX Sports 1 at 7 a.m. until checkered flag.