2014 News
Ryan Dalziel Wants Debut with ESM Win at Sebring
 Perfect tribute to father-in-law who passed away
Launches merchandise deal to raise cash for Retts Syndrome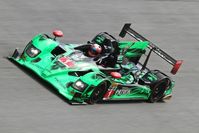 Endurance star Ryan Dalziel is planning to bounce back from a disappointing Daytona to be on the top step for the 62nd running of the Mobil1 12 Hours of Sebring (March 15-16).
The proud Scot — who is originally from Airdrie in Lanarkshire but now lives in Windermere, Florida  — wants to turn the iconic Sebring track into a home from home in the Patron Tequila-backed Extreme Speed Motorsports HPD.
The team did not get off to the perfect start at Daytona — where they failed to finish — but they believe the bumps and bends at Sebring will better suit the HPD prototype.
2012 speed.com Sportscar driver of the year Ryan will have a host of family and friends helping them through a difficult weekend after his father-in-law Arlan Sapp passed away during the Daytona weekend.
He reckons a win would be the perfect tribute.
It would also be chance for Ryan and team-mates Scott Sharp and David Brabham to get their Tudor United Sports Car Championship up and running.
Ryan can also reveal that he is launching a range of merchandise with Athlete Originals.
Ever since his niece Dionne was diagnosed with Rett Syndrome, he has used his profile to raise awareness and funding for this rare disease. Ryan will donate all of his personal proceeds of his merchandise sales to Rett Syndrome Research Trust.
RYAN SAYS:
"Our preparation has gone really well. We obviously had a disappointing Daytona — not only with the reliability issues but we also didn't quite have the speed of the DP cars.
"We have really been looking forward to Sebring since the start of the year because that was where we felt we would have an even playing ground. We had a good two-day test with the series, then we had a one-day test on our own.
"I think we made some pretty big gains and we are getting to understand the Continental Tires on the car. I definitely feel we have taken pretty big steps as a team since Daytona, and we are pretty confident going to Sebring.
"Deep down I think we knew that Daytona wasn't going to suit our package as much as the DP's, but the P2 cars have always been good at Sebring even against the P1 cars. It is the nature of the track, with a lot of medium to high-speed corners that helps the car. HPD have a lot of knowledge there — they have won this race a number of times. We are looking to reignite our championship challenge at Sebring.
"It is nice to be able to call places like Daytona and Sebring your home races. With my family connections to Sebring, it has almost become my adopted home from home. With my father-in-law passing away, going to Sebring will be emotional and quite special. I will have a lot of friends and family supporting us.
"It is always one of my favourite events of the year. I am looking forward to it but I am sure there will be some emotionally tough moments during the weekend. But nothing would make me more proud than for us to get a win and to be able to dedicate it to my father-in-law.
"Every year people say it will be the hardest race, but this year there will 67 cars. I have never faced anything like that before at Sebring. It will be all about traffic and not getting involved in someone else's mishaps.
"I don't think you will need the fastest car, you have to have a car that stays out of trouble and doesn't spend time on pitlane for repairs. Under green it is easy to lose a lap making repairs, and it is tougher than Daytona to get laps back.
RYAN ON THE MERCHANDISING DEAL:
"It is something I have thought about for years. It is very difficult to put a deal together where you are involved in the design and the marketing.
"I was approached by Athletes Original and I liked how they did it. They took a lot of the stress away, but you are still very much part of the design process. I am very proud of the designs we have come up with. I have kept a lot of my own heritage — with the family crest — and I have tried to make designs that appeal to everyone from a kid to grandparent.
"With my connections to Retts Syndrome and continuing to raise funds and awareness, all my personal profits will go directly to the Retts Syndrome Research Trust. I am very proud of that."
Find out more: http://www.athleteoriginals.com/index.php/shop-by-athlete/ryan-dalziel.html?cat=103
NOTES: 
Ryan was second at Road Atlanta and Circuit Of The Americas in the 2013 Grand-Am Rolex Sports Car Series. He managed a career-best second place in the Grand-Am Rolex Sports Car Series in 2012, with a win at Watkins Glen, second place in the Rolex 24 at Daytona and third at Sahlen's Six Hours Of The Glen and Laguna Seca. He also won the Rolex 24 in 2010.
He had four Rolex Grand-Am podiums in 2011 – a win at Mid-Ohio and third at Barber, Lime Rock and Watkins Glen. He also had three fourth-place finishes. Ryan also gave Starworks Motorsport its first DP victory, at Mazda Raceway Laguna Seca, in 2008.
Ryan and Starworks Motorsport won the FIA World Endurance LMP2 Championship, thanks to class wins at Sebring in Florida, the Le Mans 24 Hours and Brazil. They were also on the podium at Silverstone in the UK, Japan, China and Bahrain.
He also grabbed an American Le Mans Series LMPC class wins at Petit Le Mans, Baltimore and Long Beach in California as well as a third place in class at Mosport in Canada.
Find out more at www.ryandalziel.com
Follow Ryan on Twitter: @ryan_dalziel
Facebook: Ryan Dalziel Official Fan Club