2014 News
ESM Patrón Leads Sebring at Six Hour Mark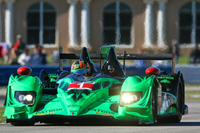 Dalziel leads in No. 1 HPD; Pagenaud runs fifth in No. 2 HPD

SEBRING, Fla. – Extreme Speed Motorsports' Ryan Dalziel, in the No. 1 Tequila Patrón HPD, leads the 62nd Mobil 1 Twelve Hours of Sebring Fueled by Fresh from Florida at the halfway point.  Dalziel took the race lead with 127 laps completed, 12 minutes shy of halfway.

Dalziel was able to reach the race lead following solid double stints by co-drivers Scott Sharp and David Brabham.  Sharp started the race and ran in the top-five for the majority of his two-hour stint.  A pit stop and several caution flags dropped Sharp in the field, but he was able to rebound before a scheduled driver change to Brabham. During his stint Brabham wheeled the Tequila Patrón-sponsored Honda Performance Development ARX-03b (HPD) to third place in class.


The No. 2 Tequila Patrón HPD drivers were having a solid race as well.  Johannes van Overbeek, Ed Brown and Simon Pagenaud completed double stints in the opening half of the race.  Lead off driver van Overbeek reached a race-high of fourth position before a scheduled driver change.  Brown logged a career-best stint by maintaining a top-10 position for his segment and was competitive with the prototype class.  Upon completing his stint, Brown turned the car over to Pagenaud in the 10th place position.  In less than two hours, Pagenaud slowly and steadily began to move up the leaderboard.  At the halfway point of the race, Pagenaud was running in fifth.

The 62nd Mobil 1 Twelve Hours of Sebring Fueled by Fresh from Florida is the second race of 2014 TUDOR United SportsCar Championship and second round of the Tequila Patrón North American Endurance Cup (NAEC).  The race is streaming live on www.IMSA.com until 10:30 p.m.
 
RYAN DALZIEL
"The car is really good when we are up front, but it is just a little bit difficult for us to get there.  I think if we can be up front and stay up front, it seems like the HPD gets better and some other people's cars get worse.  We still have a long way to go.  The car is running really well right now.  As the race gets later and the temperatures cooler, I think it will suit our cars a little bit better.  It is encouraging so far, but a long way to go still."  

DAVID BRABHAM
"The stint felt pretty good.  The car is running pretty good. The track conditions changed quite a lot as well.  Sometimes we've got grip, sometimes we don't.  We're working on how to get through it. We can hang in there with the competition.  It is important that we're leading on that last stint.  If we do that, we might be able to stay in front.  The DPs have so much power it is difficult to get past them.

"There's a lot of cars going of the race track and getting the track dirty.  It takes a while for our cars to get the grip in the tires to really be able to hook it up where the DPs cars seems to have more an advantage to get that early.  We haven't had a chance to do a whole stint and see where we are in compared to where they are.

"We made it up to second and then Ryan took the lead. That's where we need to be." 

ROBIN HILL
Director of Operations, ESM
"Both cars are running pretty strong. We're tuning the cars with each stop and making a few minor adjustments; nothing major.  All the drivers are very comfortable in the cars.  We've seen the track change already and it continues to change as the temperature does.  The track is rubbering up and also slick and greasy in the heat.  We're dialing the car in to match the track conditions.  It has worked so far, but we still have half a race to go.

"We expected drastic track condition changes about 6:30 p.m. when the temperatures start cooling off more. We'll see how it goes.  We've had quite a warm day and there's a lot of heat in the track.  We'll just have to see how long the track stays hot and continue to make adjustments then."