2014 News
Extreme Speed Motorsports to run HPD ARX-04b Honda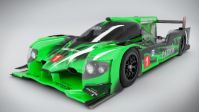 Florida-based team orders two new coupe chassis for 2015 Continues long association of Tequila Patrón racing with HPD and Honda
Le Mans effort considered
 
SANTA CLARITA, Calif. – Honda Performance Development today announced the sale of two new HPD ARX-04b Honda coupes to Extreme Speed Motorsports for an ambitious 2015 racing program that may include the 24 Hours of Le Mans.

The ARX-04b is fully compliant with the latest ACO LMP2 regulations, and exceeds the safety standards of the new enclosed-cockpit configuration.  The new design is eligible for competition in the TUDOR United SportsCar Championship, FIA World Endurance Championship, European Le Mans Series and Asian Le Mans Series.

"Extreme Speed Motorsports and Tequila Patrón are very excited to continue our relationship with Honda and HPD with the new 2015 ARX-04b coupe," said Scott Sharp, Extreme Speed Motorsports owner/driver.  "It is hard to believe that the current HPD base race car is now seven years old and still running strong; that is a testament to its excellent design.  The next generation of the ARX chassis has been well thought out with a huge emphasis on performance, safety and aerodynamics.

"We firmly believe this new racing machine will provide ESM with a strong platform to be a leader in sports car racing for many seasons!  We're looking forward to getting behind the wheel of the ARX-04b and experiencing the latest version of the Honda power and performance."

Powered by the production-based Honda HR28TT twin turbocharged V6 engine, the new ARX-04b utilizes the latest in closed-cockpit prototype technology developed by HPD and Wirth Research.  The pairing has already proved to be a winning combination, with success in INDYCAR, the American Le Mans Series and the FIA World Endurance Championship, including LMP2 and LMP1 Privateer class victories at the 24 Hours of Le Mans.

The proven 2.8-liter twin-turbo, direct injection, production-based Honda HR28TT V6 powerplant, developed from the "J35" family of V6 engines found in several Honda and Acura passenger vehicles, now includes a regulation compliant drive-by-wire throttle system and turbo fresh air valve system, eliminating turbo lag and providing improved reliability and performance.

Founded in 2010, Extreme Speed Motorsports will enter its sixth season at the start of 2015.  Led by Sharp, the team's driver roster includes Ed Brown, Ryan Dalziel and Johannes van Overbeek.  ESM is slated to compete in the 2015 TUDOR United SportsCar Championship, and is considering making its first attempt at the 24 Hours of Le Mans.
 
"We are very pleased that Extreme Speed Motorsports has chosen our new HPD ARX-04b LMP2 Coupe for their 2015 racing program," said Steve Eriksen, vice president and COO of HPD.  "Our association with Scott, Ed and Tequila Patrón goes back to 2008 with our ARX-01 chassis.  We're looking forward to continuing our successful partnership and assisting ESM when it makes its first run at the 24 Hours of Le Mans, where HPD has twice scored LMP2 class wins in the last four years."

"Tequila Patrón is looking forward to continuing our relationship with Honda and HPD," said Ed Brown, President and Chief Executive Officer at The Patrón Spirits Company, and ESM driver.  "We've won races and championships with HPD dating  to 2008, and this is a great next step in that relationship. Tequila Patrón is the leader in top-quality spirits and Honda is a top performing manufacturer, so it's a natural fit for both Tequila Patrón and HPD to move ahead with the new coupe. We're looking forward to racing the new ARX-04b, branding it with the Tequila Patrón and Extreme Speed Motorsports banners."

The ARX-04b features energy-efficient technology combining low drag with high fuel efficiency, "quick change" lightweight front and rear bodywork, 75-liter total fuel capacity, and the innovative Honda safety interlock refueling system, designed to reduce the potential for pit-lane fires resulting from cars leaving the pit box with the fuel hose still attached.
 
About Honda Performance Development
HPD was founded in 1993 as the performance arm of American Honda Motor Company, to spearhead the company's entry into IndyCar racing.  No other manufacturer has matched Honda's success in IndyCars, which includes 205 race victories, 15 drivers' championships, six manufacturers' championships and nine consecutive Indianapolis 500 victories (2004-2012).  In 2013, Honda powered veteran Scott Dixon to four race wins and the IZOD IndyCar Series championship.
 
HPD's prototype racing efforts have scored more than 70 victories and multiple American Le Mans Series engine, chassis, team, and drivers' championships.  The company's sports-car racing debut in 2007 at the 12 Hours of Sebring marked the first win for HPD's LM-V8 engine and the first for a Honda racing engine designed and developed outside of Japan.  HPD won the LMP2 title in the inaugural 2012 World Endurance Championship and, since 2010, has twice won the LMP2 category at the 24 Hours of Le Mans.  In 2013, HPD and Honda again swept the LMP1 and LMP2 manufacturers', engine, team and drivers' championships in the American Le Mans Series; while HPD-equipped Strakka Racing claimed the LMP1 private team class win at the 24 Hours of Le Mans.
 
HPD offers a complete line of race engines for professional, amateur and entry-level racers.  For more information, please visit http://hpd.honda.com.