2014 News
ESM Patrón Set for Prototype Debut at Watkins Glen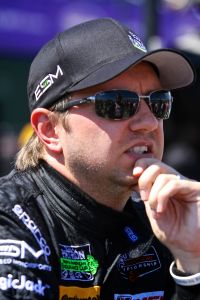 Florida team is optimistic following May test
STUART, Fla. – The Tequila Patrón-sponsored Extreme Speed Motorsports (ESM) team might be making its Watkins Glen debut this weekend in the Honda Performance Development (HPD) ARX-03b racing machines, but ESM drivers have a combined 16 starts, three pole positions and three wins at the upstate New York circuit.
ESM heads into the sixth round of the TUDOR United SportsCar Championship race – the Sahlen's Six Hours of The Glen – with confidence following a mid-May test session at the New York track.
Known as one of the premier permanent road courses in North America, Watkins Glen is an 11-turn, 3.37-mile road course. This event marks the return of an endurance event in the TUDOR Championship. The last three rounds of competition featured 100-minute sprint events. ESM is looking forward to returning to a six-hour race.
In addition, this weekend's race is the third round of the four-race Tequila Patrón North American Endurance Cup (NAEC).  The Tequila Patrón-sponsored championship within a championship includes the Rolex 24 At Daytona, Mobil 1 Twelve Hours of Sebring, Sahlen's Six Hours of The Glen and the season finale Petit Le Mans.  Watch as Ed Brown and Scott Sharp talk about the Tequila Patrón North American Endurance here.
Sharp and Ryan Dalziel, co-drivers of the No. 1 Tequila Patrón HPD are eighth in the NAEC, following a second place finish in round two at the Mobil 1 Twelve Hours of Sebring. Brown and van Overbeek, co-drivers of the No. 2 Tequila Patrón HPD, are ninth with a NAEC best finish of eighth at the Rolex 24 in January.
ESM owner/driver Sharp has four previous starts at Watkins Glen. Sharp made his debut at Watkins Glen in 1992 during a NASCAR Sprint Cup race. After trading his stock car in for an open-wheel car, Sharp returned to The Glen in 2005 for a three-year run in the IndyCar Series. The Northeast native earned back-to-back top-10 finishes in 2005 and 2006.
Dalziel, Sharp's co-driver, has 13 previous starts at Watkins Glen. The Scotsman seeks a HPD Prototype win to go along with his 2012 win in a Daytona Prototype. In addition to the win, Dalziel has two additional podium finishes (2011, 2012), both in Daytona Prototype race cars.
Anthony Lazzaro returns to join No. 2 season-long drivers Brown and van Overbeek. In six starts at Watkins Glen, Lazzaro has not finished outside of the top-four. His record includes two poles, two wins – both in 2002 – two runner-up finishes and one fourth-place run.
Van Overbeek also has some history at Watkins Glen. In three previous starts, he has one win (2003) and two top-10 finishes. Co-driver Brown is making his debut at The Glen, but the track won't seem new to him. Brown logged plenty of seat time during the team's test session in May.
The TUDOR United SportsCar Championship Sahlen's Six Hours of the Glen on June 27-29 is the sixth race of 2014 TUDOR United SportsCar Championship and third race of the Tequila Patrón North American Endurance Cup. Qualifying for prototype cars takes place at 5 p.m. ET on Saturday, June 28. Green flag is 11:15 a.m. ET on Sunday, June 29. 
Television coverage of the Sahlen's Six Hours of the Glen starts at 11 a.m. ET on FOX Sports 1. The race will also stream live on IMSA.com.
Video: Scott Sharp visor cam at Watkins Glen International during May test session.
SCOTT SHARP
"Patrón/ESM couldn't be more excited to go to Watkins Glen and chase the third round of the Tequila Patron North American Endurance Cup! Fortunately we were able to test at The Glen in late May and we're ready to get to the circuit this week. All of the prototypes are flat through the Esses and it is an awfully long straight from Turn 1 to the Bus Stop. At the test we were down 8-9 mph to the DP cars heading into the Bus Stop.  Luckily through many of the medium-speed corners, we are able to make some time back so it will be interesting to see how things shake out in the race.  I grew up in the Northeast and Watkins Glen was the third track I ever drove on and I have many fond memories. Watkins Glen is truly one of my favorite tracks and I can't wait to get back!"
ED BROWN
"I'm looking forward to the race this week! I think it's going to be crazy with 56 cars on a super-fast tight track. There will be some intense moments and great racing. Our HPD should be very good there to do the nature of the high speed corners. 
"It will really nice to get back into a six-hour race where we can use some strategy. Johannes and I welcome back Anthony 'Lazer' Lazzaro for this event. He knows his way around The Glen and is an awesome racer. We're looking forward to this race and eyeing that podium, especially since it is the third race of the Tequila Patrón North American Endurance Cup."   
RYAN DALZIEL
"Watkins Glen is without doubt one of the greatest race tracks in North America, and to be able to at one of my favorite venues in the world for six hours, it doesn't get any better – except for winning the race.
"We had a great test there recently with our HPD Tequila Patron prototypes so I feel really confident that we will have a strong package for the race. For the No. 1 car, we are not really in contention for the Tequila Patron North American Endurance Cup, so we are going there with one focus, and that's to win.
 
"I am really happy to get back to some endurance racing. I think one of the strengths of our HPD chassis is the longer stints on the Continental Tires, so we are really looking for good things."   
JOHANNES VAN OVERBEEK
"The high-speed corners of Watkins Glen suit the ESM/Patrón cars well.  The real challenge, for everyone, will be negotiating traffic. This is the first race since Sebring that all four car classes have raced together. Hopefully, we're all a little smarter and can have a clean six-hour race.
"Ed and I welcome Anthony Lazzaro back to the No. 2 team. If we do our job well, we'll have a great six-hour race. I want to win this race again and will be working hard towards that objective."   
ANTHONY LAZZARO
"I'm looking forward to driving the HPD prototype for ESM, especially at Watkins Glen – one of the best road courses in the world. Driving a race-winning car for a race-winning team is a privilege and I know I'm racing with the best team in the paddock. I was thrilled for Ed and Johannes when they won at Laguna Seca. Hopefully the three of us can get back to the podium and get these guys another win, especially since this is one of the Tequila Patrón North American Endurance Cup races.
"I've had some great runs at The Glen including two wins. I hope my experience at the track will help the No. 2 guys get back to the podium this weekend."