2014 News
Simply Perfect Pole Position for ESM on National Patrón Tequila Day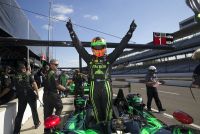 First front row sweep for ESM in TUDOR Championship
INDIANAPOLIS – Extreme Speed Motorsports (ESM) threw down the gauntlet in practice and qualifying today at Indianapolis Motor Speedway. For the first time in ESM history, both of the Tequila Patrón-sponsored Honda Performance Development ARX-03b prototypes will start from the front row and side-by-side for Friday's Brickyard Grand Prix.
It seems appropriate that the Tequila Patrón-sponsored race cars qualified 1-2, especially on National Patrón Tequila Day.
ESM finished Thursday's on-track activity the same way they started it – from the top of the timing charts. The Florida-based team was quickest in opening practice and remained quickest at the end of qualifying.
Ryan Dalziel, co-driver of the No. 1 Tequila Patrón HPD set the qualifying track record with a 1:17.603 (113.145 mph) en route to the first pole position for the No. 1 team this year. Dalziel dominated in qualifying and led the entire 15-minute session. His closest competitor was teammate Johannes van Overbeek.
Scott Sharp, ESM owner/driver, will start the race in the No. 1 Tequila Patrón team. Sharp has 14 previous Indy 500 starts and two IROC starts at Indianapolis Motor Speedway.
During his qualifying session, van Overbeek, co-driver of No. 2 Tequila Patrón, clocked a lap at 1:17.879 (112.744 mph), less than three-tenths of a second behind Dalziel. This marks the second front-row start for the No. 2 team. In May, van Overbeek was the pole winner at Mazda Raceway Laguna Seca – the site of the No. 2 team's first win.
 
Ed Brown is the starting driver for the No. 2 team for Friday's race.
 
Friday's two-hour, 45-minute Brickyard Grand Prix is the eighth race of 2014 TUDOR United SportsCar Championship. Green flag is 5:45 p.m. ET.  
 
Television coverage of the Brickyard Grand Prix starts at 5:30 p.m. ET on FOX Sports 1.
 
Video: Johannes van Overbeek on-board turn-by-turn description of Brickyard Grand Prix.
####
RYAN DALZIEL
"We've been close to the pole a few times until the last man crossed the line and took it from us. Both cars had rough races at Canadian Tire Motorsport Park, so this is a great rebound; a good boost of motivation for the crew on both cars. You can't ask for much more than both ESM Tequila Patrón cars on the front row.
"We have to make our cars a little bit better. Track conditions changed a lot, so we'll have to be smart and predict what tomorrow night is going to be like. We're going to be racing in conditions we didn't test in. This is a great start. National Patrón Tequila Day – we got the pole; we've got the front row, so it was a perfect day."   
JOHANNES VAN OVERBEEK
"This is fantastic for ESM, especially on National Patrón Tequila Day. I was thinking there was a little bit more there, but the rear of the car just wasn't there for us. Congratulations to Ryan; that was a great lap. He helped me a lot in learning this place. We're in a good position for the start of the race tomorrow, and hopefully we will avoid the trouble at the green flag. We have two hours and 45 minutes to make it count. If Ed can do the job he did at Mazda Raceway Laguna Seca, I think both cars have a really good shot at finishing where we qualified."
Further information:
Email: This email address is being protected from spambots. You need JavaScript enabled to view it.
Facebook: www.facebook.com/ESMracing
Twitter: www.twitter.com/ESMracing
YouTube: www.youtube.com/esmracing
Instagram: www.instagram.com/esmracing