2014 News
ESM and Tequila Patrón Set for FIA WEC Debut at COTA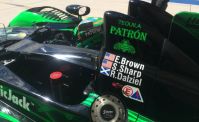 Sharp, Brown and Dalziel Piloting No. 30 in LMP2 class  
STUART, Fla., – Six weeks ago, Extreme Speed Motorsports (ESM) announced its intent to race in the FIA World Endurance Championship (FIA WEC). In the last six weeks, the Florida-based team has been unstoppable in preparing the Tequila Patrón-sponsored Honda Performance Development (HPD) ARX-03b for its debut in the FIA WEC.
The transformation is now complete. This week Extreme Speed Motorsports heads to Austin, Texas, and the 6 Hours of Circuit of the Americas as part of the Lone Star Le Mans weekend on September 18-20.
Scott Sharp, Ed Brown and Ryan Dalziel, co-drivers of the No. 30 Tequila Patrón HPD ARX-03b, are slated to compete in the FIA WEC Le Mans Prototype 2 class (LMP2). As the lone American-based LMP2 team, ESM will compete against four other teams in the class. The full entry list shows 28 competitors among four classes.
Although ESM was assigned the No. 30 by the FIA WEC, it is a fitting number for the Tequila Patrón-sponsored team. The ultra-premium tequila company launched an advertising campaign detailing the extensive distillation process they use, and that 60 hands touch every bottle of Tequila Patrón before it leaves the distillery. Those 60 hands equal 30 people, the new car number assigned to the ESM team.
Since the August announcement, the ESM crew has logged countless hours ensuring the Honda-powered prototype meets the FIA WEC technical requirements. The team installed a smaller restrictor, modified the aerodynamics, and installed a different electronics package to comply with the regulations set by the Automobile Club de l'Ouest (ACO). Last week, Sharp, Brown, and Dalziel participated in a test session at Circuit of the Americas (COTA) where they assessed the engine, aerodynamics, and Dunlop Tires.
This weekend's 6 Hours of Circuit of the Americas is the only WEC race in the United States. Built in 2012, COTA is a counter-clockwise, 3.427-mile long, 20-turn permanent road course with an elevation change of 133 feet. The FIA WEC race marks the debut of night racing at COTA.
In addition to competing in the 6 Hours of Circuit of the Americas, ESM is entered in the Saturday afternoon TUDOR United SportsCar Championship. Brown and co-driver Johannes van Overbeek will compete in the two-hour and 45-minute endurance race in the No. 2 Tequila Patrón HPD ARX-03b. Brown and van Overbeek finished third at last year's September COTA race.
With an entry in both the FIA WEC and TUDOR Championship races on Saturday, ESM will be making team history, racing for its first double-podium weekend in two different racing series.
On Friday following FIA WEC qualifying, Dalziel is participating in a live Twitter chat at @FIAWEC. From 7:30pm-7:50pm CST, Dalziel will answer questions via the FIA WEC Twitter account. Follow the live chat at #AskDalziel.
The 6 Hours of Circuit of the Americas on September 19-20 is the fourth of eight races in the FIA World Endurance Championship. Qualifying for LMP2 cars takes place at 6:35 p.m. CST on Friday, September 19th.
The green flag drops at 4:56 p.m. CST on Saturday, September 20th. The 6 Hours of Circuit of the Americas qualifying and race can be heard on Radio Le Mans. Timing and scoring is available on the FIA WEC website.
 
####
SCOTT SHARP
"I think this is really exciting for the whole ESM Tequila Patrón team to make our FIA WEC debut at COTA. All the guys are fired up about it. This is a chance for us to try out the WEC series on a familiar track. The entire team is focused on the TUDOR Championship race for the No. 2 car, and will quickly change their focus to the No. 30 car for the six-hour WEC race. It is going to be fun because we're racing against other P2 cars we're competitive with. We're looking forward to the challenge. We're not sure where we measure up to the competition because of the different engine configurations, but I think we should be pretty good.
 
"It is good for us to enter the race and see how the WEC series works. We're going to race Le Mans next year, and we need to learn the processes because every series is different. We're on different tires, and that plays a big role in the handling of the car from the driver perspective, and the setup. The procedures are important for us to understand.
 
"COTA is an unbelievable circuit. I'm not sure they'll build another course like this anytime soon in the United States. I think it is going to become one of the marquee tracks here. COTA is a tough track, multiple corners, long with a two-minute lap time. There are hugely challenging sections, and a lot of high-speed corners that twist back and forth. It is a challenge to get it right as a driver and to make the car happy in all those sections and 20-turns.
 
"We had a chance to test the Dunlop tires last week, and the car is very similar to what we've run in the TUDOR Championship this season. We haven't made huge adjustments. The biggest challenge for us this weekend will be the protocol of the FIA WEC. We have three drivers in a six hour race. We need to comply with the minimum and maximum drive times. Who can qualify when, and who can start the car and driver order. We have all those variables when formulating a plan to win the race. The strategy and logistics will be a challenge since this is our first WEC race."
ED BROWN
"I'm honored to drive with Scott and Ryan. Racers only dream to be paired up in the same race car with drivers like that, especially since they are two of my really good friends. Our first WEC race, I think it is going to be spectacular.
 
"As long as our car is performing, the three of us have as good a shot at winning that race as anybody. I'll put my two co-drivers against any of those other guys we are racing. I have really good teammates and crew and we're ready to show the FIA WEC series and competition what we can do on track. I'm so excited. This is one of those bucket list items that you dream of doing. I'm really excited about it.
"We're honored to be representing a world-class brand like Tequila Patrón and introduce it to a world-class racing series like the WEC, and exposing the WEC fans to Patrón. I think that's a nice combination.
 
"We always go into a race weekend with a win in mind. Our goal is to earn a double podium finish, one in each race. That would be pretty spectacular. I don't know if it's ever been done. That would be a great achievment for ESM and Tequila Patrón. Huge credit to the entire ESM team for the work they've done getting the car ready." 
RYAN DALZIEL
"I can't wait to race at COTA! This is one of the nicest facilities in North America and ESM Patron's first race in WEC competition.
 
"We had a really good test recently and I'm confident we will be on pace with the series regulars. After racing full-time in WEC before, I'm looking forward to being part of the WEC family once again.
"ESM and Tequila Patrón have two cars entered in the Tudor and WEC races, so I'm hoping for double victories this weekend." 
Further information:
Facebook: www.facebook.com/ESMracing
Twitter: www.twitter.com/ESMracing
YouTube: www.youtube.com/esmracing
Instagram: www.instagram.com/esmracing