2014 News
ESM Patrón Set for Overseas FIA WEC Debut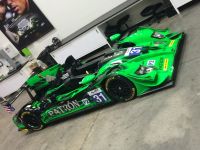 Two-car, Honda-powered effort from lone American LMP2 team     
STUART, Fla., – October 27, 2014 – Six weeks after earning its first podium finish in the FIA World Endurance Championship (FIA WEC), Extreme Speed Motorsports (ESM) with two Tequila Patrón-sponsored Honda Performance Development ARX-03b (HPD) prototypes, six world-class drivers and a crew of 30 set sail for China to add another item to the team's history book: compete in the 6 Hours of Shanghai.
In February 2013, the Tequila Patrón-sponsored ESM entered two Le Mans style-prototype racing machines (LMP2) for the final season of what was the American Le Mans Series (ALMS), en route to a runner-up position in the championship standings.
Less than two years later, the Florida-based team made its debut in the FIA WEC during the September race at Circuit of The Americas (COTA) and earned a third-place finish. For 2014, ESM competed in the prototype class of the TUDOR United SportsCar Championship, the result of the ALMS and former Grand-Am Road Racing series. As the TUDOR Championship season drew to a close, ESM decided to embark on a journey into the FIA WEC and entered two cars in the November race. 
The 3.4-mile (5.5-kilometer), 16-turn Shanghai International Circuit is located in Jiading, Shanghai, China. Developed to host the Formula 1 World Championship, the Shanghai International Circuit also hosts the MotoGP and the V8 Supercar championship races.
The No. 30 Tequila Patrón HPD driven by Scott Sharp, Ed Brown and Ryan Dalziel made a stellar debut in Austin, Texas, in September. The trio started from the third position, battled the competition, the rain and a red flag. All three drivers led the LMP2 class during the six-hour event. Dalziel charged to the front twice and was logging laps nearly six seconds quicker than the leaders. In the end, the No. 30 team earned a third-place finish.
 
The Tequila Patrón-sponsored team showed its power and prowess with one entry at the September race. Now with double the racing machinery and drivers, ESM eyes the Orient and seeks another solid performance.
The line-up has changed for the No. 30 Tequila Patrón HPD team. Mexican racer Ricardo Gonzalez, the 2013 FIA WEC LMP2 champion, will co-drive with Sharp and Dalziel. Gonzalez has two previous starts at the Shanghai track. Last year, Gonzalez and co-drivers Bertrand Baguette and Martin Plowman qualified fourth and finished third in P2 driving an Oak Morgan-Nissan.
 
Dalziel is the 2012 FIA WEC LMP2 class champion. The Scotsman has three FIA WEC victories and seven podiums. In his FIA WEC championship season, Dalziel finished second at Shanghai.
 
ESM team owner and racer Sharp is making his Shanghai debut. Although Sharp is new to the FIA WEC, he holds several drivers championships including three consecutive Sports Car Club of America (SCCA) titles (1986-1998), two SCCA Trans-Am titles and one ALMS LMP1 Championship title that he earned with then co-driver David Brabham. Sharp is also the 1996 Indy Racing League co-champion.
New for the FIA WEC 6 Hours of Shanghai is the No. 31 Tequila Patrón HPD, co-driven by Brown, Johannes van Overbeek and Brabham. Formerly the No. 2 Tequila Patrón HPD in TUDOR Championship, the addition of the second LMP2 machine in the WEC strengthens ESM's efforts. In 2014, Brown and van Overbeek earned their first pole position and win in the TUDOR Championship during the May race at Mazda Raceway Laguna Seca.
 
Brown was part of the ESM team that raced to a third-place finish at COTA. The China event marks the FIA WEC debut of Oakland, California-native van Overbeek. Although a seasoned sports car racing veteran with four 24 Hours of Le Mans events under his belt, van Overbeek makes his first FIA WEC appearance in China. International competition has taken a liking to van Overbeek. While with ESM, the Californian celebrated his 100th ALMS start during the 2012 July race at Canadian Tire Motorsport Park in Bowmanville, Ontario, Canada. That same weekend van Overbeek made a bold final-lap pass which resulted in ESM's first GT win.
Brabham teams with Brown and van Overbeek for the first time. Earlier this year, Brabham co-drove with Sharp and Dalziel in the Rolex 24 At Daytona and assisted in a third-place finish at the 12 Hours of Sebring. Brabham also co-drove in the then No. 01 machine during the 2013 ALMS endurance races at Daytona, Sebring and at the Petit Le Mans in Atlanta. The 6 Hours of Shanghai marks the second appearance for the Australian at Shanghai International Circuit. He finished fifth in 2012 in the LMP1 class.
Ride along with Extreme Speed Motorsports
Viewers will be able to watch qualifying and entire race from on-board cameras mounted to both of the ESM Tequila Patrón-sponsored HPDs via the FIA WEC second screen app or online at www.fiawec.com
 
The cameras are mounted to the race cars so viewers can watch the race from the drivers' point of view. To ride along with Sharp, Dalziel and Gonzalez, select the No. 30 camera, or to ride along with Brown, van Overbeek and Brabham, select the No. 31 camera.
 
Download the FIA WEC second screen app online at www.fiawec.com.
 
ESM on Track
Friday's two free practice sessions run from 10:45 a.m. to 12:15 p.m. and 3:30 p.m. to 5 p.m. China Standard Time. (Thursday from 10:45 p.m. to 12:15 a.m. and Friday from 3:30 a.m. to 5 a.m. ET)
 
Saturday's on-track activity includes the hour-long practice session starting at 9:30 a.m. China Standard Time (9:30 p.m. ET)
 
LMP2 qualifying begins at 1:55 p.m. China Standard Time on Saturday afternoon. (1:55 a.m. ET)
Green flag for the 6 Hours of Shanghai takes place Sunday at 11 a.m. China Standard Time (11 p.m. ET).
 
Where to Watch
The 6 Hours of Shanghai will be televised globally and can also be viewed via the FIA WEC second screen app or online at www.fiawec.om
 
The race can be heard live on Radio Le Mans at www.radiolemans.com.
####
SCOTT SHARP
"To say that we are excited to take the entire ESM Patrón HPD team to Shanghai is an understatement! COTA whet the appetite a bit. To bring two cars and the full team and with the addition of Ricardo and David, this will be an experience and a great way to finish 2014.
 
"Naturally we are shooting for two podiums but more importantly is the experience for the entire team. Ed said it before, we wanted to challenge ourselves and this is definitely a challenge.
 
"We're equally excited to expose our Tequila Patrón HPD prototype cars and the Patrón Spirits brand to the many avid Chinese fans.  China is a critical market for the growth of Patrón in the future and we are excited to play a part in it.
 
"Although we'll be far away from our family and friends for the race, we're set to stay connected with magicJack. We'll be juggling a big time difference, but ESM is family-orientated and although we're away, we'll stay connected thanks to magicJack."
ED BROWN
"I'm so excited to be going to Shanghai to race in the WEC. I really look forward to driving with my teammate Johannes and honored to be driving with David. This is going to be such a great experience for the entire ESM Patrón team. Johannes and I will learn the track as fast as we can to ensure we're up to speed on the circuit. We'll leverage David's knowledge of the track to help us get our heads wrapped around the circuit.
 
"This weekend will be challenging but I know both the No. 30 and 31 ESM engineers and crews are ready to tackle China and this race. We learned plenty at COTA, so we'll just apply what we did there to China and it should be smooth sailing.
 
"One car was strong at COTA with a third-place run. Now with double the HPD machinery, drivers and crew, we're twice as strong. This is a big weekend for ESM – we're presenting our team, Tequila Patrón and the United States as the only American-based LMP2 team." 
RYAN DALZIEL
"One of the biggest challenges we face this weekend is going to be the travel and time adjustment. For majority of the team and crew, heading to China is a first, so going there to race just adds an extra element of difficulty.  Once everyone is acclimated to the time difference, we will hit the ground running.
 
"Competing in WEC at COTA was great. It was the best sports car manufacturers in the world on one stage, and China holds a special place for me as it's where I won the 2012 WEC LMP2 title.
 
"After COTA we feel confident in going to Shanghai and having both cars compete for the win. We learned a lot at COTA both on- and off- track and I think goals are a double podium this weekend. We're strong enough and have the right combination of drivers and machinery to get it done.
"The Shanghai circuit is great. It's very low grip, so it's tough to find mechanical grip in the very slow areas. There are a couple of high-speed sections that will show the potential of our Tequila Patrón HPD chassis."
JOHANNES VAN OVERBEEK
"I never imagined I would be going to China to race a car, let alone a Tequila Patrón-sponsored Honda prototype. I'm very excited to be a part of it, racing with Ed and David and looking forward to a good outcome.
 
"Preparation for this race is absolutely key for me going to a new track. Luckily now with tools like GoPros and YouTube, it is pretty easy to see the track, the corners, elevation changes and get a since of what the grip level is at any track. My objective is to have the track completely memorized before I get there and then overlaying in my mind what the HPD is like to drive and layer that with what I've seen on the video. We're lucky to have Ryan, David and Ricardo as teammates since they've all raced at the track.
 
"I'm not sure what to expect for this race. I have an open mind. We have all the right components in place – me, Ed, David, the engineers, the crew and the car. The only challenge I anticipate now is coming to grips with the track quickly so that we can make the appropriate changes to the car and improve it throughout the weekend.
 
"This is my first time co-driving with David. I'm looking forward to learning from him. He's a reservoir of knowledge and experience. I'm really hoping to get another race win this year with Mr. Brown, too." 
DAVID BRABHAM
"One of the biggest challenges this weekend is that the track is unknown and so is the culture in China, so there will be lots for the team to learn.
 
"A new circuit is a great challenge to conquer and I am sure everything will be done to make sure we are well-prepared. Reliability will be key, so the team and the drivers who have not been there before will have to have lots of laps.
 
"ESM has assembled a good well-balanced car and that will be very important at China." 
RICARDO GONZALEZ
"Shanghai is a very challenging circuit because it has such unique corners, and you have to compromise quite a bit with car setup as well because of the huge straights.  Turn 1 is a decreasing radius corner that is very challenging to get right, and then you have basically the opposite leading on to the back straight, so it's definitely not an easy track to master. I've raced there twice and last year I finished on the podium, so I have a good idea of what it takes to be successful there. I will do my best to share my experience with all my teammates at ESM Patrón so we can all get up to speed as quickly as possible.
 
"I'm very excited to be racing with Tequila Patrón, ESM, Scott and Ryan. We've all known each other for a long time but this will be the first time that we share a car. I think we have a very legitimate shot at taking the win and I will give it my best to make sure I have a successful run with the team.  
 
"My own goals and expectations for this weekend are simple, I want to do the best job I can for Patrón, ESM, and my teammates Scott and Ryan. If we do that, I'm sure we'll come out of the weekend with a good result."  
Further information:
Extreme Speed Motorsports
Facebook: www.facebook.com/ESMracing
Twitter: www.twitter.com/ESMracing
YouTube: www.youtube.com/esmracing
Instagram: www.instagram.com/esmracing