2015 News
Tequila Patrón ESM Set to Battle in Belgium with Ligier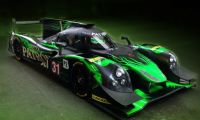 Riviera Beach, Fla., –  Less than six weeks ago, Tequila Patrón ESM announced it would transition to the Onroak Automotive Ligier JS P2 prototype machines. This weekend the Florida-based team will compete in its first race with the Tequila Patrón-sponsored Ligier JS P2 prototypes at the FIA World Endurance Championship (FIA WEC) 6 Hours of Spa-Francorchamps in Belgium.
Outfitted with the latest in sportscar technology, Tequila Patrón ESM will be in the thick of the LMP2 battle with two identically equipped Ligier JS P2 prototypes, powered by Honda HR28TT V6 engines. A bright spot on the grid, the Tequila Patrón ESM Ligiers are livered with contrasting black and striking Patrón green featuring the signature Tequila Patrón bottles and trademark Patrón bee. To distinguish the two machines from each other, the No. 30 will feature black mirrors and the No. 31 will have Patrón green mirrors.
Following a brief shakedown on Monday at Magny-Cours, Tequila Patrón ESM heads to eastern Belgium for the second round of the eight-race WEC season. Situated in the picturesque region of the Ardennes, the 20-turn, 4.352-mile (7.004-kilometer) circuit is another new venue for the only American team fielding season-long two LMP2 entries in WEC.
 
Before the season-opening 6 Hours of Silverstone, Tequila Patrón ESM drivers Scott Sharp, Ed Brown and 2012 WEC LMP2 champion Ryan Dalziel made a short trip to Spa to run a few laps to familiarize themselves with the circuit. The trio logged laps in Radical Sportscars to get a sense of the fast, hilly and winding corridors of the historical track.
 
Competition continues to be fierce in the LMP2 category. Often classified as the precursor to the 24 Hour of Le Mans, the 6 Hours of Spa-Francorchamps sees higher car counts. For this round of competition, there are 10 LMP2 cars listed on the entry list, two more than Silverstone, for a total of 34 cars on the grid.
 
Two of Spa's infamous and high-speed sections include the Eau Rouge (Turns 3, 4, 5) and Blanchimont (Turn 17). Eau Rouge is a fast left-right-left, high-downforce chicane that crests into a blind uphill section of the track. Mastering this section sets the driver up for the long Kemmel Straight, an ideal passing zone.  Blanchimont is a high-speed left-handed kink ahead of the final chicane before pit straight. Mastering these two challenging sections of the circuit will be key in setting a solid qualifying lap and optimal locations for passing during the race.  
 
Sharp, Dalziel and David Heinemeier Hansson, co-drivers of the No. 30 Tequila Patrón ESM Ligier, enter Spa-Francorchamps determined to continue the WEC podium finishes set in 2014, a third-place finish at the 6 Hours of Circuit of the Americas and then a runner-up finish during the 6 Hours of Shanghai. The trio proved to be quick at Silverstone and ran a consistent pace.
 
Johannes van Overbeek returns to co-drive the No. 31 Tequila Patrón ESM Ligier with Ed Brown and Jon Fogarty. Van Overbeek was sidelined for the 6 Hours of Silverstone due to a non-racing related rib injury, but returns to the No. 31 team and the all-new Ligier with determination. On the first weekend in May 2014, Brown and van Overbeek earned their first overall pole position and win during the TUDOR United SportsCar Championship race at Mazda Raceway Laguna Seca. The duo will channel that energy into every lap this week at Spa.

Tequila Patrón ESM on Track
Thursday's two free practice sessions start at noon and 4:30 p.m. CET – Central European Time/6 a.m. and 10:30 a.m. ET.
 
Friday's on-track activity includes the hour-long practice session starting at 2 p.m. CET/8 a.m. ET. LMP2 qualifying begins at 6:35 p.m. CET/12:35 p.m. ET on Friday.
 
Green flag for the 6 Hours of Spa-Francorchamps takes place at 2:30 p.m. CET/8:30 a.m. ET on Saturday.
 
Where to Watch
The 6 Hours of Spa-Francorchamps will be televised globally and on the FOX Sports Network of channels.
 
For U.S. viewers, the 6 Hours of Spa-Francorchamps will air on Saturday, May 2:
8:30 – 11 a.m. ET — FOX Sports 1
11 a.m. – 1 p.m. ET — FOX Sports 2
1 – 2:30 p.m. ET — FOX Sports 1
 
The race can be viewed via the FIA WEC second screen app or online at www.fiawec.com.
 
To listen to the 6 Hours of Spa-Francorchamps, tune into Radio Le Mans at www.radiolemans.com.
About Tequila Patrón ESM
Founded in 2010, Tequila Patrón ESM is one of the premier sportscar teams in the world. Tequila Patrón ESM's record includes two GT wins with the Ferrari Italia F458 (Canadian Tire Motorsport Park and Road Atlanta, 2012), two LMP2 wins (Long Beach, 2013 and Mazda Raceway Laguna Seca, 2014) two GT pole positions, four LMP2 pole positions and a combined 22 podium finishes.
 
For 2015, Tequila Patrón ESM competes in the TUDOR United SportsCar Championship and the FIA World Endurance Championship (WEC) with two Tequila Patrón-sponsored LMP2 prototypes and drivers Scott Sharp, Ed Brown, Johannes van Overbeek, Ryan Dalziel, Jon Fogarty, and David Heinemeier Hansson.
####
SCOTT SHARP
"I've been watching Spa on television ever since I was a kid racing karts. I've always been in awe of the speed, elevation and beauty of the track. Now I'm incredibly excited to take our new Tequila Patrón ESM Ligiers to the fight this weekend." 
ED BROWN
"I'm super excited to get into our new car and especially to race it at the world famous Spa! As a team it is important for us to learn the car as quickly as we can. Our goal this weekend is to earn as many points as possible and prepare for Le Mans. I'm so glad to have my teammate Johannes back in the car with us this weekend. Maybe we can recreate the magic that we had a year ago when we won at Laguna!" 
RYAN DALZIEL
"Spa is one of those tracks as a driver you dream of racing on. Then when you get the opportunity to race the first time, you literally count down the days until you can race there again. I was fortunate enough to race at Spa in my 2012 FIA WEC championship season in the Starworks P2 Honda ARX-03b, so I'm somewhat familiar with driving there, although that was my one and only time competing at the track.
 
"This weekend will be our first race with the all-new Ligier powered Hondas and I can't wait to see what this car drives like. I've heard so many great things from the drivers who have driven it. I think the hard work from the Tequila Patrón ESM crew, and help from Onroak, we are ready to get back on the WEC podium, but hopefully this week on the top step. I cannot thank our Patrón ESM guys enough for getting this car ready in such a short time frame."
JOHANNES VAN OVERBEEK
"It'll be great to get back behind the wheel. Spa will be very challenging as we have a new car and the track is new for Jon and me. We'll have to lean on Ed, Ryan, David and Scott for track knowledge.
 
"I'm really looking forward to driving the Ligier. I've raced against it a few times and it seems to be quick and reliable. In a few days' time we'll get to experience the Ligier, what it's like as a package and against the competition. Hats off to the Onroak and Tequila Patrón ESM guys for getting these cars built and prepped in such a short period of time. I'm really looking forward to racing the newly-minted Patrón Liger at Spa with Ed and Jon this weekend." 
JON FOGARTY
"We have witnessed the performance of the Ligier in many different series (TUDOR, WEC and ELMS), engine configurations (Honda, Nissan) and tires (Continental, Dunlop) and it has always been exceptional. I can't wait to give it a try.
 
"We will have cooler conditions at Spa so the coupe will be comfortable. The turbulence of the open cockpit will be gone, which is nice when you are in an endurance race. I think that we will adjust to the visibility quickly.
"For Tequila Patrón ESM we need as much running with our new cars as possible, so this is a very important weekend to iron out the details before heading to Le Mans. We need to be very aware of every element of the race weekend. We have to focus on many other things other than just pure pace." 
DAVID HEINEMEIER HANSSON
"Eau Rouge is one of the greatest thrills on the calendar. No matter how many times you take that turn, it still – quite literally – takes your breath away. So Spa is a pleasure to visit just for that corner alone, and then the rest is just a bonus. I've had good runs at the circuit the last two years; finishing second in GTE-AM last year and second in LMP2 in 2013. So hopefully we can do it one better this time in our brand-spanking new Ligiers and regain some of the points terrain lost at Silverstone. If in doubt, go flat!"
Further information
Tequila Patrón ESM
Facebook: www.facebook.com/TequilaPatronESM
Twitter: www.twitter.com/TequilaPatronESM
YouTube: www.youtube.com/esmracing
Instagram: www.instagram.com/TequilaPatronESM