2015 News
Ryan Dalziel Keeps Points Lead Following Miller Motorsports Park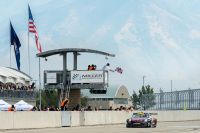 TOOLE, Ut.,  - Following the conclusion of Rounds 16 & 17 of Pirelli World Challenge at Miller Motorsports Park, EFFORT Racing driver Ryan Dalziel maintains his championship points lead.
A championship contender all season long, Dalziel most recently celebrated a dominating weekend at Mid-Ohio SportsCar Course, winning both poles as well as both Rounds of the double header event. From there, the race series traveled to Miller Motorsports Park in Toole, Utah, 4,400 feet above sea level. Although the track would prove to be better suited for turbo charged engines, rather than their naturally aspirated competitors, the two-car Porsche 911 GT3 R team fought hard to utilize tire and race strategies to gain valuable points at the double header event.
Dalziel finished in the top 5 for both Rounds at Miller Motorsports Park, keeping his points lead over double-race winner Johnny O'Connell and Ferrari driver Olivier Beretta. Teammate and top series Rookie Michael Lewis earned two sixth place finishes, putting on impressive battles with series veterans in both races.
A prior commitment in the WEC will cause points leader Ryan Dalziel to miss Rounds 18 & 19 at Sonoma Raceway August 28-August 30. Dutchman Renger van der Zande will take over the driving duties for the No. 31 Porsche 911 GT3 R.
Ryan Dalziel // #31 Porsche 911 GT3 R
It was a good result. We've known all weekend we just wouldn't have the pace that the turbo cars had. Our goal was to try and be the best of the rest. Fourth place is probably the best we could have hoped for at weekend's end. In race two, we got a great start from 8th and got to 3rd in the first lap. We killed tires and couldn't really hold Guy Smith off anymore. Fourth was a good result, third would have been better, but it's still a nice result. I'm going to miss Sonoma, so the points lead will disappear. We'll keep our fingers crossed and see what happens.
Michael Lewis // #41 Porsche 911 GT3 R
We started 7th and ended 6th today, and I finished a couple of spots behind my teammate. Those Porsches were pretty solid today. Unfortunately, although I moved up a spot, it was a long day today. I fell back at the start from a slow get away at the line, and going into the first corner, I dropped four or five positions. It was just hard work to get back up to that 6th position. The car was on it from the first lap to the end. This Porsche GT3 R had the pace to do a quick lap time, then in traffic, it was really nice to drive. I could put it wherever I needed. The team really gave me a great car to drive. I was just the guy with the steering wheel, pushing the pedals. Good job to Ryan for getting some more points, because he'll need all of them. We're going to go to Sonoma and keep this positive run going. Hopefully running closer to the sea level will give us more power with our naturally aspirated engine. I wish we could race more here at Miller. It was a very fun, methodical track, which I enjoy. It has long straightaways and nice flowing corners. Sonoma will be different, but I'm looking forward to it.
###
About EFFORT Racing
Pirelli World Challenge team EFFORT Racing was founded in 2012 with a simple goal: to be Champions, both on and off the racetrack. In doing so, EFFORT seeks not only to win races, but to spread an uplifting and encouraging message of hope. The team strives to infuse God's integrity and standards into the passionate and exciting world of racing. At EFFORT Racing, every member of our team comes to win. From our drivers, to our crew, to the folks behind the scenes, the EFFORT Racing family knows that every member of our team is crucial to a winning racing organization.