2015 News
Tequila Patrón ESM Gains Experience in Germany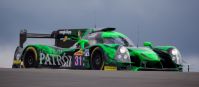 Nürburgring, Germany,  – It was a weekend of high hopes and dashed dreams for Tequila Patrón ESM at the FIA World Endurance Championship's (FIA WEC) 6 Hours of Nürburgring. At the end of the six-hour race, the team finished sixth and eighth in the LMP2 class.

After successful testing at Nürburgring back in July, Tequila Patrón ESM entered this week's event with confidence its Ligier JS P2 Hondas were ready to take on the field and give the team a pair of podium finishes. But for most of the race the fast setup eluded both cars, until late in the race when the team found a competitive pace but with too few laps left to make a podium finish.
The No. 30 team of Scott Sharp, Ryan Dalziel and David Heinemeier Hansson gambled early on a yellow-flag pit stop but timing was against the team when the race quickly went back to green. All three drivers completed their stints and near the end of the race were able to run consistent lap times. The team had a mostly clean race, with a brief off-track in Turn 15 by Heinemeier Hansson the only incident.

The No. 31 Tequila Patrón ESM drivers Ed Brown, Johannes van Overbeek and Jon Fogarty also struggled early. Slightly off pace from the other LMP2 competitors, the No. 31 crew made the right adjustments to get the No. 31 running consistent laps as the race progressed. Turn 15 proved to be challenging for the No. 31 team as well, Brown went off-track in the same section as Heinemeier Hansson.

Tequila Patrón ESM now heads to familiar territory for the fifth round of the WEC. The Florida-based team heads home to the United States and the Circuit of the Americas (COTA) in Austin, Texas. COTA marks the one year anniversary of Tequila Patrón ESM's debut in the WEC. Last year, Sharp, Brown and Dalziel earned the team's first WEC podium with a third-place finish.

The 6 Hours of COTA takes place on September 19, and is the team's first United States-based race in the Ligier J2 P2 Honda prototypes. The last time Tequila Patrón ESM competed in the States was during the 12 Hours of Sebring in March 2015.
####
SCOTT SHARP
"Nürburgring proved to be a very tough weekend for Tequila Patrón ESM. We had a great test here and expected to return and show the same speed. Unfortunately from the moment we unloaded the trailer, we chased the balance of the cars. We also seemed to be down a bit on the straights. Factor in the high ambient temperatures and it was quite a handful to make the two ESM cars as competitive as we hoped. However, the team persevered, the guys gave us great pit stops and we brought both cars home unscathed in sixth and eighth. We will learn from this weekend and go to Austin stronger." 
ED BROWN
"We didn't have the weekend we hoped for at Nürburgring. We were confident heading into this race since the test was successful. We're not sure what changed from the test to the race because we struggled with setup all weekend. Thanks to the entire Tequila Patrón ESM crew; they never gave up. We learned a lot this weekend and we'll take that with us to COTA. We're looking forward to heading back to the United States, competing at Austin and returning to the podium." 
RYAN DALZIEL
"We did not have the weekend we were expecting. Setup issues haunted us from the start and we just couldn't get a handle on it. I'm proud of the team for never giving up.

"I'm looking forward to returning to COTA where it's not only home soil for Tequila Patrón ESM, but also the venue where we kicked off our WEC campaign last year and got a great podium. We're hoping for the same good fortune again." 
JOHANNES VAN OVERBEEK
"Nürburgring is a great track and we thought we were ready for our first podium finish this year, but we were just a little off on the setup. Ed and Jon drove great races and it was an honor to be a part of the first WEC race in Germany, we just wish we had a better showing. My hat is off to the Tequila Patrón ESM crew; they worked hard to get us ready and were non-stop throughout the weekend. We had great pit stops and driver changes, we just wish we could have finished better than eighth." 
JON FOGARTY
"We missed the setup earlier this week and tried to make the right adjustments to get the Tequila Patrón ESM Ligier Honda where we needed it to be. Since we were chasing the setup, we were playing catch-up during practices, qualifying and the race.
 
"The team worked hard all week. The crew guys were awesome with pit stops. We're leaving Germany a bit puzzled, but we'll find the balance for COTA. We're all looking forward to racing
DAVID HEINEMEIER HANSSON
"It was a tough weekend for all of us. But I was happy to see that were able to keep the pace at the 1:49-1:50 for much of that first stint. It was a small victory. We know the cars are strong and we have great driver lineups, but something was missing this weekend."
Further information
Tequila Patrón ESM
Web: www.esmracing.com
Facebook: www.facebook.com/TequilaPatronESM
Twitter: www.twitter.com/TequilaPatronESM
YouTube: www.youtube.com/esmracing
Instagram: www.instagram.com/TequilaPatronESM