2016 News
Teamwork Sees Visit Florida Racing Score Second in Continental Tire Monterey Grand Prix
Starts last, finishes second for encore podium result at Mazda Raceway Laguna Seca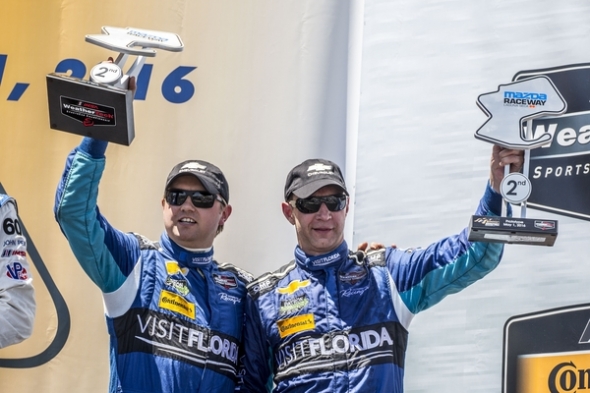 Monterey, Calif. (1 May 2016) – Visit Florida Racing showed on Sunday that even when it is raining, there is sun behind those clouds. Despite starting the Continental Tire Monterey Grand Prix powered by Mazda over a minute behind the race leader, Visit Florida Racing drivers Marc Goossens and Ryan Dalziel finished the race in second place to notch the team's best IMSA WeatherTech SportsCar Championship result of the season so far.
Looking to make a vigorous defense of the team's 2015 IMSA victory at the California track, Visit Florida Racing had been frustrated in the early practice and qualifying sessions during the weekend as the Corvette DP just didn't have the pace to be a front runner. But lots of data analysis, and another round of adjustments in the morning, saw the car improve come race time.
Unfortunately the team had to start from the pit lane after not being on the starting grid by the cut off time. Unfortunately, the penalty also meant that the team was forced to do a drive through pit lane once the race had started.
But the increased race pace, plus a fortuitous full course caution, strong driving and great pit work all added up to a run to second place for Visit Florida Racing.
"The car came back to us during the first part of the race and we had more for them," said Goossens, who had to fend off a strong late race challenge from a fellow Corvette DP. "Ryan did a great job, starting from pit lane and making himself wait for traffic. I tried to do the same thing. Our pace wasn't bad but I don't think we had the strongest car. Then when the accident happened between the 5 and the 10, we thought we could come away with some good points. So this is really a fantastic result, and a great reward for all the work the Visit Florida guys put into working on the car and improving what we could this weekend."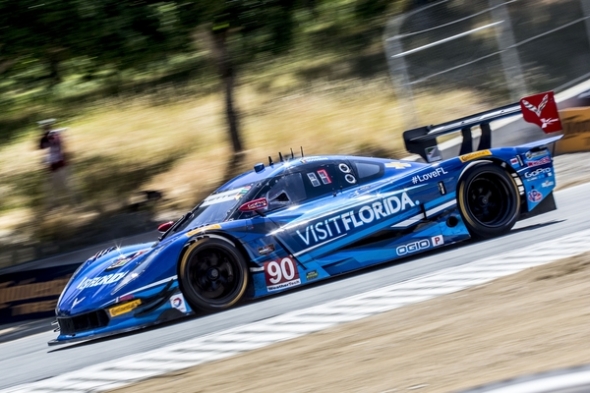 "We obviously got lucky (with the yellow flag timing), but our race pace was quite good," said Dalziel. "We had a really good strategy to pit early and leapfrog some guys. Marc (Goossens) had to hang on at the end. It was a really tough weekend with a lot of bad luck so we feel we deserve a podium. We'll take it, and make the car better for the next one. We never hung our heads down; we were frustrated but we focused on making it better. We're not where we want to be yet, we still have some work to do. We woke up this morning hoping it would be better, but I don't think we expected this!"
The result, which seemed completely improbable at the start of the race, was a welcome return for a weekend full of hard work from the team.
"This weekend, we rolled off the truck with a car that we knew had been quick here before, but the drivers just didn't click with it," said team owner Troy Flis. "We tried some stuff, but we probably threw too much at it too quick. The team worked their butts off – there are some guys who spent a lot of time and a lot of effort. I don't know how many changes we made to that car over the past three days, but it was big! Usually when you're in the bottom of the barrel like that, it's hard to come back.
"We got lucky with a yellow and the guys did a great job. It was a good end to a bad weekend. We know we have a competitive team that can win championships. This weekend just shows that this is a race team and we're here to race – and if we're slow, we're going to do our best with strategy and do whatever we can do. Our strategy calls were great today and that's what made the race. We're happy to have Visit Florida on the podium again!"
Visit Florida Racing will next be in IMSA action at Chevy's home track in Detroit. The Chevrolet Sports Car Classic presented by Metro Detroit Chevy Dealers through the streets of Belle Isle is set for June 3-4.
Visit Florida.com Racing 2016 IMSA WeatherTech SportsCar Championship Drivers:
Ryan Dalziel
 Birth Date: 12th April 1982
 Birthplace: Glasgow, Scotland UK
 Residence: Windermere, Florida USA
 Website: www.ryandalziel.com
 Twitter: @ryan_dalziel
Marc Goossens
 Birth Date: 30 November 1969
 Birthplace: Geel, Belgium
 Residence: Westerlo, Belgium
 Website: www.marcgoossens.com
 Twitter: @marcthegoose
Ryan Hunter-Reay
Birth Date: 17 December 1980
Birthplace: Dallas, Texas
Residence: Fort Lauderdale, Florida
Website: www.ryanracing.com
Twitter: @RyanHunterReay