2016 News
Tequila Patrón ESM Returns to WEC Ready for Nürburgring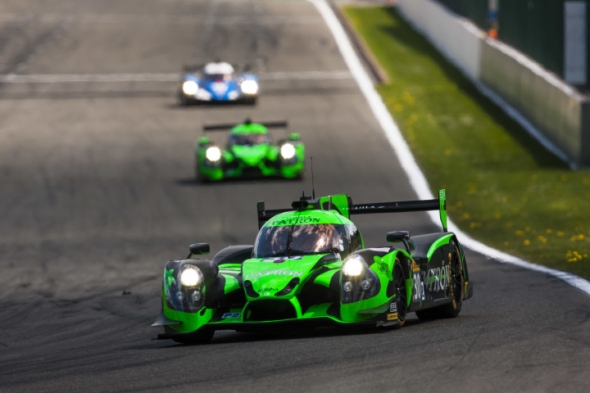 It has been almost a month since the 24 Hours of Le Mans, and the drivers and crew of Tequila Patrón ESM are eager to return to the World Endurance Championship for the Six Hours of Nürburgring. Following four podium finishes in the first four races of the FIA WEC and IMSA WeatherTech SportsCar Championship  calendars, mechanical difficulties have hampered the two most recent races, the 24 Hours of Le Mans and the Six Hours of the Glen.  Hungry to be back at the front of the field, the Florida based team should be a strong contender with its pair of Nissan Ligier JS P2 cars.
In 2015, both cars struggled to find overall pace in the first half of the race, only getting up to speed in the final half. Throughout 2016, the continuing development of the team from last season has proved to be immense, starting the WEC season off with two first place finishes. The 3.199, 16-turn Germany facility should prove favorable this weekend to the Ligier, a car that shows its strengths on fast and flowing tracks.
The No. 30 and No. 31 Tequila Patrón ESM cars will also be returning to their normal liveries this weekend, no longer held to the French ban on liquor advertising. The black and bright green cars will be easy to spot on track, starting with the first practice on Friday at 12:00AM local time, 6:00AM Eastern. The Six Hours of Nürburgring will air live on FOX Sports 1 from 7:00AM to 1:00PM Eastern on Sunday, July 24. For more information, visit fiawec.com.
Driver Quotes
Scott Sharp
It's an exciting part of the WEC season for Tequila Patrón ESM!  So much focus goes into the lead up to Le Mans, because it really starts many months in advance.  So now that the cars have been rebuilt from the 24 hour, the focus shifts to what should be some great tracks for our Patrón Ligier!  It's time for us to nail some great finishes and everyone on the team is ready!
Ed Brown
I'm looking forward to heading back to Nürburgring this year it's really a fun track to drive. We're back to the six hour races so it will feel like a sprint race. The team keeps making improvements to the cars so it should be a great race for the Patrón ESM team!
Johannes van Overbeek
Racing at the Nürburgring was a great experience last year. Because Germany is the home of the European automotive engineering, there were tons of fans who enthusiastically embraced the WEC and its style of racing. I'm hoping that this year will be no different. Racing in IMSA was good fun even though we didn't have great luck. I'm looking forward to getting back to work with Ed and Scott in Germany at the historic Nürburgring.
Ryan Dalziel
Nürburgring was a really difficult event for Patrón ESM last year, so I'm looking forward to going back and redeeming ourselves. I think this year we have been much stronger in general, so I have no doubts we will arrive as strong contenders. Le Mans was disappointing for us so we will be working harder than ever to get our first WEC win of the season. We are going from one extreme circuit to another. Le Mans is fast and long but Nürburgring is very fast and flowing, somewhere that the Ligier chassis can excel.
Pipo Derani
After a disappointing Le Mans we are very hungry to be back at the podium like we did in the first two WEC rounds. With this mentality and team spirit we will fight as hard as we can to deliver a good result. We lost so many important points in the fight for the championship at Le Mans, and it's crucial we don't lose any more. Last year the heat during the Nürburgring race was extremely high inside the cockpit. If the weather is similar with the track having very little time to rest, it can be a very challenging race for the drivers. Tire management is also a key part for a good result in this challenging but very nice track.  We have been extremely consistent throughout the year either in IMSA or WEC apart from Le Mans. We have shown in many occasions that sometimes even if we don't have the fastest car out there we can still finish in a good result. We will continue to work as we have since the beginning of the year to achieve the best result possible and hopefully get ourselves back in the title fight.
Chris Cumming
After a difficult Le Mans, I am looking forward to getting back on track to continue the season.  This will be a new track for me, so I'll have to be a fast learner.  I think the higher downforce nature of the track will suit our Ligier well.