2017 News
Tequila Patrón ESM Prepares for Road Race Showcase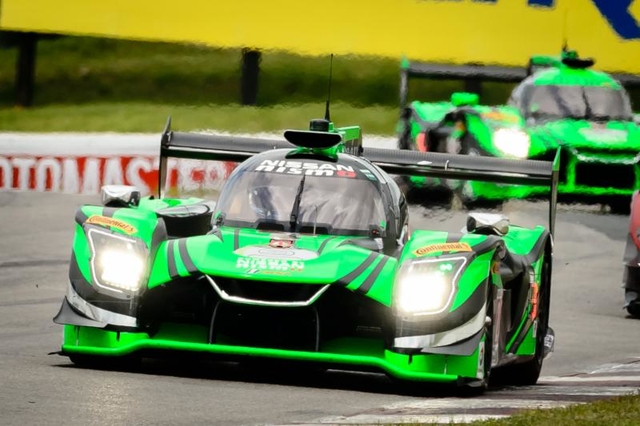 ELKHART LAKE, Wis., -- Four weeks after a podium finish at Canadian Tire Motorsports Park, Tequila Patrón ESM will return to the track for the next stop in the IMSA WeatherTech SportsCar Championship.  The Continental Tire Road Race Showcase at Road America will offer the pair of Tequila Patrón ESM's Nissan Onroak DPis the opportunity to again produce two strong finishes for the developmental program.
While both cars ran competitively at Canadian Tire Motorsport Park, gremlins hampered a strong podium run for Johannes van Overbeek and Pipo Derani in the No. 22 Nissan Onroak DPi, but the No. 2 with Scott Sharp and Ryan Dalziel continued on to earn a third place finish.
As a new developmental program, the team has shown strong progress on track throughout the season, while still struggling with long term reliability. Extreme Speed Motorsports, Nissan Nismo, and Onroak Automotive have continued their efforts to trouble shoot the program's teething issues, continuously striving to create a product that will be regularly at the forefront of DPi competition.
As the longest track on the 2017 calendar, Road America offers high speed corners, which are expected to benefit the Nissan Onroak DPi. Sharp, Dalziel, and van Overbeek have many years of experience on the fan-favorite facility, while this will be Derani's first time racing on the 14 turn, 4.048 track.
The Continental Tire Road Race Showcase will air live on FOX Sports Sunday, August 6 at 2:30PM, and will stream live on imsa.tv for international audiences. Live radio coverage from IMSA radio will be available starting with the first practice session on radiolemans.com.
Driver Quotes
Scott Sharp | No. 2 Nissan Onroak DPi
Road America is one of my favorite tracks, and I can't wait to take our two Tequila Patrón Onroak Nissan DPi machines to this amazing track! For a high downforce, modern day Prototype, there isn't a better track. It has fast, rolling, high speed corners that have a tremendous flow.  The ESM team has continued to work hard to improve our cars and expect to challenge for a top finish this weekend!
Ryan Dalziel | No. 2 Nissan Onroak DPi
We had a really strong race car at Canadian Tire Motorsport Park and a well needed podium. We are finding good gains with the Patrón ESM Nissan DPi. Road America is a great race track with some of the best fans in the world. I think our package will be really competitive so looking forward to getting the Wisconsin.
Johannes van Overbeek | No. 22 Nissan Onroak DPi
I'm looking forward to Road America. We think we have our gremlins at bay and hopefully we can roll off the truck with a decent setup. We've been competitive throughout the year, and hopefully at Road America we can put all of the pieces together. If we can, there's a good chance we could have both cars on the podium.
Pipo Derani | No. 22 Nissan Onroak DPi
Really excited to drive at Road America for the first time. It's a track that I've heard only good things about and I think our Nissan Onroak DPi will be very quick. I hope we can continue to improve and to finally get a good and strong result with the 22 car.