2023 News
Era Motorsport Ready for Threepeat at Road America SportsCar Weekend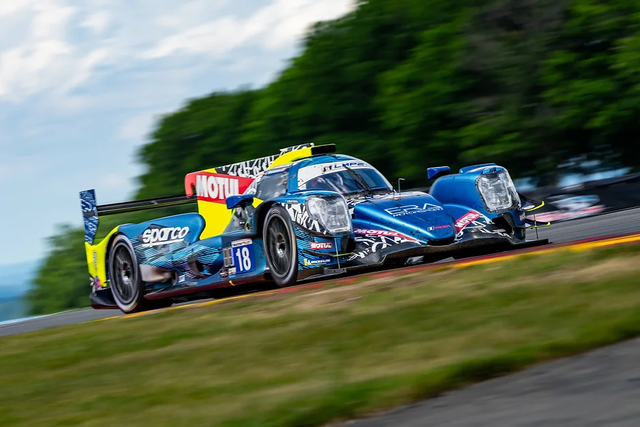 ELKHART LAKE, Wisconsin. (August 4, 2023) – The IMSA Weathertech SportsCar Series rolls into Elkhart Lake, Wisconsin for the 2023 IMSA SportsCar Weekend at Road America, the fifth round of the championship.
Back-to-back and reigning LMP2 winners Era Motorsport return this weekend looking for the threepeat as they head into the final three rounds of the season.
The No. 18 Era Motorsport Oreca 07 will be piloted once again this weekend by the duo of Dwight Merriman and Ryan Dalziel, who placed first at Road America in 2021 and 2022, and have been behind the wheel every event of the 2023 season so far.
The Era Motorsport team is hungry for their first win of the year after a season-best finish of second last time out at the Sahlen's Six Hours of the Glen.
Era Motorsport has had spotty luck so far this season, but sitting only 66 points off of LMP2 leaders Crowdstrike Racing there's still plenty of racing left to battle through, and they are in a good position to move up the rankings with a few more good finishes.
A total of 46 cars will be taking the green flag at Road America on Sunday August 6 at 10:10 am Central time, with seven cars competing in the LMP2 class.
"I'm super excited for Road America!" said Dalziel. "This has historically been one of our best tracks, and we're really hopeful for the threepeat this weekend."
"The new surface might make things a little more difficult as we continue to figure out what's changed, but I think we got a good feel for it at the test, and we're ready to start laying down some fast times."
Event Schedule | All Times Central
Friday, August 4
11:05 AM - 12:35 PM: Practice 1
3:15 PM - 4:45 PM: Practice 2
Saturday, August 5
11:30 AM – 12:00 PM: Autograph Session
1:40 PM – 1:55 PM: LMP2 Qualifying
Sunday, August 6
8:00 AM – 8:20 AM: Warm-Up
8:50 AM – 9:50 AM: Open Grid Fan Walk
10:10 AM – 12:50 PM: IMSA SportsCar Weekend at Road America
How to Watch
Racing coverage for the IMSA SportsCar Weekend will reside on USA and Peacock, where the race will be shown from flag-to-flag.
International coverage varies from country to country, but most regions will be able to watch the race live at IMSA.com/TVLive. A full list of international broadcasters can be found here.
Fans can follow Era Motorsport on Facebook, Twitter, Tik Tok, Threads, and Instagram for live updates and behind-the-scenes action.