2023 News
Era Motorsport Excited to Welcome Hometown IMSA Race to Calendar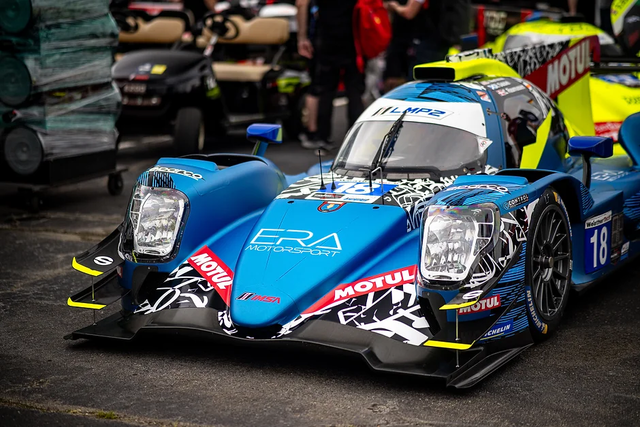 Era Motorsport is excited to finally take their IMSA WeatherTech SportsCar Series LMP2 team to race at their hometown track at The World Center of Racing at the Indianapolis Motor Speedway for the TireRack.com Battle on the Bricks.
IMSA, the premiere sportscar racing series in America has been absent from the iconic IMS for the past nine years, but that all ends this weekend as the Battle on the Bricks marks a new future for the series at the landmark location.
The 2021 Daytona 24 Hour Champions Era Motorsport have been excited for this event since its announcement last year. Headquartered in Indianapolis less than three miles from the track, the hometown event is sure to be an exciting one for the team.
Driving for Era Motorsport in the 2023 Battle on the Bricks will be the season regulars of Dwight Merriman and Ryan Dalziel. Dalziel has a racing history at IMS including a win in the 2013 Indy Grand Prix for the Grand Am Sports Car Series.
"It's super exciting to IMSA to be returning to the Indianapolis Motor Speedway!" said Dalziel. "It's obviously an iconic track, and one that I've had good success at in the past. The Indy race fans have been vocal about IMSA returning, so I'm excited for what I'm sure will become a new staple of the calendar!"
Team-owner Kyle Tilley is just as happy to see the race return to the calendar.
"I can't wait for this weekend," said team-owner Kyle Tilley. "Indianapolis is such an important track to the entire world of motorsport, and to finally get the LMP2 on the bricks is such an exciting opportunity."
The weekend kicks off on Thursday with a free street festival on Main Street in Speedway, Indiana just outside of the track. Era Motorsport will be in attendance with the No. 18 Oreca LMP2 on display, and driver Ryan Dalziel participating in the autograph session beginning at 7:15 PM. There will also be pit-stop demonstrations, driver Q&A sessions, and more.
"The Street Fest is going to be a good time," added Tilley. "They always pack out main street with fans and cars for other big events at the Speedway so it's great that IMSA will finally get its turn."
On-track activities begin on Friday with a practice session at 4:40 PM to mark the first IWSC cars to hit the track since 2014.
Saturday the action will continue with an early practice session at 8:55 AM, and qualifying at 1:25 PM.
Finally, the race itself kicks off on Sunday, September 17 at 1:10 PM, and will run for 2 hours and 40 minutes.
Event Schedule | All Times Eastern
Thursday, September 14
6:00 PM - 8:00 PM: IMSA Indy Street Fest
Friday, September 15
4:40 PM - 6:10 PM: Practice Session #1
Saturday, September 16
8:55 AM - 10:25 AM: Practice Session #2
1:25 PM - 1:40 PM: Qualifying
Sunday, September 17
8:00 AM - 8:20 AM: Warm-Up
10:30 AM - 11:00 AM: Autograph session at team trailers
12:00 PM - 12:50 PM: Open Grid/Fan Walk
1:10 PM - 3:50 PM: TireRack.com Battle on the Bricks for the 2023 IMSA WeatherTech SportsCar Championship
How to Watch:
Tickets are still available for purchase at
https://www.indianapolismotorspeedway.com/events/imsa
For those not at the track, the race will be broadcast from start to finish on NBC, and streaming on Peacock and IMSA TV.
International coverage varies from country to country, but most regions will be able to watch the race live at IMSA.com/TVLive. A full list of international broadcasters can be found here.
Fans can follow Era Motorsport on Facebook, Twitter, Tik Tok, Threads, and Instagram for live updates and behind-the-scenes action.