2023 News
Era Motorsport for Petit Le Mans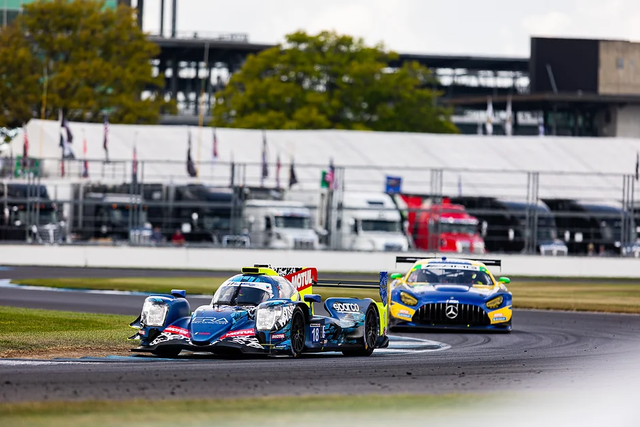 BRASELTON, GEORGIA (OCT. 12 2023) — After a hard-fought season, Era Motorsport is ready for the final bout of the 2023 IMSA Weathertech Sportscar Championship at the Motul Petit Le Mans at Michelin Raceway Road Atlanta on Saturday October 14.
Christian Rasmussen returns for his first race in the No. 18 Oreca 07 LMP2 car since Watkins Glen, and is excited to be back in the car for the first time since winning the 2023 IndyNXT Championship.
"This was the first race I did with Era Motorsport last year, so I'm excited to return and get a running start this weekend, so to speak," said Rasmussen.
"The Michelin Endurance Cup has gone quite well for us this year and we've managed to land on the podium the past two times I've been in the car."
"Road Atlanta is a fun track, and the LMP2 is a really fun car to drive so I'm excited to get some more seat time in the car to finish off the season for 2023."
Dalziel, who won the Motul Petit Le Mans 2017, is ready for a successful weekend as well.
"Petit Le Mans is an iconic race for the sportscar world." Dalziel said. "As the season-closer you get a lot of intense racing as the championships come to a close, teams push to maximize their points, and people try to end the year on a high-note."
"I have a lot of confidence going into this weekend. I have an incredible team behind me, I'm sharing the car with some great talent, and we're ready to go out there and put it together."
After a promising season, team-owner Kyle Tilley is ready to cap things off with a strong finish.
"This is going to be an exciting one," said Tilley. "This season has been pretty successful so far as I see it. This season we've had the pace for a win, or at least a podium every weekend, and we've shown to perform even better on the longer races, so 10 hours around Road Atlanta sounds perfect."
"This is also the event where we welcomed Christian to the team last year, and he was absolutely flying from the second he stepped in the car. He's only improved since then, and his recent Indy NXT title proves it."
"I think we've got fantastic odds this weekend for a perfect end to the season."
The LMP2 field will dive straight into the action on Thursday, October 12, with three Free Practice Sessions at 9:50 am, 2:35 pm, and 7:30 pm respectively.
Friday will be a nice break for the drivers with a relaxed schedule consisting of an autograph session from 12:00 pm to 1:00 pm at the team transporters, and a 15-minute qualifying session at 3:45 pm.
Finally, Saturday will bring some of the best action of the season as 54 cars take the green flag for the Motul Petit Le Mans for the IMSA Weathertech SportsCar Championship at 11:40 am.
Before that, a 20-minute warm-up session will take place at 8:45 am, followed by an Open Grid/Fan Walk from 10:20 am to 11:20 am.
Event Schedule | All Times Eastern
Thursday October 12
9:50 AM - 11:20 AM: Free Practice 1
2:35 PM - 4:05 PM: Free Practice 2
7:30 PM - 9:00 PM: Free Practice 3
Friday October 13
12:00 PM - 1:00 PM: Autograph Session (Team Haulers)
3:45 PM - 4:00 PM: Qualifying (LMP2/LMP3)
Saturday, October 14
8:45 AM - 9:05 AM: Warm-Up
10:20 AM - 11:20 AM: Open Grid/Fan Walk
11:40 AM - 9:40 PM: Motul Petit Le Mans for the IMSA Weathertech SportsCar Championship
How to Watch
Tickets are still available for purchase here: https://www.roadatlanta.com/purchase-tickets-info
For those not at the track, USA Network will provide live coverage of the Motul Petit Le Mans from 6:30 pm - 10:00 pm, with full race coverage streaming live from 11:35 am, continuing to the end of the race on Peacock and IMSA TV.
International coverage varies from country to country, but most regions will be able to watch the race live at IMSA.com/TVLive. A full list of international broadcasters can be found here.
Fans can follow Era Motorsport on Facebook, Twitter, Tik Tok, Threads, and Instagram for live updates and behind-the-scenes action.