2023 News
Contact From Competition Ruins Impressive Drive From Era Motorsport at Laguna Seca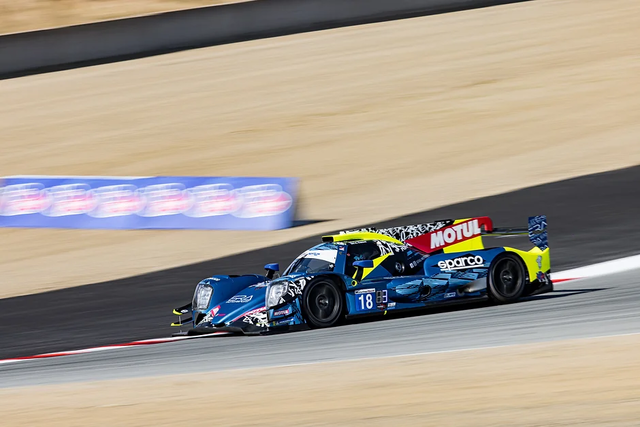 MONTEREY, California (May 16, 2023) - Despite an incredible drive from the back of the field all the way to first place, Era Motorsport has finished in seventh place at the IMSA Weathertech Motul Course De Monterey Powered by Hyundai N after being spun while passing another competitor.
Ryan Dalziel was passing a competitor car for the lead when the competitor under-steered into the rear quarter panel of Dalziel spinning him, and puncturing a tire on the No. 18 Era Motorsport LMP2 car. This caused the team to go a lap down with just 25 minutes to go, taking away any chance of making back the time lost.
Until that point, Laguna Seca had been a promising event for the team. Debuting a brand new Oreca 07 chassis, the team got the car dialed in quickly at the start of the first practice session on Thursday, taking the third fastest time in the class and then improving on that performance to turn in the second fastest time Friday morning during the second practice session.
Dwight Merriman showed promising pace in the car as well, and after qualifying, the team was hopeful for a strong finish despite starting in eighth place.
Despite another competitor making contact with the rear of the Era Motorsport machine in the opening laps of the race, the team performed a tail swap under caution and stayed on the lead lap, keeping on pace with Merriman at the helm.
After the one hour mark, Merriman swapped out of the car for Dalziel to take over, and the race continued to look better for the team from that point on.
With some of the best LMP2 racing IMSA has seen all season, traffic and competitive driving made passing frequent and exciting. Dalziel found a groove and moved through the field from seventh to second in not much time at all..
After a caution came out, the No. 18 took to pit lane for what should have been the final time. With just enough fuel, and tires still in good shape, Dalziel was set for a sprint to the finish with about a half hour to go.
Unfortunately only a few minutes after the caution came the contact from another competitor that ended the race.
"Weekends like this are always tough to accept," said Dalziel. "As a team we did everything right. We came from last all the way up to challenging for the lead with some great strategy and pit stops from our Era Motorsport crew.
"Unfortunately while passing for the lead, the now second place driver made a small mistake and clipped my tail with his nose on the exit of the corner and punted me into a spin.
"Brushing the wall at the side of the track caused us damage which required an additional pit stop. It's tough but it's racing and I'm super proud of the job Dwight, and the full Era Motorsport crew did.
"We will regroup and go for the win again at Watkins Glen."