2023 News
Era Motorsport Prepared for an exciting Laguna Seca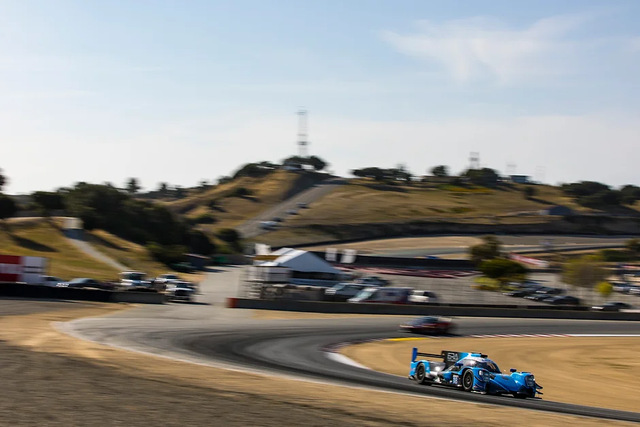 MONTEREY, Ca. (May 11, 2023) – IMSA Weathertech SportsCar Championship team Era Motorsport heads into The Motul Course De Monterey powered by Hyundai N continuing their quest for the LMP2 class championship at the third race this season, taking place at Weathertech Raceway Laguna Seca this weekend.
Last year the duo of Dwight Merriman and Ryan Dalziel took second in class, as well as the points lead for the No. 18 Era Motorsport Oreca 07.
Having qualified sixth, Merriman and Dalziel stayed consistent and determined, and despite the short 2 hour 40 minute race, managed to overtake most of the field for their podium finish.
This year the same team will be piloting the Era Motorsport machine with hopes for a similar, if not more successful event than last years.
So far this season Era Motorsport sits third in points in the IMSA Weathertech SportsCar Championship's LMP2 Class, after a late-race comeback at Sebring, in which Christian Rasmussen drove the car from fifth place to third in the final laps of the race.
This year the No. 18 will be competing against seven other cars in their class, and 37 cars overall.
"This year at Weathertech Raceway we have a large LMP2 field," Merriman said. "More cars make the racing more exciting and fun both for us, and for those watching. It's harder to win with more entrants but also more satisfying!
"We have had a very good car and team this year so I'm quite excited for all the upcoming races."
Dalziel mirrored Merriman's thoughts, stating, "Weathertech Raceway is one of the most iconic race tracks in the whole country, and it's always an awesome time on and off track.
"The LMP2 field this year is probably the most competitive we've seen at a sprint race, so it's going to be really difficult, but we feel really confident.
"The team steps their game up every single race, and especially with a brand new chassis this weekend, I have a really good feeling about things heading into Laguna."
Event Schedule | All Times Pacific
Friday, May 12
4:05 PM - 5:35 PM: Practice 1
Saturday, May 13
8:35 AM – 10:25 AM: Practice 2
11:30 AM – 12:00 PM: Autograph Session
1:20 PM – 1:35 PM: LMP2 Qualifying
Sunday, May 14
8:00 AM – 8:20 AM: Warm-Up
11:00 AM – 11:50 AM: Open Grid Fan Walk
12:10 PM – 2:50 PM: MOTUL Course de Monterey Powered by Hyundai for the IMSA Weathertech SportsCar Championship (Race) | Live on NBC
How to Watch
Racing coverage for the MOTUL Course de Monterey Powered by Hyundai for the IMSA Weathertech SportsCar Championship will reside on Peacock, and NBC, where the race will be shown from flag-to-flag.
International coverage varies from country to country, but most regions will be able to watch the race live at IMSA.com/TVLive. A full list of international broadcasters can be found here.
Fans can follow Era Motorsport on Facebook, Twitter, Tik Tok, and Instagram for live updates and behind-the-scenes action.