Latest News
Tequila Patrón ESM Returns to the Motor City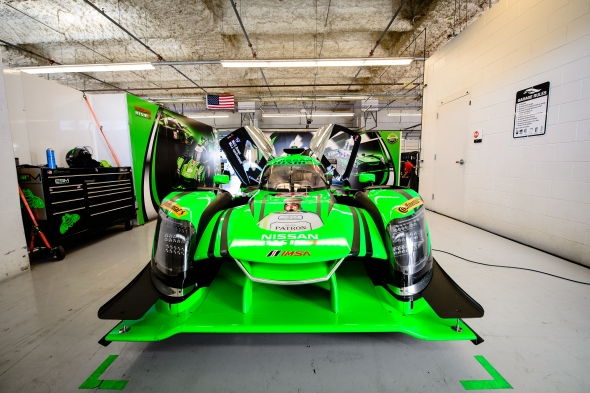 DETROIT, Mi.,  — This weekend, Tequila Patrón ESM returns to Detroit, Michigan for the next round in the IMSA WeatherTech SportsCar Championship, the Chevrolet Sports Car Classic. Tequila Patrón ESM last raced on the temporary street circuit in 2014, where the team earned a fifth place finish. This year, they will return with its pair of Nissan Onroak DPis, driven by Scott Sharp, Ryan Dalziel, Ed Brown, and Johannes van Overbeek.
As the season has progressed, Tequila Patrón ESM has begun to show a quickening momentum to their new DPi program. Both cars showed strong reliability and increased speed last month at the Long Beach Grand Prix, and other street course on the IMSA calendar. The driving duo of Scott Sharp and Ryan Dalziel earned the team's first podium finish of the season, finishing the race in second place. Earlier this month, the Nissan DPis put forth another strong effort, narrowly missing a podium finish when the No. 2 car caught fire and retired early at Circuit of the Americas. Despite contact from a lapped car, the No. 22 ran a clean race to earn a top-five finish, showing the continued progress of the program.
Over the last month, the Florida based team has worked hard to prepare for the upcoming street circuit, confident in another strong street course performance. The Detroit Grand Prix weekend is held on a 2.3 mile, 14 turn temporary circuit on Belle Isle, a 982 acre island in the Detroit River, between the United States and Canada. Practice sessions for the Chevrolet SportsCar Grand Prix begin Friday, June 2, and the 100 minute race will start Saturday, June 3 at 12:40PM Eastern. For more information, visit imsa.com.
Driver Quotes
Scott Sharp
It's always exciting to bring the action to the Motor City! If recent street courses are any indication, I'm sure the DPi battle will be intense at Detroit! Tequila Patrón ESM continues to work hard to improve our cars and be more competitive each race, so I look for an even better performance from both of our cars!
Ed Brown
We look forward to get back to racing. The team has continued to work very hard to get out cars more competitive. It should be a great weekend for Tequila Patrón ESM.
Johannes van Overbeek
It's been a couple of years since we last raced at Detroit. It's a fast and challenging street circuit which is fun when you get it right. Tequila Patrón ESM has continued to make our car faster and more reliable. Hopefully, the setup we start with will be a good baseline to build on for Ed and I to be in the mix on Saturday.
Ryan Dalziel
Detroit is a great city and really challenging street course. We showed in Long Beach how good our Patrón ESM Nissan DPi was on street courses, so we are really looking for good things there. COTA was bitterly disappointing and the ESM guys have been working nonstop rebuilding from the fire on the #2 car. Good news is we know what the cause was and we have reinforced that area. This is still a new program but we feel we are closing the gap to the Cadillacs quickly. It will be tough to beat them on home turf but will be extremely gratifying if we can.