2008 News
Dalziel Confirms Full Season of Grand-Am Competition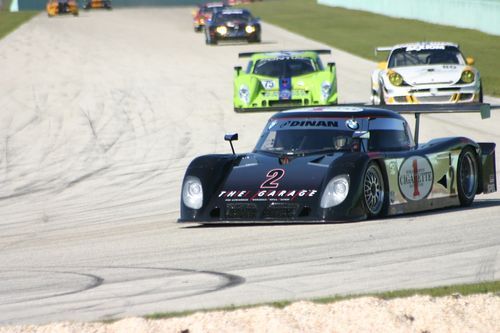 Orlando, Florida (March 26, 2008) – Scotland's Ryan Dalziel is delighted to announce his full-time participation in the 2008 Grand-Am Rolex Sports Car Series Presented by Crown Royal Cask No.16 having been signed by Florida-based SAMAX Motorsport to co-pilot the #2 BMW-Riley Daytona Prototype alongside Orlando's Henri Zogaib.
Having started the season in January's 'Rolex 24 at Daytona', Dalziel will remain in the SAMAX fold for the remainder of the 14-round Grand-Am Rolex Sports Car Series schedule, starting with this weekend's second round, the 'GAINSCO Grand Prix of Miami' at the Homestead Miami Speedway, Florida, Thursday 27th – Saturday 29th March.
The 25-year-old, based in Orlando, is no stranger to Grand-Am competition or the Homestead Miami Speedway having made his series debut there with SAMAX Motorsport exactly three seasons ago.  On that occasion Ryan piloted a GT-entry for Peter Baron's outfit and it proved to be the start of a productive relationship, one which would quickly see both team and driver graduate to the Daytona Prototype class.
While Dalziel's first full season in Grand-Am competition, in 2006, saw him compete for a different outfit, the Scottish racer reunited with SAMAX Motorsport at the start of the 2007 season to compete in the prestigious 'Rolex 24 at Daytona'.  A second-place finish proved the team's competitiveness and Dalziel duly combined an impressive rookie season in the Champ Car World Series, scoring six top-ten finishes, with an additional three Daytona Prototype starts in Grand-Am with SAMAX, reaching the podium once again in the season closing 'Sunchaser 1000', again a second-place podium finish.
"I'm really excited to be back full-time in the Grand-Am Rolex Sports Car Series," enthused Dalziel ahead of his trip to Homestead.  "I'm extremely grateful to both Peter Baron and Henri Zogaib for allowing me the opportunity to resume my sports car career and I'm looking forward to a competitive season together.  I have to say Peter was the first team owner to call me and offer me some prospects after my Champ Car season ended prematurely last year.  We've always enjoyed a great relationship and I'm delighted to be partnering Henri in the SAMAX line-up."
Dalziel continued; "I think it's great that we're kicking of our new agreement at the place where it all began in 2005, Homestead Miami Speedway.  We've got a great engine package now with tremendous support and from a personnel perspective SAMAX has really strengthened its capabilities with the addition of guys like Phil Le Pan.  I think someone with Phil's professional experience and outlook will give the team the opportunity to mirror the performance bases enjoyed by the likes of Ganassi Racing and GAINSCO / Bob Stallings Racing.  This weekend's race will be a big test for us in every department but I think we're set for a good year in what is undoubtedly a highly competitive Daytona Prototype field."
Saturday's 'GAINSCO Grand Prix of Miami' starts at 3pm EST utilizing the 2.3-mile, 11-turn speedway road course at the Homestead Miami Speedway.  The race will be broadcast as a tape delay on SPEED starting at 6pm EST Saturday 29th March.  For further information log on to – www.grand-am.com