2008 News
Dalziel Targets Return to Rolex 24 Podium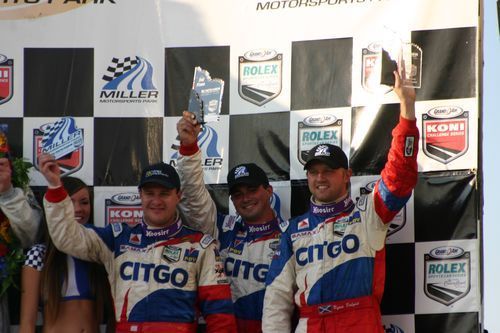 Daytona Beach, Florida (January 24, 2008) – Scotland's Ryan Dalziel qualified eighth on the grid today for Saturday's 46th running of the 'Rolex 24 at Daytona', Round 1 of the 2008 Grand-Am Rolex Sports Car Series Presented by Crown Royal Cask No.16, hosted at Daytona International Speedway, 26th-27th January.
The Lanarkshire-born racer, who'll share driving duties in the SAMAX Motorsport-entered #11 Vois.com / CANTV Pontiac Riley Daytona Prototype with Milka Duno (Venezuela), Tomas Enge (Czech Republic) and Harold Primat (Switzerland), recorded a fastest lap of 1m41.878s in qualifying, just 1.085 seconds behind the pole-winning time of 1m40.793s set by the #60 Ford Riley entry operated by Michael Shank Racing.
Dalziel (25) took time out post-qualifying to preview a race he now describes as a 'home' event courtesy of basing himself out of Orlando, Florida.
Q:  Having finished second last season, what are your chances of scoring an outright victory in this year's Rolex 24 at Daytona?
RD:  "I think our chances are very good!  There's no doubt the team is even better prepared this year and I believe we've got as strong a driver line-up this time round.  We didn't make many mistakes last year as a team but there's no doubt we've learned from our experiences.  We're going back into the race determined to win it this time and starting eighth we're fairly happy with where we're at.  We had to use our back-up engine to qualify but we know our race motor's got a bit more to offer so we'll be right up there when the racing starts!"
Q:  Last season's Rolex 24 saw you taking the fight to eventual winners, Ganassi Racing, whose line-up included no-less a talent than F1-refugee Juan Pablo Montoya.  What was it like to be racing wheel-to-wheel with someone of his pedigree and did you feel your performance was a calling card?
RD:  "Looking back on 2007 I competed in a few races in different series and it was always the case that people wanted to speak to me about January's Daytona meeting!  For me it was probably the highlight of my career to-date, at least in terms of recognition.  Juan is a huge hero of mine so for me it was cool to be racing against him and keep him behind me as we raced."
Q:  You're not alone representing Scotland at Daytona, notably with Allan McNish joining you in the SAMAX line-up and Dario Franchitti competing for Ganassi Racing.  Would you rather be racing with the likes of McNish and Franchitti as team-mates or racing against them as is the case with this year's event?
RD:  "It would be cool to be team-mates racing the same car at some stage in our careers.  When I first heard Allan was going to form part of SAMAX's driver line-up at Daytona I was excited that a couple of Scots would be in a team together.  Allan's results speak for themselves and it's a huge bonus to have him in the team.  It'll be interesting to be racing against him though as I'm in the #11 car and he'll be in the #2 entry."
Q:  Are you excited to be returning to Grand-Am Daytona Prototype competition having last contested a full season in 2006?
RD:  "Absolutely!  Obviously I was excited to leave at the end of 2006 to go race in the Champ Car World Series but I kept my foot in the Grand-Am door by competing in a few races last season.  I love racing the Grand-Am Daytona Prototypes and I'm excited to be back for a full-season.  I think we're going to enjoy a great year and the series itself is still building a lot of momentum, successfully attracting top level talent for the likes of the Daytona 24 from NASCAR through to Champ Car and the Indy Racing League."
Q:  You made four starts in Grand-Am last season, reaching the podium twice as a runner-up.  Does the Daytona Prototype suit your style of driving and how much fun are these sports cars to drive given you've experienced 750bhp in a Champ Car?
RD:  "Well there's no comparison in terms of the horsepower available.  A Champ Car is just a totally different animal to anything else you're likely to drive.  For me though I seem to suit the Daytona Prototype's, I always run very competitively and it just seems to come to me naturally to race this kind of car.  You can really race the Grand-Am cars wheel to wheel and last year's Daytona event proved that as it ended up being one of the closest sports car races in history.  With that in mind I'm really looking forward to getting going here again this weekend."
Q:  Are you disappointed that your stint in the Champ Car World Series last season ended prematurely?
RD:  "I'm definitely disappointed in how my stint in Champ Car ended.  I was happy with my results and my performance there last season.  As far as talent levels are concerned I think I deserve the opportunity but I don't think it's somewhere I want to be in my career right now.  Since leaving I haven't pursued any options to return to Champ Car because I don't believe there's a future there and that's important to me as I want to make a career as a racing driver!  It's possibly a blessing in disguise that I got out of there a little earlier and managed to get myself secure elsewhere."
Q:  Would you return to top-flight open-wheel racing and are you actively seeking a return?
RD:  "For sure I'd return and I'm currently working on something in the Indy Racing League that might lead to a partial or maybe a full-time ride.  At the minute it's probably 50-50 whether or not I'll be on the grid full-time but it's likely I'll be doing something there this season."
Q:  This is your seventh straight season competing in North America – what is it that you appreciate most about racing in North America and do you ever see yourself returning to Europe to compete?
RD:  "As long as I can build up my sports car background here in America I'd like to start testing again in Europe and look into attending a few LMES events.  I absolutely love racing in America though, I live here and even if I was to race in Europe I'd continue to live here.  Having started my career over there I don't necessarily believe that the grass is greener on the other side.  I'd be more than happy if I was to spend the rest of my career racing on this side of the world in sports cars."
Q:  You've already proved yourself to be a versatile talent, can we expect to see you in other series this year in addition to your Grand-Am commitments?
RD:  "Yes!  I thought I was secure for the 2008 season in Champ Car so obviously I hadn't been seeking too many options elsewhere.  I ultimately lost out on a few opportunities as a result of that but I have to thank Peter Baron (Team Owner) here at SAMAX as he was the first person to call me when he heard the news about losing my Champ Car seat. 
"He offered me this ride in Grand-Am and I'd like to re-establish my name in sports cars across the spectrum of series here from Grand-Am through to ALMS and the Speed World Challenge.  It's probably going to be a year of driving anything I get the chance to but obviously the IRL opportunity is one I'm pursuing quite seriously and that could determine what else I'm available to do.  If that doesn't happen then sports cars will be my main focus for the year."
Saturday's 'Rolex 24 at Daytona' starts at 1:30pm EST utilizing the 3.56-mile road course at Daytona International Speedway.  Further details can be found online at – www.grand-am.com