2010 News
Scotland's Ryan Dalziel Wins 'Rolex 24 at Daytona'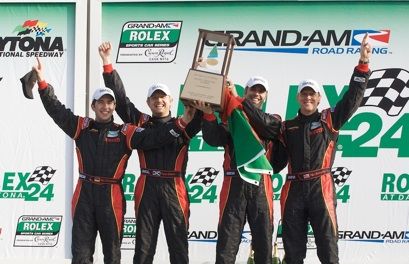 Daytona Beach, Florida (January 31, 2010) – Scotland's Ryan Dalziel, together with his team-mates in the #9 Action Express Racing Porsche-Riley Daytona Prototype, triumphed Sunday (31st January) in the prestigious 'Rolex 24 at Daytona', America's premier 24 hour-long endurance race.  
The 48th running of the event was again hosted at the Daytona International Speedway, Daytona Beach, Florida while celebrating the opening round of the 2010 Grand-Am Rolex Sports Car Series Presented by Crown Royal Cask No.16. 
Dalziel (27), from Lanarkshire, shared the race winning entry with Terry Borcheller (USA), Joao Barbosa (PT) and Mike Rockenfeller (DE), taking the checkered flag after 755 grueling laps around the 3.56-mile part-speedway, part-road course configuration at the famed race circuit.
Action Express Racing, making its series debut, beat out the veteran #01 Chip Ganassi Racing with Felix Sabates BMW-Riley entry, driven by Scott Pruett (US), Max Papis (IT), Memo Rojas (MX) and Justin Wilson (GBR), after a close battle in the final stages of the endurance classic – the gap between the two lead Daytona Prototypes less than a minute at the end of 24 flat-out hours of Grand-Am action.
"I'm completely over the moon but I don't think it's really sunk in yet what we've achieved," reflected Dalziel post-race.  "It was just a crazy range of emotions in the final minutes of the race but obviously I'm delighted with the outcome.
"I've never before been in a perfect race where every pit-stop, every tire change, every fuel-stop has been absolutely spot on.  Everyone at Action Express Racing delivered for this event, it's as simple as that.  We were all quick behind the wheel and I think around the midnight mark we really began to believe we could have a shot at the win."
Ryan continued; "The Ganassi cars are the benchmark for this event and we matched them for pace.  For 16 hours we raced with them on the same lap, a tremendous achievement, but ultimately we won this race thanks to our own pace and not through anyone else's misfortune!  It's an incredible feeling and to have a win here on my resume is fantastic as a professional sports car driver.  I feel my career is re-launching in 2010 and this is obviously a perfect start!"
Ryan's triumph marks his second Grand-Am Rolex Sports Car Series Daytona Prototype victory, following a maiden win at Laguna Seca, California back in May 2008.  His previous best in the 'Rolex 24 at Daytona' was a second-place podium finish in 2007.
Dalziel's outing with Action Express Racing was a 'one-off' for the 'Rolex 24 at Daytona', with the Orlando-based Scot now set to drive for Starworks Motorsport in the #8 BMW-Riley Daytona Prototype alongside Canada's Mike Forest for the remainder of the 12-race season.
Round 2 of the 2010 Grand-Am Rolex Sports Car Series will be hosted at the Homestead-Miami Speedway in Florida, Saturday 6th – Sunday 7th March.
For further details please log on to: www.grand-am.com
ENDS – www.ryandalziel.com / www.race4haiti.com