2010 News
Ryan Dalziel Joins The Driver Line Up At JaguarRSR For 2010 ALMS Season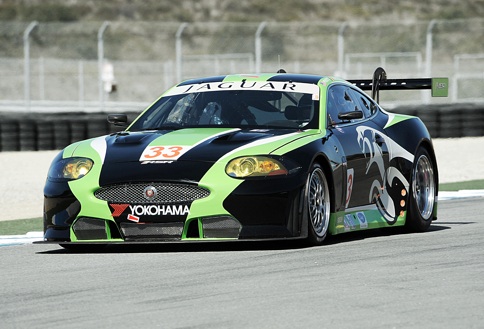 EAST LANSING, Michigan (February 19, 2010) – The pieces to the puzzle keep coming together for the JaguarRSR race program as the team announces today that Ryan Dalziel has been signed to the driver line up for competition in the 2010 American Le Mans Series.
"I am so excited to be part of such an amazing brand like Jaguar. Coming from the United Kingdom I naturally grew up following Jaguar's racing heritage and admiring their cars. Its like a dream come true that my first opportunity to drive for a manufacturer is for Jaguar Cars."
"I have known Paul Gentilozzi and his group for a number of years through my Champ Car days, and always enjoyed watching them in Trans Am. I know I am with a great crew and excellent co drivers. The GT field in ALMS this season looks really strong and I hope I can contribute to Jaguars successful return to Sports Car Racing."
Dalziel is one of Scotland's leading professional racing drivers with a track record of success forged in the ultra-competitive junior formulas in Britain and honed further through to the very highest levels of both open-wheel racing and sports car competition in North America and Europe. The 27-year-old has represented Scotland and the United Kingdom at the highest level of sports car competition, earning podium finishes in both the American Le Mans Series and Grand American Rolex Sports Car Series. Most recently Dalziel won the prestigious 24 Hours of Daytona. 
"We are working on developing a driver line up that will put us out in front," said JaguarRSR Principal Partner Paul Gentilozzi. "We know the competition is tough this year and that we will have to be on top of our game. I have watched Ryan grow into a matured racer both in open-wheel and sports car racing. His hard work paid of recently winning the 24 Hours of Daytona and any driver that can achieve an accomplishment like that is one that will fit into the goals and aspirations this JaguarRSR program desires to achieve. We eagerly look forward to working with him and know that he is going to bring a lot to the team."  
Dalziel joins Gentilozzi and Marc Goossens as confirmed JaguarRSR drivers for 2010. Complete details of the 2010 JaguarRSR ALMS program will be unveiled soon.
The JaguarRSR team will be on track next week at Sebring International Raceway to take part in the annual American Le Mans Series Winter Test scheduled for February 22 – 23. American Le Mans Series cars will be on track from 8 a.m. to noon and 1 to 5 pm ET both days. The event is open to the public, with tickets available for $10 per day. Live Timing and Scoring will be available on americanlemans.com. 
For the 11th time, the American Le Mans Series will open its season at America's greatest sports car race - the 58th Mobil 1 Twelve Hours of Sebring presented by Fresh from Florida. The green flag will fall at 10:30 a.m. ET on Saturday, March 20 with live coverage on SPEED.
For more information go to www.RSRJaguar.com, www.ryandalziel.com, www.americanlemans.com. The team also has a new official fan page on Facebook: RSR Jaguar.