2012 News
Inspired Show From Ryan Dalziel End With Stunning Second At Daytona 24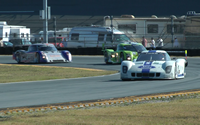 THE PLOT: Ryan Dalziel produced one of the best drives of his career in the Grand-Am Rolex 24 at Daytona, but it still wasn't enough to win him his second Rolex watch.

Orlando-based Ryan, originally from Lanarkshire in Scotland, had put the Starworks Motorsport car on pole position on Thursday.

Then he turned in a flawless opening stint as the Fort Lauderdale-based team showed they had the power to take on the Grand-Am Sports Car Series big guns.



Ryan was just as good in his other stints and was perfectly backed up by Venezuelans Enzo Potolicchio and Alex Popow, fellow Scot Allan McNish and German Lucas Luhr.

But their stunning efforts were not enough as they finished just 5.1 seconds behind the winners.

THE QUOTES: "It is disappointing. I would be lying if I said I wasn't disappointed. We were the car to beat and it was nice to lead so many laps, but leading so many laps sometimes makes it feel worse when you don't take the checkered flag.

"On the plus side, it was an amazing race and the perfect way to mark the 50th running for Daytona. Starworks did an awesome job. Peter put together an amazing crew and we will now focus on the rest of the year.

"To win this race it takes an incredible car – and we had that.
"I have never been in such a dominant position before and not won the race. We were the dominant car and that is the hardest thing to take. We had the car to beat, but sometimes things do not go your way.

"Second place is great. We will probably appreciate it a bit more after a little time.

"We thought that we had something in the final stint. We had some damage and we bumped into things. But the last two stops, we made three seconds each time over the Shanks car. It was almost a fairytale ending to a tough two weeks for us.

"We qualified on pole, had the fastest lap but we didn't win. But it is hard to be overly disappointed when you think of where Starworks has come from."

THE FACTS: Ryan will also spearhead Starworks Motorsport's 2012 Grand-Am campaign. He will also compete with Starworks in the Continental Tires Sports Car. The next round is of the Grand-Am Rolex Sports Car Series is at Barber Motorsports Park in Birmingham, Alabama on March 31.

Ryan had four Rolex Grand-Am podiums in 2011 – a win at mid-Ohio and third at Barber, Lime Rock and Watkins Glen. He also had three fourth-place finishes.

Ryan also gave Starworks Motorsports its first DP victory, at Mazda Raceway Laguna Seca, in 2008.