2012 News
Ryan's Ready For The Biggest Year Of His Career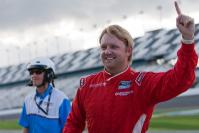 Ryan Dalziel is one of the hottest properties in the Grand-Am Rolex Sports Car Series at the present time. A proven winner, Orlando-based Ryan also aims to shine on the world stage after Starworks Motorsport announced they had teamed up with Honda Performance Development to take on the new FIA World Endurance Championship.
Ryan, 29 — who also has a home in Hamilton, Scotland — already believes 2012 will be the biggest in his career. But it has not all been plain sailing. Ryan has had his fair share of downs as well as massive highs like winning the 2010 Rolex 24 title.
He reflects on the this year's 24-hour event as well as looking at the challenges ahead, the massive changes at Fort Lauderdale-based Starworks and teaming up with Venezuelans Enzo Potolicchio and Alex Popow.

You have had time to reflect on the Daytona 24 result, how do feel about that second place now?
Ryan: It's still tough to accept the second place. I have replayed the race many times in my head and can't believe we lost that one. However, there were so many positives, that has made it a little easier as the days have passed. I think the performance from the whole team was just phenomenal and we really did open some eyes.

How important was the Middle East trip to Dubai and Abu Dhabi in preparing you for the season?
Ryan: I think it was perfect — it was just what we needed. In my opening lap at Daytona I pulled about two seconds over the field. I really think that was due to me being a little sharper than my competitors. Both races in the Middle East were extremely fast-paced, as was Daytona, so it just worked out for us.

Your reaction to the WEC deal?
Ryan: The last time I was this excited was in November 2006 when I got the call that I was going Champ Car Racing for 2007. Just the fact that I am going back to Le Mans in 2012 is amazing, but to be going back there with Starworks in an LMP2 car really has me speechless. We looked long and hard at the WEC and ALMS and we really believed that, for our sponsors, WEC was the best platform. It didn't take too much effort to convince Enzo and I when you look at the amazing venues we are going to race at in 2012.

You also have a Grand-Am campaign where you will be expecting to be fight for victories in every round.
Ryan: Yeah, our Grand-Am program is going excellently. We won the final race of 2011 and we rolled into 2012 with pole position at Daytona. We led the most laps, captured fastest lap and scored a runner up spot there so we really feel that our Rolex team is in a great place just now. We still have many areas with the new car where we can, and will, improve but I love Grand-Am racing and will continue to be a full-time Rolex driver. It's been my home for many years and you can't lose sight of your roots.

How much more are you enjoying all this after a few hard years.
Ryan: 2008 and 2009 were really tough. I went through the wars in those years but my persistence paid off in 2010. Having those bad times definitely makes you appreciate the good years a little more. For sure I have much more respect for this business these days and I am very grateful for the opportunities that have been presented to me. A big thank you has to go to Peter Baron, we went through those tough years together and we sacrificed so much to keep things going. Our faith in each other's abilities got us through the rough times and we are really enjoying it just now.

Were you ever close to giving up?
Ryan: No, I don't think so, certainly not without one hell of a fight. I was luckier than many drivers, my bad years had some one off-races. I managed to get podiums. I think that showed a lot of people what I could do even if I wasn't in a full-time ride. My 2009 season was rough, but a one-off outing with Orbit Racing, with Bill Lester, resulted in a podium finish at the summer Daytona DP Rolex race that year. I know that race was one of the reasons why Action Express hired me for the 2010 Rolex 24 at Daytona.

There have been a lot of changes to the team, you've brought in guys like Steve Challis...and you have a great relationship with Peter Baron, Enzo Potolicchio and Alex Popow.
Ryan: Steve Challis has been really amazing to work with again. We had some great races when we were together in 2007-2009 and, based on how well we rolled the car out at Daytona, we have more good times ahead. I am really looking forward to Steve getting his hands on the LMP2, because I know he will excel with a car that has that amount of downforce. My relationship with Peter will always be strong, but I am most proud of the two great friends I have found in Enzo and Alex. They are both extremely hard workers and we are working every day to make them better drivers. Enzo shares Peter's vision on where Starworks Motorsport needs to be and has given us the resources to make us a powerhouse team.

Are you setting any targets for the season?
Ryan: Not really. Obviously for the WEC, Sebring and Le Mans are the two main events so we really want to be competitive at those. Finishing will be our first goal and a podium would be excellent at either event. With Grand-Am I think we need to continue where we left off in Daytona and keep working on developing our new Ford-Riley Prototype. Our toughest challenge might be our new Mustang GS Grand-Am program. We will have at least four cars all season long and the competition — with more than 30 GS cars at every race — means that we need to work hard to get things to the same level as our DP and WEC programs. We will get there though, and round two at Barber promises to be very interesting. I think our Mustangs will be front-runners.

NOTES: Ryan will next be in action at Sebring, Florida, when he launches his FIA World Endurance Championship bid.  His next outing in the Grand-Am Rolex Sports Car Series will be at Barber in Alabama on March 30-31. Ryan had four Rolex Grand-Am podiums in 2011 – a win at Mid-Ohio and third at Barber, Lime Rock and Watkins Glen. He also had three fourth-place finishes. Ryan also gave Starworks Motorsports its first DP victory, at Mazda Raceway Laguna Seca, in 2008.
Find out more at www.ryandalziel.com.