2012 News
Ryan Dalziel Ready to take on the World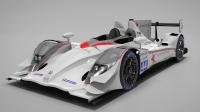 THE PLOT: In-form Ryan Dalziel is hoping to turn a brilliant start to the 2012 season into a dream world at Sebring this weekend.

The 29-year-old from Windermere in Florida will make his debut in the FIA World Endurance Championship with Fort Lauderdale-based Starworks Motorsport in the Honda Performance Development LMP2 car alongside Venezuelan ace Enzo Potolicchio and French star Stephane Sarrazin.

 After a "warm-up" in the Dubai 24 in January, Ryan – who is originally from Lanarkshire in Scotland - scored a hard-fought third place in the Gulf 12 Hours in Abu Dhabi with Enzo and fellow Venezuelan Alex Popow. Then he and Starworks scored a sensational second in the opening round of the Grand-Am Rolex Sports Car Series – the Daytona 24 – along with Enzo, Alex, FIA GT world champ Lucas Luhr and Le Mans star Allan McNish. Now he is gunning for a class win for the WEC new boys when the action starts in Sebring this weekend.

The team is working all hours to have the car ready for the race in front of 175,000 fans in Florida, so Ryan prepared by using the Honda simulator in England and testing other cars. He is up for the challenge and ready to make a name for himself on the global stage against some of the biggest stars in world sports car racing…

 

THE QUOTES: I am looking at the WEC as two programs, Sebring  is such a standalone event. You really have to go into it with the attitude that is such a long race and you need to get a good result, then you hit the reset button and go again after that.

 I think we are going to have a good package. We know that the HPD was really good over winter testing so we will just concentrate on doing a good job. We are taking our time, building it with as much detail as we did the Daytona Prototype, so hopefully we can go there and have a successful race.

We went to Honda's simulator in England. We experienced that for a couple of days. Nothing gives you the same experience as real life, but we have constantly been in cars so we have stayed sharp.  That is the beauty of doing everything with one team. We are with the same people, driving cars prepared by Starworks. As drivers we are doing everything we can to be ready. We know that we will be getting to the 11th hour when we get to the track on Monday, but we will be as well-prepared as we can be.

Sebring is all about controlling the car over the bumps. It has the surface of a street course, but the speeds of a road course. Sebring is notoriously hard on equipment and hard on the drivers. You feel like someone is hitting you with a hammer every lap. I drove an historic LMP car there recently just to get used to the bumps again. You forget how harsh it is — it is definitely a mix of long straights, slow corners, crazy bumps and different surfaces. You need a comfortable car that you can drive.

Every year the event seems to get crazier. It is a fun event to compete in and to go to. Even in the years I have not been fortunate to race there, I have gone and watched. After Daytona, it is my next closest track. My in-laws are from Sebring so I know I have a lot of local supporters, but it is definitely a wild crowd there.

The first part is just to be reliable. I think there is a fair amount of pressure for everyone in the team to not have any hiccups, but we expect to be on the pace — just because of the people we have in place at Starworks. We are less sure about what can fail. Unlike the DP car, we knew what could fail so we knew what to concentrate on. This is a slightly different experience for us but we want to go into it and leave with our heads held high, no matter what the result is.

I think if we really believe we can do a good job and that we can show everyone else that we deserve to be in WEC and we can run with a brand like Honda that would be a successful result. If that works, I have no doubts we will be in a podium position.

 

THE FACTS: The 2012 American Le Mans Series presented by Tequila Patrón begins with the 60th Anniversary Mobil 1 Twelve Hours of Sebring Fueled by Fresh from Florida on Saturday on March 17. It is also the first round of the FIA World Endurance Championship. The race, set for 10.30 a.m. ET, will be broadcast at noon March 18 on ABC and shown live on ESPN3.  
The race is available to international audiences on MotorsTV in Europe, Fox Latin America, Rogers Sportnet in Canada, ESPN International, Fox Mideast and on ALMS.com.

Ryan will also spearhead Starworks Motorsport's 2012 Grand-Am campaign. He will also compete with Starworks in the Continental Tire Sports Car. The next round is of the Grand-Am Rolex Sports Car Series is at Barber Motorsports Park in Birmingham, Alabama on March 31.

As well as his runner-up spot in the Dytona 24, 2012, Ryan had four Rolex Grand-Am podiums in 2011 – a win at mid-Ohio and third at Barber, Lime Rock and Watkins Glen. He also had three fourth-place finishes.

Ryan also gave Starworks Motorsport its first DP victory, at Mazda Raceway Laguna Seca, in 2008.

Find out more at www.ryandalziel.com.