2012 News
Ryan Dalziel is on Top of the World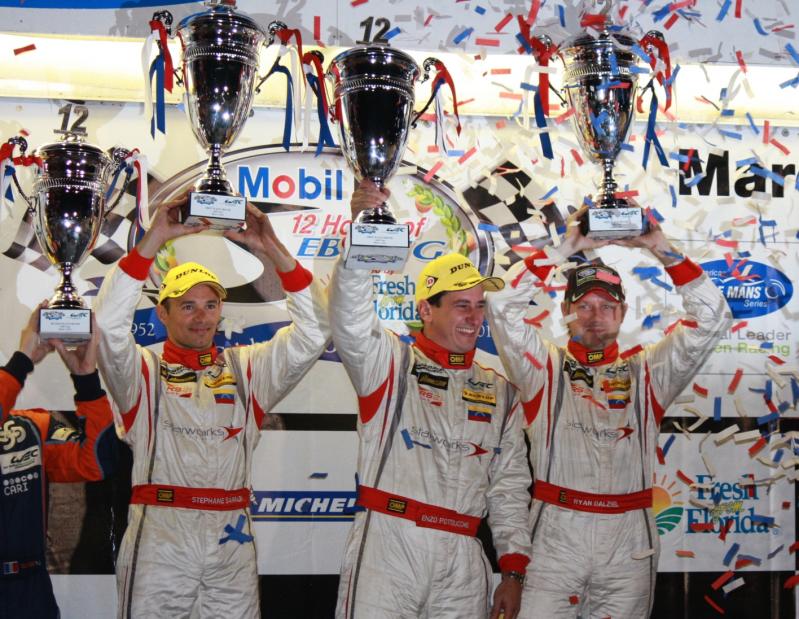 RYAN CLAIMS STUNNING LMP2 CLASS WIN AT SEBRING AND TAKES THIRD
OVERALL FOR STARWORKS MOTORSPORT ON WEC DEBUT

THE PLOT:
Ryan Dalziel produced one of the gutsiest drives of his career to beat the odds - and the opposition – and get his FIA World Endurance Championship campaign off to a flying start with a stunning third place overall and an LMP2 class win in the 60th Mobil 1 Twelve Hours of Sebring fuelled by Fresh From Florida. The display was all the more remarkable because the Fort Lauderdale-based Starworks Motorsport team faced a massive battle just to get the HPD Honda ARX-03b car to the start line for its WEC debut.

Despite limited running, Orlando-based Ryan, 29, showed composure and bravery as he settled into his first long stint, then upped the ante with a stunning display late in the race to set up French team-mate Stephane Sarrazin to take top spot in the class and close out an overall podium place.

The performance from Ryan, Stephane and Venezuelan Enzo Potolicchio earned the respect of the motor sport world and made their rivals realise that they are serious contenders in the FIA WEC.

THE QUOTES:
"I have got two massive trophies so I am really pleased with that. I came second in the LMPC class last year. This race is right in there with the Daytona 24 and Le Mans 24. Those two and the Le Mans 24 are three endurance races in the world that you want to do well in. I have had wins in two – I just have to get a win in the third now.

"We have got to stay focused. There is a lot of work still to do, but we were pretty good. We didn't have the fastest car out there, but we definitely had the most consistent. It was a great team effort.

"It was really tough out there. I think the lack of laps I got early in the week made it harder. My first stint was extremely tough. I felt more comfortable in the second stint. I still wouldn't say I am where I want to be in the car, but it has been great to have Stephane come along. It gives me the motivation to get better.

"My first stint was the first time I have really driven the car this week. I was quite happy when I got out. I felt really good after the second stint, I had matched Stephane's pace and gave him the chance to do the hard bit and bring the car home.

"We know that we are just scratching the surface of this program. We have a lot of work to do but we have earned a lot of respect for this performance. We are not always going to have days like this, but I am looking forward to Spa.

"This is huge. Enzo and I have been with Starworks for a couple of years now, and this is amazing. You get to work with amazing people who are the best at their craft. It is very humbling for us.

"Enzo and I have had podiums in three out of four races we've entered so far this year as a driving pair - it is crazy. This really caps it all though. It just proves how realistic our challenge is going to be at the Le Mans 24 Hours. That is what this is all about – we wanted to get to Le Mans. The WEC was the choice we took. It didn't guarantee our entry but it gave us a good chance to show what we could do."

THE FACTS:
The World Endurance Series continues at Spa in Belgium on May 5.

Ryan will also spearhead Starworks Motorsport's 2012 Grand-Am campaign. He will also compete with Starworks in the Continental Tire Sports Car. The next round is of the Grand-Am Rolex Sports Car Series is at Barber Motorsports Park in Birmingham, Alabama on March 31.

As well as his runner-up spot in the Daytona 24, 2012, Ryan had four Rolex Grand-Am podiums in 2011 – a win at mid-Ohio and third at Barber, Lime Rock and Watkins Glen. He also had three fourth-place finishes.

Ryan also gave Starworks Motorsport its first DP victory, at Mazda Raceway Laguna Seca, in 2008.

Find out more at www.ryandalziel.com.