2013 News
RYAN DALZIEL STORMS TO INDY WIN AND TAKES LEAD IN ROLEX GRAND-AM SERIES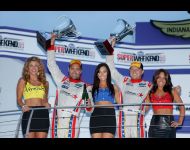 Endurance racing star Ryan Dalziel proved he was the right man in the right place at the right time as he powered Starworks Motorsports to victory in the Brickyard Grand Prix at Indianapolis on Friday.
Proud Scot Ryan – who lives in Windermere, Florida – led for just 12 laps of the three-hour race, but still scooped a dramatic win by 3.4 seconds from Ganassi Racing rival Scott Pruett.
2012 Speed.com Sports Car Driver of the Year Ryan, who originally comes from Airdrie in Lanarkshire, Scotland, and Venezuelan team-mate Alex Popow took the lead in the series with the victory – sitting 10 points clear of Alex Gurney and Jon Fogarty with four races left.
The victory was all the sweeter for Ryan and the team as it was their debut with the DINAN BMW engine – but they had to do it the hard way.
First, they had to start from 12th place and, after an alleged jump-start, Alex was given an early drive-through penalty, which cancelled out all his good early work. He dropped from seventh to 13th, but fought back to be seventh as he handed over to Ryan with just under two hours to go.
Ryan went on a charge and was fifth when a third yellow-flag caution closed up the field once again but pitstops meant he was fourth when the race restarted with an hour and 32 minutes to go.
After passing the #01 of Scott Pruett for third shortly after the restart, Ryan quickly chased down the leaders.
Ryan passed both the pole-sitting No. 10 Wayne Taylor Racing Corvette DP of Max Angelelli and AJ Allmendinger's No. 6 Michael Shank Racing Riley-Ford for the lead with under one hour to go.
The Starworks team opted to bring him in for fuel only on the final pitstop and Ryan was soon sat in second behind leader Rubens Barrichello, who was on an alternate strategy, which Starworks knew he would have to make a stop for fuel before the end.
Everyone was trying to conserve their fuel , but Barrichello was finally forced to pit, leaving Ryan in front. He kept his foot flat to keep ahead of the pack and take a stunning victory.
RYAN SAYS: "I wasn't sure if I should have kissed the bricks or kissed the guys on the crew first. We got our new DINAN BMW engine only a week ago. We felt we had a pretty special car this year.
"We were missing just that little bit, and now we have it with this engine.
"The race went perfectly. We made some great gains during practice and, clearly, we went the right way. We came here tied with the points lead and we are leaving 10 points in the lead. I couldn't be happier.
"To win at Indianapolis has always been on my wish list, and those bricks taste really sweet. The timing for this win is perfect and we cannot wait to get this championship to Starworks in four races' time."
NOTES:  Ryan will next be in action in with Starworks Motorsport in the Rolex Grand-Am Sports Car Series at in the VisitFlorida.com Sports Car 250 at Road America on August  10. Ryan was second at Road Atlanta and Circuit Of The Americas earlier this year in the Grand-Am Rolex Sports Car Series. He managed a career-best second place in the Grand-Am Rolex Sports Car Series in 2012, with a win at Watkins Glen, second place in the Rolex 24 at Daytona and third at Sahlen's Six Hours Of The Glen and Laguna Seca. He also won the Rolex 24 in 2010.
He had four Rolex Grand-Am podiums in 2011 – a win at Mid-Ohio and third at Barber, Lime Rock and Watkins Glen. He also had three fourth-place finishes. Ryan also gave Starworks Motorsport its first DP victory, at Mazda Raceway Laguna Seca, in 2008.
Ryan and Starworks Motorsport won the FIA World Endurance LMP2 Championship, thanks to class wins at Sebring in Florida, the Le Mans 24 Hours and Brazil. They were also on the podium at Silverstone in the UK, Japan, China and Bahrain.
He also grabbed an American Le Mans Series LMPC class wins at Petit Le Mans, Baltimore and Long Beach in California as well as a third place in class at Mosport in Canada.
Find out more at www.ryandalziel.com
Follow Ryan on Twitter: @ryan_dalziel
Facebook: Ryan Dalziel Official Fan Club