2013 News
DALZIEL SIGNS WITH ESM PATRON FOR 2014 SEASON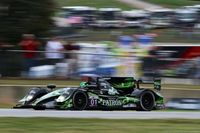 Endurance race ace Ryan Dalziel has agreed a sensational move to Extreme Speed Motorsports and will tackle the new TUDOR United SportsCar Championship in the Prototype class in 2014.
Proud Scot Ryan – who now lives in Windermere, Florida – will race alongside American Le Mans Series P2 Runner-up Scott Sharp.
The Florida-based team will have a second Tequila Patrón Honda Performance Development ARX-03b (HPD) car, with Johannes van Overbeek and Ed Brown on driving duties.
The move sees Ryan, 31, originally from Airdrie in Lanarkshire, Scotland, break his championship-winning partnership with Starworks Motorsports. They won the P2 title in the 2012 FIA World Endurance Championship, as well as being multiple race winners in the Grand-AM Rolex Sports Car Series.
2012 Speed.com Sports Car Driver of the Year Ryan has also won the 24 Hours of Le Mans, Daytona 24, Petit Le Mans and Twelve Hours of Sebring class titles and, in 2012, was honored with the William Lyons Trophy from the Scottish Motor Racing Club and was recognized in 1999 with the Ecurie Ecosse Trophy winner, presented to most impressive Scottish racer of season.
 
RYAN SAYS: "I could not be happier or any more excited about joining ESM in 2014. I have been a huge admirer of the team over the past few seasons. I was really impressed with 2013, at how quickly they adapted to the P2 class.
"Scott and I have chatted a lot over the past couple of seasons. With my previous commitments it's been difficult to make a deal happen, but we have eventually managed to make it happen.
"ESM and Patrón are really stepping things up for 2014 and I think that as a team we will be very strong. I know many of the key people within the team and am really proud to be part of their driver line-up. I think together we can accomplish many wins.
"It's great to have Scott as my full-time teammate. We have become good friends off the track and in chatting it seems like we are going to like the same set up on the car.
"Looking at the line-up we have both with Scott and I, and Johannes and Ed, we are going to be a team looking for victory starting at Daytona in January.
"A big part of me is sad to leave Starworks but this was too good an opportunity to pass up and I know Starworks will continue to grow without me and continue to be race winners. And the other part of me is really happy to be look towards a new challenge."
https://mail.google.com/mail/u/1/images/cleardot.gif
RYAN ADDS: "I've had a great relationship with Peter Baron and we've had great success over the years. I want everyone to know how much I appreciate what he's done for my career and I owe this opportunity largely to him.
"But I feel like this is a chance to branch out and the right place to be. I didn't even waste any time shopping around. As soon as we started talking and had the offer on the table, I pretty much accepted it.
"ESM is one of the best organizations in sports cars and they have great things in place. Even for next year, I think people are going to see a big step up for them. Hopefully I can help bring them some more success."
TEAM BOSS SCOTT SHARP SAYS: "I am extremely excited to welcome Ryan to ESM! I truly feel he is the perfect fit - super fast in everything he drives, technically committed, a team player, and a really great guy. I think he will fit into exactly what we've (Ed, Johannes and I) and the rest of the team have been building for the last four years.
NOTES: Ryan won at Indianapolis, and was second at Road Atlanta and Circuit Of The Americas earlier this year in the Grand-Am Rolex Sports Car Series. He managed a career-best second place in the Grand-Am Rolex Sports Car Series in 2012, with a win at Watkins Glen, second place in the Rolex 24 at Daytona and third at Sahlen's Six Hours Of The Glen and Laguna Seca. He also won the Rolex 24 in 2010.
He had four Rolex Grand-Am podiums in 2011 – a win at Mid-Ohio and third at Barber, Lime Rock and Watkins Glen. He also had three fourth-place finishes. Ryan also gave Starworks Motorsport its first DP victory, at Mazda Raceway Laguna Seca, in 2008.
Ryan and Starworks Motorsport won the FIA World Endurance LMP2 Championship, thanks to class wins at Sebring in Florida, the Le Mans 24 Hours and Brazil. They were also on the podium at Silverstone in the UK, Japan, China and Bahrain.
He also grabbed an American Le Mans Series LMPC class wins at Petit Le Mans, Baltimore and Long Beach in California as well as a third place in class at Mosport in Canada.
Find out more at www.ryandalziel.com
Follow Ryan on Twitter: @ryan_dalziel
Facebook: Ryan Dalziel Official Fan Club
Picture courtesy of ESM: