2014 News
Ryan Dalziel Proud of ESM'S Sebring Podium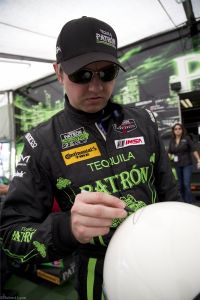 Endurance star Ryan Dalziel believes Extreme Speed Motorsports are ready to soar this season after a battling display in the 62nd running of the Mobil1 12 Hours of Sebring.
The proud Scot — who is originally from Airdrie in Lanarkshire but now lives in Windermere, Florida  — was desperate to turn the iconic Sebring track into a home from home in the Patron Tequila-backed ESM Honda.
And they believed they turned their Tudor United Sports Car Championship opening round disappointment at Daytona into a sizzler at Sebring.
Ryan, team principal Scott Sharp and Australian star David Brabham kept the HPD prototype at the sharp end of the grid, and they were the dominant package during the race – leading the most laps and looking set for the victory with just an hour to go.
2012 speed.com Sportscar driver of the year Ryan had built a decent lead, but a controversial yellow flag caution closed the pack and Ryan had to dive in for a final pitstop.
He came out in second place, but despite a storming drive over the final 23 minutes, he could not get back to the front. Although they were disappointed to miss out on the win, the team was delighted with the progress they made and glad that the series will look at how they deal with yellow flag cautions in the future rounds.
 
RYAN SAYS:
"We were disappointed at Daytona. We knew we didn't have the car to win, but we thought it would be reliable. We just had some misfortune when a part that should never break did just that. It took us out of a good points finish, but we were encouraged by a lot that had gone on at Daytona and we wanted to bounce back strongly at Sebring. It is the home track for ESM and it is quite close to me.
"We went into the Sebring week in a positive frame of mind and we were encouraged by the fact that the Balance of Performance (BoP) being so close between the Daytona Prototypes and the P2s.
"It was good to see the front two rows had two DPs and two P2s after qualifying.
"We had a very strong car and we feel that everyone in the team did their job perfectly – be it the drivers, crew, fuelers or tire guys. We felt we executed everything perfectly and had the race under control.
"It was just bad luck in the way the yellow fell at the end, and the fact that we ran out of time in the last few laps.
"But it was still very encouraging. We are definitely more motivated than ever going into the next race and we are looking for good things from the rest of the championship.
"I was really happy with my stints. We opted for longer stints but going out only twice. Other three-driver teams had shorter spells but did three stints.
"That definitely worked for us because we only had to navigate one driver in the night-time. We spent a lot of the week working on the car in the cooler night-time conditions. Although we were strong in the first six hours, the car was amazing towards the end. It was really hooked up and we were putting in some pretty fast laps towards the end.
"I was really happy with the last 20 minutes. They were all qualifying laps. The team were on the radio telling me: 'You can win or you can wreck, we don't want anything else'. It was disappointing to get so close after 12 hours of racing and then just miss out, but it was also a lot of fun."
 
NOTES:  
Ryan will next be in action at the Tequila Patron Sports Car Showcase at Long Beach, California, on April 11-12.
He was second at Road Atlanta and Circuit Of The Americas in the 2013 Grand-Am Rolex Sports Car Series. He managed a career-best second place in the Grand-Am Rolex Sports Car Series in 2012, with a win at Watkins Glen, second place in the Rolex 24 at Daytona and third at Sahlen's Six Hours Of The Glen and Laguna Seca. He also won the Rolex 24 in 2010.
He had four Rolex Grand-Am podiums in 2011 – a win at Mid-Ohio and third at Barber, Lime Rock and Watkins Glen. He also had three fourth-place finishes. Ryan also gave Starworks Motorsport its first DP victory, at Mazda Raceway Laguna Seca, in 2008.
Ryan and Starworks Motorsport won the FIA World Endurance LMP2 Championship, thanks to class wins at Sebring in Florida, the Le Mans 24 Hours and Brazil. They were also on the podium at Silverstone in the UK, Japan, China and Bahrain.
He also grabbed an American Le Mans Series LMPC class wins at Petit Le Mans, Baltimore and Long Beach in California as well as a third place in class at Mosport in Canada.
Find out more at www.ryandalziel.com
Follow Ryan on Twitter: @ryan_dalziel
Facebook: Ryan Dalziel Official Fan Club