2014 News
Ryan Dalziel Aims for Perfect Birthday Gift at Long Beach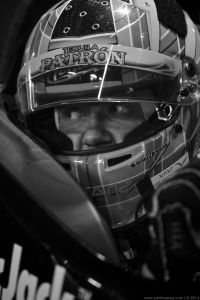 Sports car star Ryan Dalziel reckons pole position and a win at Long Beach would be the perfect birthday present – and he is convinced that Extreme Speed Motorsports can wrap up a victory for him.
Ryan is full of confidence after a dominant display in the last round of the Mobil1 12 Hours of Sebring, where he helped the Patron Tequila-backed ESM Honda to second place.
The proud Scot — who is originally from Airdrie in Lanarkshire but now lives in Windermere, Florida  — wants to build on that performance with another strong showing in the Tudor United Sports Car Championship when the action starts in the Tequila Patron Sports Car Showcase.
The fact that the event is backed by their major team sponsor is just another reason for Ryan to want to succeed.
Ryan has an excellent record at the challenging street circuit. On his last trip there, in 2012, he took pole position in the Core Motorsports PC car then roared on to victory. In 2004, he also took pole position before converting that into a race win.
The 2012 speed.com Sportscar driver of the year Ryan believes the success at Sebring is the perfect platform to go one better at Long Beach.
RYAN SAYS:
"It is one of my favorite street circuits and also one on my favorite venues anywhere in the world. Luckily, I have had some success there, so I always enjoy going back. I seem to have a knack for the track – it has an electric atmosphere from the moment you get there.
"Sometimes it gives you an extra buzz to be somewhere you love.
"It is a very fast street course. Street courses tend to be very slow and 'point and squirt', but Long Beach has one of the fastest straights of any road course we go to. You are led on to it by one of the slowest corners you will ever see, so it has a bit of everything. The most important thing is that they have not modernized it too much – it still has all the character.
"We are not sure how we will get on. Both Daytona Prototypes and LMP cars have raced there, so it will be interesting. I think people will expect us to be in there, but we will see. If we haven't got the car to win, then we have to make sure we have the car to bring home solid points. Then we go to Laguna Seca where we should be very strong.
"We are cautiously confident that we will be fast enough to win, but if not we want the best result we can.
"One of the reasons I wanted to race in the USA was the awesome street courses and none are better than Long Beach. Traffic will be a factor like all of our races but with only two classes and the new IMSA rules, I think this race will come down to the team that has the best stops and the fastest car.
"We were so close at Sebring and I think we all still feel robbed, so we are going in to win. Tequila Patron are the race sponsors so we obviously want to be on the podium and proudly show our supporters once again that we are going to be contenders each and every race in 2014.
"It is my wedding anniversary two days before the race and my birthday on race day, so my wife Jessica and I will hopefully go there and have an anniversary-birthday-race win celebration. It is always nice going to Long Beach because it always falls around my birthday and that makes it a bit more special. A win would be a nice present to myself, although my wife would call it more of an anniversary gift."
NOTES: 
Ryan was second at the Mobil1 12Hours of Sebring in only the second race in the Tudor United Sports Car Championship, with Patron Tequila Extreme Speed Motorsports.
He was second at Road Atlanta and Circuit Of The Americas in the 2013 Grand-Am Rolex Sports Car Series. He managed a career-best second place in the Grand-Am Rolex Sports Car Series in 2012, with a win at Watkins Glen, second place in the Rolex 24 at Daytona and third at Sahlen's Six Hours Of The Glen and Laguna Seca. He also won the Rolex 24 in 2010.
He had four Rolex Grand-Am podiums in 2011 – a win at Mid-Ohio and third at Barber, Lime Rock and Watkins Glen. He also had three fourth-place finishes. Ryan also gave Starworks Motorsport its first DP victory, at Mazda Raceway Laguna Seca, in 2008.
Ryan and Starworks Motorsport won the FIA World Endurance LMP2 Championship, thanks to class wins at Sebring in Florida, the Le Mans 24 Hours and Brazil. They were also on the podium at Silverstone in the UK, Japan, China and Bahrain.
He also grabbed an American Le Mans Series LMPC class wins at Petit Le Mans, Baltimore and Long Beach in California as well as a third place in class at Mosport in Canada.