2014 News
Front Row Start for ESM Patrón at Canadian Tire Motorsport Park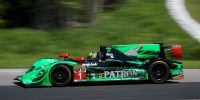 Dalziel qualifies No. 1 second; No. 2 qualifies fourth 

BOWMANVILLE, Ontario, Canada – In an intense 15-minute qualifying session on Saturday, Extreme Speed Motorsports (ESM) traded barbs with the competition for pole position. Among those swapping the lead for the top spot was ESM's Ryan Dalziel in the No. 1 Tequila Patrón Honda Performance Development (HPD) ARX-03b. At the end of the session, Dalziel settled for the second starting spot at 1:09.456 (127.453 mph), less than three-tenths behind the pole-winning car.
The Tequila Patrón-sponsored Honda prototypes qualified second and fourth for Sunday's Mobil 1 SportsCar Grand Prix, the seventh round of TUDOR United SportsCar Championship at Canadian Tire Motorsport Park (CTMP).
The No. 1 Tequila Patrón team earned its second front-row starting position this year. In May, the team started second at the Detroit street circuit on Belle Isle. Scott Sharp will start tomorrow's race for the No. 1 team and Dalziel will drive the second stint.
Johannes van Overbeek, co-driver of the No. 2 Tequila Patrón HPD, lapped the 2.459-mile, 10-turn permanent road course in 1:10.136 (126.218 mph), less than a half-second behind the pole position. Ed Brown will start the race for the No. 2 team from the fourth position and van Overbeek will drive second.
 
The weekend started strong for the Florida-based team. During Friday's opening session, the two-car, Tequila Patrón-sponsored team was second and third. Traffic proved to be a bit of a hindrance in the second practice session and the team dropped to sixth and seventh on the sheets. During the lone practice on Saturday morning, Dalziel topped the charts and van Overbeek showed a strong run in fourth position.
 
The two-hour, 45-minute TUDOR United SportsCar Championship Mobil 1 SportsCar Grand Prix Presented by Hawk Performance is the seventh race of 2014 TUDOR United SportsCar Championship. Green flag is 2:05 p.m. ET on Sunday, July 13.  
 
Television coverage of the Mobil 1 SportsCar Grand Prix starts at 2 p.m. ET on FOX Sports 1.
 
RYAN DALZIEL
"All in all, this is a good qualifying result for us. We definitely were hungry for pole. In final practice, we had a really good balance in the car. I'm a little disappointed; we need to go look at the timing and see where the No. 42 car was better than us. I feel like our car is 99 percent there; even at 100 percent, I'm not sure we had enough for pole. The Honda chassis is always very good when it comes to tire life. With a two-hour, 45-minute race here, if we have a good strategy and good pit stops from the crew, hopefully we can get the Tequila Patrón cars up front. We definitely feel this is our weekend to turn the season around. The No. 2 car seems strong too. Hopefully we'll get both cars up front and go for that podium.
 
"Mechanically, we're sound. We feel like we're on top of everything now. We have a front-row start. It is nice to see P2s in three of the top four spots; hopefully we can all work together and hold off the competition for a couple of laps." 
 
JOHANNES VAN OVERBEEK
"The ESM Tequila Patrón Honda HPD felt really good in our fourth-place qualifying effort today. I tried to get the most out of it. We weren't able to simulate a qualifying run and that would have helped me as a driver because it is a whole different world on new tires and light fuel than it is in practice.
 
"We're in a good starting position for tomorrow's race but the weather forecast is a little questionable.
 
"Qualifying was one of the first times this weekend where we were able to get a clean lap. There are 40-plus cars on two-and-a-half miles of fast track and negotiating traffic is challenging. Tomorrow will be no different, especially if we have inclement weather. We're ready for the challenge and ready to put the ESM Patrón Honda on the podium.
 
"Ed has been driving really well this weekend. This was one of his best races last year and I expect tomorrow to be no different. If we have some good pit strategy and good pace, we'll be there at the end."
####
 
Further information:
Extreme Speed Motorsports
Facebook: www.facebook.com/ESMracing
Twitter: www.twitter.com/ESMracing
YouTube: www.youtube.com/esmracing
Instagram: www.instagram.com/esmracing