2014 News
Crushing day in Canada for ESM Patrón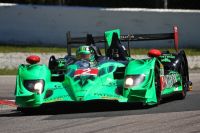 Electrical and exhaust issues plague two-car team   
BOWMANVILLE, Ontario, Canada – Extreme Speed Motorsports was confident heading into today's Mobil 1 SportsCar Grand Prix at Canadian Tire Motorsport Park (CTMP). Following second- and fourth-place qualifying efforts on a track that showed some favoritism to the Tequila Patrón prototype machines, ESM's day came to an abrupt end following electrical and exhaust system issues in the two-hour, 45-minute race.
Both the No. 1 and No. 2 Tequila Patrón Honda Performance Development ARX-03b (HPD) racing machines were unable to finish the race but ranked seventh and eighth on the unofficial scoring sheets in the sixth round of the TUDOR United SportsCar Championship.
Scott Sharp started from the outside pole in the No. 1 machine. He shuffled back to fifth in the opening laps but found a steady pace in the third position. Sharp advanced to second place before the scheduled pit stop and driver change to Ryan Dalziel on Lap 38.
In standard Dalziel-style, he set a pace and began catching and passing the competition. Dalziel reached third position and pitted once as scheduled. On Lap 85, as he was coming out of Turn 5b, he felt a drop in power. Dalziel pitted and the team removed the engine cover and determined the car needed to be taken to the paddock. Upon further inspection, there was an issue with the exhaust system and the No. 1 team was forced to retire from the race.
Ed Brown started strong in the race for the No. 2 Tequila Patrón HPD. From the fourth spot on the grid, Brown fought to maintain his position. On Lap 7, Brown overdrove in Turn 5b and spun. He was able to regain his composure and the car, and return to the race in ninth position.
Near the end of his stint, Brown was behind position-battling GT competitor cars that tangled in Turn 3. With nowhere to go, Brown made contact with one of the race cars and caused some minor damage to the left front. He was able to complete his stint and pit on Lap 41 for the scheduled driver change.
Johannes van Overbeek started his stint from the eighth position. He was running seventh and radioed the crew about having an electrical issue. By the time he pitted, smoke filled the cockpit and the team began full inspection on the race car. There was a small electrical fire which caused damage to the battery. The team repaired the damage and sent van Overbeek back on track.
Only able to complete a few more laps, van Overbeek pitted again and the team re-evaluated the race car. With less than 30 minutes in the race, the No. 2 Tequila Patrón HPD retired from the race.
Next up for Extreme Speed Motorsports is the Brickyard Grand Prix at Indianapolis Motor Speedway on July 24-25.
SCOTT SHARP
"The car started off good. It took a while for the tires to come and we were fighting handling a little bit. Overall, the longer we raced it seemed like we were pretty competitive. I hung on for the rest of my stint with a few minor issues, but we were able to rectify it in the driver change to Ryan.
"Ryan was doing a great job. It looked like we were probably going to get to the podium and then all of a sudden, we had an issue with the exhaust system.
"ESM had a great weekend as a team up until that point. We were fast in practice and then second and fourth in qualifying. The car was good in all the sessions. You never know until you go to these tracks which ones should favor our prototypes or the DPs. Canadian Tire Motorsport Park ended up to be better than we expected. We're not sure how the next few tracks will work out for us, but we'll do our best."
ED BROWN
"I had a really good start and I was pushing to stay with the lead group. Our car wasn't very good in Turn 5 all week; you try to push it a little bit there and it wants to come around and so that's what happened. I shook it off, tore it up some but the car was still good in the high-speed stuff and fought back all the way through. Probably with 10 laps to go in my stint, two GT cars made contact in Turn 3, and that got me a little bit but didn't stop us.
"Then Johannes got in the car and started running some really good laps. We started having wiring issues like we did at Watkins Glen. It was frustrating. Then the No. 1 car was having exhaust issues. That's getting a little old this year that we're just not able to finish races. That's not a good thing.
"We'll take what we learned here to Indy and hope our luck swings the opposite way there." 
RYAN DALZIEL
"Speed-wise we were good. I think it was going to be hard to pass the 10 car on track, but I think our pit stops were great and we got ahead of the 90 car. We could have done the same with the 10 had we stayed with him up until the last stop. I know they had to take more fuel than us. Things were looking good. I don't know if I could have chased down the 42, but a solid second place, worst case would have been a third today. I'm massively disappointed. I just came out of Turn 5b and it started feeling some lack of power. We had some sort of issue where we couldn't continue. We lost a lot of power at that point and it wasn't safe to continue.
"I'm very disappointed. Both cars had a bad day. We had so much potential and we didn't get the results. I don't know who we've managed to upset in the lady luck world, but we need to figure out how to get things back on track and we're running out of races. It is a shame. Tequila Patrón put a lot into this program and seems like a long time since Laguna and for the No. 1 car further back to Sebring. Both cars are deserving of being on the podium every week." 
JOHANNES VAN OVERBEEK
"The car was good. Unfortunately we had some issues early on and that put us a lap down. We had a quick car and we had posted some quick laps. It is a shame we had more issues. But the ESM guys will get to the bottom of it and we'll make the cars better moving forward.
"We had electrical fire and it filled the cockpit with smoke, which is never comforting as a driver. We came in and found an alternator lead had broken and shorted out. We pitted, diagnosed it and we were running on battery power. We could only run about 20 minutes on battery power.
"I like racing here and this was not the race result either car wanted today."
Further information:
Extreme Speed Motorsports
Facebook: www.facebook.com/ESMracing
Twitter: www.twitter.com/ESMracing
YouTube: www.youtube.com/esmracing
Instagram: www.instagram.com/esmracing