2014 News
 Runner-up Finish for ESM Patrón at Shanghai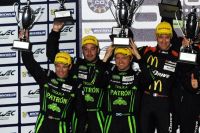 Shanghai, China – Extreme Speed Motorsports (ESM) and Tequila Patrón earned its second consecutive FIA World Endurance Championship (FIA WEC) podium. On Sunday afternoon in China, the No. 30 Tequila Patrón Honda Performance Development ARX-03b (HPD) team of Scott Sharp, Ryan Dalziel and Ricardo Gonzalez finished second in the FIA WEC 6 Hours of Shanghai.

In its two FIA WEC races, ESM earned two podium finishes. In September, Sharp, Dalziel and Ed Brown finished third at the FIA WEC race at Austin, Texas' Circuit of The Americas. The FIA WEC 6 Hours of Shanghai marked ESM's final race in the HPD ARX-03b prototypes. In May, ESM purchased two HPD ARX-04b coupe prototypes to be used in 2015.
It was an adventurous trip for the Florida-based team. The weekend opened with rain during the first two practice sessions. Saturday's final practice and qualifying were dry but the shortest segments of the weekend. The first time the team had at-length on-track action was during today's race which also proved to be challenging. The track lacked grip and throughout the six-hour event, the preferred racing line became very narrow.
 
The No. 30 team qualified in the sixth spot. In the opening minutes of the race, Dalziel leap-frogged from sixth to second before a full course caution for contact between an LMP2 and GTE car. The full-course caution period lasted 21 minutes.
 
The No. 30 team drivers ran approximately two hour stints and never fell below fourth place in class. Gonzalez dropped to third in his stint but remained strong. Sharp had some bodywork come loose during his two-hour stint. He pitted earlier than scheduled to make the necessary repairs. Sharp reached second before the final driver change to Dalziel with 40 minutes remaining on the race clock.
 
While running second, Dalziel needed fuel to complete the race. With 20 minutes remaining, the Scotsman pitted and the fast-working No. 30 team serviced the Tequila Patrón-sponsored Honda. It would be the seventh stop for the team. Despite the late-race fuel splash, the ESM team got Dalziel back on track without losing second place.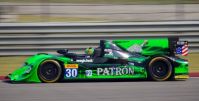 The No. 31 Tequila Patrón Honda Performance Development ARX-03b started from the fifth position. David Brabham gained a spot and ran his two-hour stint in fourth position. Struggling with the same low-grip track issues, Brabham ran a strong and consistent stint before the No. 31 team cycled through the driver lineup.
 
Johannes van Overbeek ran a two-hour stint, pitting once for fuel and minor adjustments. He maintained a fourth-place effort before the scheduled driver change to Brown.
 
Brown, in his second FIA WEC race, ran a competitive stint before the final driver change to Brabham. In the closing 45 minutes, Brabham posted some of the quickest laps of the No. 31 team's race. At the end of the six-hour race, the No. 31 Tequila Patrón HPD finished fifth.
 
On Friday evening, Tequila Patrón and ESM recognized Brabham and his 30-year motorsports career during a special reception. Brown, president and CEO of Patrón Spirits International, presented Brabham with a one-of-a-kind personalized bottle of Gran Patrón Platinum.
####
SCOTT SHARP
"It was a great day for the ESM Patrón team! After a pretty wet Friday, which severely limited our dry running, we left the track feeling behind the other P2 cars. But race day was a great rebound!  The Honda prototypes had very good pace, all six drivers drove very well, and the team had good stops and strategy.  Our goal was at least one podium finish and we nailed it!  What a great way to end the season!
 
"I think racing FIA WEC in China was everything we hoped it to be. We wanted to come and learn. We were thrown so many curveballs this weekend. Fortunately, Ryan and Ricardo had driven here before, but as a team, we've never been to China, so everything was brand new for Ed, Johannes and me. We chased the setup with the car, tires and track. We learned so much both on- and off-track, including the logistics just to get us here.
 
All in all, this was a positive weekend and a great day for the team. We had great pit stops and Ricardo and Ryan both drove as hard as they could. It was a great finish for us."
ED BROWN
"What a great experience for the team to be able to race in Shanghai. It was a tough week for track time because of the weather but both cars did awesome!
 
"I'm so proud of the entire Tequila Patrón team, especially the No. 30 drivers and crew finishing second.
 
"It is always an honor to drive with my teammate Johannes and I'm glad we experienced racing in China together. Plus, it was an honor driving with David for the first time in my career. Huge thanks to David for his help this weekend."  
RYAN DALZIEL
"What a way to continue our FIA WEC campaign this year - a third place in COTA and second place here. We had a great result for Tequila Patrón and ESM here in Shanghai! We definitely worked hard for that second place and we deserved it. This is probably the last race for the HPD ARX-03b at this level so I'm happy we could get Honda a nice podium before we retire her.
 
"The entire Patrón ESM team was flawless. We were forced to pit Scott early to fix loose bodywork, and that turned our race into a seven-stop race, one more than the others. But we managed to hammer down and get a big enough gap to make our stop and retain second place.
 
"We had a lot of guests from Patrón. I'm glad we could reward them with a podium and a sendoff for the old HPD; she's been good to us over the years. Glad we could send the HPD off with a good result."  
JOHANNES VAN OVERBEEK
"My two stints were very challenging. The track was greasy and had low grip, which made it tough to do two laps that were the same. Ed did a fantastic job during his stint, as did David in his two stints.
 
"We had a tough pit stop which really cost us. Congratulations to Scott, Ryan and Ricardo on their second-place run. In all, racing in China was a great experience."   
DAVID BRABHAM
"I have to thank ESM and Tequila Patrón for helping to clear cobwebs out after seven months out of the seat! It was great to race with the team again. We had a solid result considering it was the first time for ESM to race in China. It was tricky out there with a low-grip track, but we can be happy with second- and fifth-place finishes." 
RICARDO GONZALEZ
"I'm very happy with this result; everybody at ESM Patrón team did a great job. I couldn't think of a better way to make my debut with the team. The whole weekend I just focused on doing my job and helping them achieve the best possible result.  
 
"It wasn't an easy weekend, we barely got any laps during practice because of the rain, and in the race we struggled with grip quite a bit. All the drivers did a great job and so did the team during the pit stops. We raced clean, didn't make any mistakes and managed to achieve our goal - a podium finish.  I really want to thank ESM, Tequila Patrón, Scott Sharp and Ed Brown for giving me this opportunity. It was a great experience!"
Further information:
Facebook: www.facebook.com/ESMracing
Twitter: www.twitter.com/ESMracing
YouTube: www.youtube.com/esmracing
Instagram: www.instagram.com/esmracing