2014 News
Tequila Patrón ESM Runs First Laps in Honda Coupe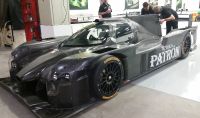 Riviera Beach, Fla., Dec. 14, 2014 – Tequila Patrón ESM attacked the 2015 sports car racing season today by running the all-new Honda Performance Development ARX-04b Honda prototype coupe for the first time. Tequila Patrón ESM principal Scott Sharp was first inside the enclosed cockpit racing machine.
"This HPD coupe is very exciting for us, there has been so much anticipation building up to our first laps," said Sharp. "Huge thanks to the entire Tequila Patrón ESM team, HPD and Wirth for their efforts in getting the coupe delivered, built and on-track today. We've spent many months getting to this point – our hard-working crew, the HPD engineering team and Wirth have been non-stop these last few weeks. They've made huge gains on the car, in addition to the logistics and behind the scenes planning. This has been a long process, but we're super excited about today, tomorrow and the future.
"It is great to finally hit the track," continued Sharp. "There are so many different elements to the coupe. From the outside, the windshield looks small and we thought visibility would be constricting, but it is very good. The seating position is different and more reclined. We're starting to feel how it performs. Every car has a different characteristic and feel to it; plus the feedback it gives to the driver. All the Tequila Patrón ESM drivers will have to go through that process to really get to know the car."
Tequila Patrón ESM received the first of two Honda-powered ARX-04b prototype coupes earlier this month. The Florida-based team, along with HPD engineers and Wirth Research worked countless hours to assemble the first coupe for testing in advance of the 2015 season. The team is awaiting delivery of the second coupe.
"We ran a couple of shakedown laps today," said Allen Miller, HPD prototype project leader. "Our goal today was simply to check all the systems to ensure the ARX-04b is where it needs to be, as we start our pre-season test program. We learned quite a bit today, with every lap and pit stop. We're pleased with the results so far, and look forward to continuing development in the days ahead."
In November, Tequila Patrón announced its intention to run two full-season entries in the FIA World Endurance Championship (FIA WEC) next season. Tequila Patrón ESM will also race in the TUDOR United SportsCar Championship's Tequila Patrón North American Endurance Cup.
For the 2015 season, the Tequila Patrón ESM driver lineup includes the two car teams of Sharp, Ryan Dalziel and David Heinemeier Hansson and Ed Brown, Johannes van Overbeek and Jon Fogarty.