2015 News
EFFORT Racing confirms Dalziel's return to Pirelli World Challenge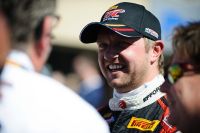 Houston, Texas - Following their 2014 Pirelli World Challenge GT-A Championship win, EFFORT Racing has announced an expansion for their racing program with Porsche Motorsport North America (PMNA) for 2015. In addition to an entry in the GT class, the team has joined forces with PMNA to create a new means to develop up-and-coming sports car drivers: The Porsche Motorsport North America Young Driver Program. 
The program will combine the endeavors of PMNA and EFFORT Racing to provide young racers from the Porsche Young Drivers Academy and the Porsche/IMSA Driver Scholarship with the opportunity to race in Pirelli World Challenge's GT Amateur class. EFFORT Racing will enter a season long entry in GT-A, utilizing the Porsche 911 GT3.
Since their first day of competition in the Pirelli World Challenge, EFFORT Racing has celebrated success on the podium with Porsche. As their progression continued, driver development remained one of the primary goals to run a strong, reliable race team. Multiple wins in the GT class and locking in the 2014 Pirelli World Challenge GT-Amateur Championship solidified EFFORT as a team dedicated to development.
"Thanks to the commitment from EFFORT Racing owner Chuck Toups in keeping with his ongoing interest in driver development, we are able to offer support and resources to give a young talent from North America a unique experience with a championship team in the Pirelli World Challenge," said PMNA President and CEO Jens Walther.
"At EFFORT Racing, we believe in doing things for a purpose," said Chuck Toups. "When we started in 2012, we integrated driver development as one of our core program goals. It's true in any domain that the investment and training of young talent is crucial to the long term success for any industry. Porsche has an incredible history of racing, and we're honored to be able to contribute in this way. The extension of the successful Porsche Young Driver program into North America is an exciting announcement for the motorsports community."
The GT-A entry will be occupied by 24 year old American racer Michael Lewis. After four seasons of competition in Formula 3 in Europe, Lewis went on to participate in the Porsche Motorsport Young Driver Academy in 2013. There Lewis won a scholarship to compete in the 2014 IMSA Porsche GT3 Cup Championship, where he won the 2014 Rookie of the Year honors.  
Returning to the program in the GT class is veteran racer Ryan Dalziel, who will continue to compete as the team's professional entry. In his six races in 2014, EFFORT celebrated two wins and three additional podiums with the Scottish native. With an extensive experience in the TUDOR United SportsCar Championship, the GRAND-AM Rolex Sports Car Series, World Endurance Championship and the American Le Mans Series, the Scot's return to EFFORT is sure to produce a strong hope at another Pirelli World Challenge championship endeavor.   
The Pirelli World Challenge season opens March 6 - 8, 2015, at Circuit of the Americas in Austin, Texas.
Driver Quotes
Ryan Dalziel
"I had an amazing experience with EFFORT Racing in 2014 and I am honored to be invited back for the 2015 Pirelli World Challenge season driving their Porsche GT3R. They showed in the past couple of years how strong of a team they are both in GT and GT-A and I know with the continuity of driver, team, and car rolling over from last season we are going to be a team challenging for wins immediately. I really have to thank Chuck, Erin, Stefan, Ricky, the full team and Porsche NA for bringing me back for another season. I can't wait to get started and could be happier to be in this iconic car, with this amazing team, in a championship that I really enjoy racing in." 
Michael Lewis
"It is an honor to be racing with a great team as EFFORT Racing and a historic brand as Porsche Motorsport North America. The EFFORT Racing team is composed of professional and experienced racers who want to win - I feel right at home with this group. I also look forward to racing alongside a veteran teammate of Ryan Dalziel. This will be my first season in the Pirelli World Challenge, and I am extremely excited to represent EFFORT Racing and Porsche Motorsport North America in this adventure. Thank you to Mr. Toups for this opportunity, and let's have some fun and contend for good results!"